Smoothies are the perfect quick fix for staying nourished and hydrated all year round. They're also an easy way to pack in loads of nutrients when the seasons change — a time when sniffles begin making their way around classrooms and friend groups. And adding immune-supporting spices and vitamin-infused whole food ingredients to every meal is never a bad idea.

What makes the perfect smoothie? It's all in the ingredients! Think: fruits that contain plenty of vitamin C, like mango and pineapple, to support immune function; healthy fats, like avocado, which also contains plenty of digestion-loving fiber; and grounding antioxidant-rich spices, like cinnamon and turmeric, which just so happens to be the star of today's recipe.
Why turmeric? This golden root — it's actually a rhizome, like ginger — has been loved in Ayurveda for centuries for its potential to support full-body well-being. Along with adding a gorgeous golden hue to your morning smoothie, it provides a major boost in antioxidants. Here's our recipe.
Grounding Golden Turmeric Smoothie
Ingredients:
4 oz. fresh carrot juice
4 oz. unsweetened coconut water
¼ – ½ cup frozen mango
¼ – ½ cup frozen pineapple
½ -inch piece fresh turmeric root, rinsed
1-inch piece fresh ginger root, rinsed
1-2 ½-inch pieces fresh zucchini
¼ ripe avocado
¼ navel orange, rind and seeds removed
1 Tbsp chia seeds
1 Tbsp hemp seeds
Dash of cinnamon
Bee pollen and lime wedge, to top
Tools:
High-speed blender
Directions:
1. Combine all ingredients (except bee pollen) in a high-speed blender.
2. Blend on high for about 30 seconds, or until smooth.
3. Top with bee pollen and serve with a lime wedge and your favorite
reusable straw
.
4. Sip, and enjoy!
Do you have a go-to smoothie recipe? Share with our community by tagging us on social with @AvocadoMattress or #AvocadoGreenMagazine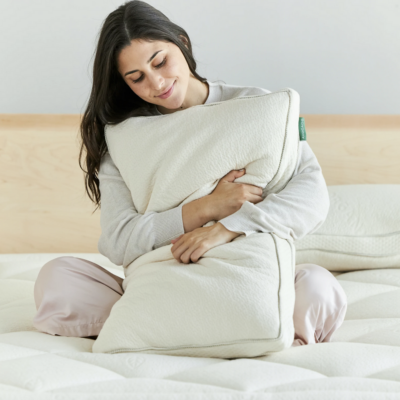 Shop Pillows
The Essential Organic Pillow Collection
Gentle, breathable, non-toxic support.
Buy Now