Fall is here, and with it the simple pleasures brought on by cooler nights and sun-soaked days: leaf peeping, brisk hikes, fall festivals… and of course apple picking and autumn baking! If you're lucky enough to live close to an orchard, apple picking is a wonderful way to get outside and get active while enjoying the fall weather, and an activity just about everyone can participate in — kids and adults alike.
No orchard close by? A quick stop by your local farmers' market should solve the problem. The only riddle left? What to make with all those apples, of course. While classics like apple pie and apple crisp are delicious, why not try something new — and cut your prep time in half — by whipping up a batch of baked apples?

A little tart, a little sweet and delicately spiced, these simple baked apples are perfect for when a dessert craving hits on a busy weeknight or when you need to an easy dessert to serve unexpected dinner guests — yes, they're really that versatile and that easy. Warm, soft, and completely comforting (especially when topped with a generous scoop of vanilla ice cream), they come together in under 10 minutes. Ready to get started? Read on for the recipe – the hardest part is deciding which kind of apples to use… Macs or Cortland?
Baked Apples
Serves 3
Ingredients:
3 medium apples (we used Macintosh)
1/4 cup low-sugar granola (we used Purely Elizabeth Maple Walnut Probiotic Granola)
2 Tbsp raisins
2 Tbsp chopped pecans
2 tsp coconut sugar
1/2 tsp cinnamon
Salted grass fed butter, ghee or coconut oil, to grease the pan and top apples
How to:
Step 1
Preheat oven to 350F. Rinse and dry the apples. Using a sharp knife, carefully remove the core and seeds of each apple, being sure to leave the bottoms intact. Grease a small skillet or baking dish and arrange the apples inside.
Step 2
In a small bowl, mix together the granola, raisins, pecans, coconut sugar, and cinnamon.
Step 3
Divide the filling evenly between the apples, packing it firmly into the scooped out cores. If there's extra, sprinkle it over the apples. Top each apple with a small square of salted butter. Place apples in the oven and bake for 15-20 minutes, or until apples are soft and bubbling.

When apples are done, remove from the oven and allow to cool. Serve warm with a scoop of your favorite plant-based vanilla ice cream. Enjoy!
What's your favorite apple recipe? Share your autumnal apple treats with our community by tagging us with @AvocadoMattress or #AvocadoGreenMagazine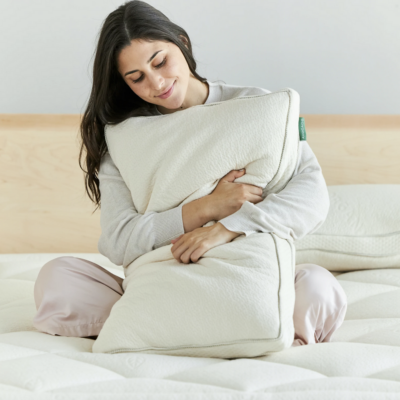 Shop Pillows
The Essential Organic Pillow Collection
Gentle, breathable, non-toxic support.
Buy Now