A little advance planning before your family expands can alleviate a lot of anxiety and financial stumbles down the road.
This article is part of our Financial Series, where we explore complicated money-related topics and their connection to our mental well-being, sustainability, and future.
Whether you're years away from expanding your family or a new baby is right around the corner, running the numbers on the cost of having children can be daunting. According to a 2015 report by the U.S. Department of Agriculture, a middle-income married couple could expect to spend $233,610 to raise a child through age 18 — adjust for inflation and that number jumps upwards of $270,000 for a kid born in 2022.
Bola Sokunbi, a certified financial instructor and founder of Clever Girl Finance, says prioritizing your financial plan makes all the difference between being comfortable as your child grows up and constant worry. "Even if you don't have a large income, having a plan allows you to adjust for the cost of growing your family," she says.
Bola Sokunbi is a Certified Financial Education Instructor (CFEI), finance expert, bestselling author, speaker, and founder of Clever Girl Finance, one of the largest personal finance media/education platforms for women in the U.S. Sokunbi is the author of the Clever Girl Finance Book Series and Choosing To Prosper.
Here are five practical strategies for preparing to cover your baby's short- and long-term needs, while continuing to meet your family's financial goals.
Read more: How to Practice Sustainability as a New Parent
1.
Consider Your Financial Objectives
"You don't need to plan out the next 18 years in one sitting, but it's worthwhile to start having conversations about the lifestyle you want as you grow your family," says Sokunbi. That might mean factoring in a down payment on a home, a babysitter for regular date nights, travel, or supporting your child financially if they choose to go to college. For example, a 529 Savings Plan allows anyone to contribute to the fund and remains tax-free if used for qualified education expenses.
If one person plans to stay at home long-term, Sokunbi recommends discussing early on how living off one income will impact your budget and finances. It's also a good idea to look into resources like a spousal IRA which enables the non-working parent to pay into a retirement account.
2.
Reset Your Budget 
If you aren't working with a formal budget, now's the time to download a budgeting app or create an old-fashioned spreadsheet to help stay on track.
Review your fixed monthly expenses. Can anything be pared down or cut out entirely to help cover new pre- and post-baby costs? What subscriptions or services do you pay for that qualify as a want rather than a true need?
Build in upcoming day-to-day and immediate expenses (think a crib, baby and toddler mattress, stroller, formula, and diapers).
If you plan on making large purchases in the first year after your little one arrives — like a new home or car — factor these monthly and upfront costs into your budget, too.
And if you don't already have an emergency fund, start putting a specific amount of money each month into your savings to cover unanticipated expenses like special dietary needs or medical bills.
3.
Start Saving For Immediate Expenses
Once you have a revised budget in place, be intentional about putting money aside. "It's one thing to create the budget, but it doesn't mean anything if you don't use it," says Sokunbi. She recommends automating your savings and setting reminders to help you act on your financial plan.
And while it might not seem like an immediate need, start evaluating childcare options sooner than later — even before your newborn arrives. According to The Treasury Department, in 2021 the average cost of care was about $10,000 a year per child, roughly 13 percent of family income, and costs only continue to rise. Over the past two decades, child care prices have risen faster than the average of all other items in the U.S. Consumer Price Index.
Read more: 12 Essential Children's Books
4.
Confirm Your Family Leave and Insurance Policies
Check in with HR about your employer's family leave policy — how long it lasts and what percentage of your salary you'll be paid so you can prepare financially. If you're self-employed or your leave isn't 100 percent covered, put aside extra funds to make up for a lower income. You can even experiment with living on the reduced amount beforehand to ease the transition, says Sokunbi.
Most insurance carriers allow new parents 30 days after delivery to add their baby to their policy, but confirm with your insurer in advance to make sure. Start filling out forms ahead of time and set a reminder to enroll your baby as soon as possible after they arrive. Your premium will also rise, which is another consideration when updating your budget.
And update the beneficiaries on your life insurance and 401(k) plans. If you don't already have life insurance, consider investing in a policy that will provide financial security for your baby and peace of mind for you.
5.
Research Prenatal Costs
Avoid surprise medical bills by calling your insurance company before you book any appointments. Ask which providers and hospitals are in-network (out-of-network providers can cost up to 50 percent more), the procedures and tests that are covered, your labor and delivery options, and pre-term benefits like NICU treatment.
The more preparing you do before your family grows will help you alleviate unnecessary stress so you can focus on spending time with your child.
Read more: How to Sleep Better During Pregnancy
Have feedback on our story? Email [email protected] to let us know what you think!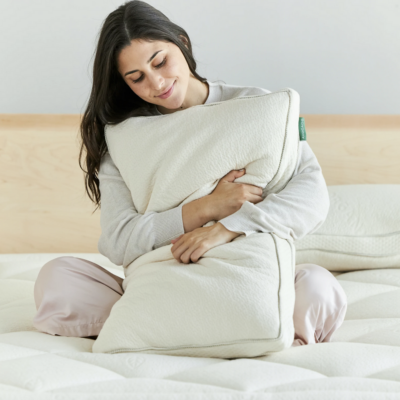 Shop Pillows
The Essential Organic Pillow Collection
Gentle, breathable, non-toxic support.
Buy Now