Sustainable parenting can be overwhelming. Here are six simple steps to reduce your impact as a new parent during the newborn phase.
Audra and Ryan Willing fell in love while working as outdoor educators in 2010. They bonded over long days spent outside and a shared appreciation of the natural world. So when the Willings were preparing for the birth of their daughter, Onyx, in 2020, they knew they wanted to raise her in a way that was gentle on the planet. "We knew we wanted a family, but we also wanted to do what we could to keep our environmental impact low," says Audra. 
Then the Covid-19 pandemic hit weeks before Onyx was born. Like so many Americans, the Willings began to spend more time indoors, isolated from friends and family. At times, they resorted to what they knew were less sustainable, yet convenient options, like ordering in and shopping online for baby gear.
"We did a lot more takeout and ordering online than I think we ever did before," says Audra. "To be honest, we're still more prone to opt for convenience than before we had Onyx." But the pandemic also put into context the importance of time outside and reducing their carbon footprint, however they could.
In fall 2020, when Onyx was just six months old, the Willings relocated from Seattle to Port Townsend, Washington, where they could embrace a slower-paced life. Their new property is dotted with cherry trees. Miner's lettuce sprouts naturally in a corner of their backyard. A few dozen miles from the city, it's easier for the Willings to grow their own food and support businesses that are actively reducing their environmental impact. 
Now Audra and Ryan are preparing to welcome a second baby into the world — and they're still dedicated to practicing sustainability as new parents. "We're forever asking, 'Do we need this?' Then weighing the product's environmental impact and how it might serve us," says Ryan said. "It's a constant calculation," Audra added.
It can be difficult to know where to start when adopting a sustainable lifestyle. Add in sleepless nights and climate anxiety, and living in a low-impact way can feel even more overwhelming during the newborn period.
But there are concrete steps you can take to practice sustainability as a new parent. Genna Heath is the Director of Toxicology and Material Health for consulting firm WAP Sustainability. In her personal time, she advises families on sustainable living. "The best thing parents can do is less," she says. "Resisting the urge to splurge, shopping second hand, and reselling used items are among the easiest ways for caregivers to shrink a growing family's environmental impact."
Wondering where to start? Here's how to practice sustainability as a new parent.
Read more: How I'm Parenting In a Wildfire Zone
Welcoming a new baby into the world and becoming a new parent is one of life's most exciting moments. Almost as soon as you learn you have a little one on the way, friends, family, and even baby brands are ready with advice about how to prepare, including what to buy. Sometimes, shopping for baby gear can quell worries about the transition to new parenthood. But the truth is babies — at least in the very beginning — don't need much. 
"I try to be a minimalist parent," says Heath. Reduce your family's carbon footprint by resisting the urge to stock up on lots of gear before your child is born. Instead, wait and see what your baby actually needs. Some products work well for some children and not for others. And infants develop rapidly during the newborn period, which means they outgrow clothing and products in a matter of weeks.
When you become a new parent and take your little bundle home from the hospital, all you really need is a bassinet or place for them to sleep, a car seat, diapers, clothing, and formula. From there, you can acquire essentials for your family as you go. For more inspiration on how to get started, there are great online resources for building a minimalist baby registry. 
New parenthood can feel like a blur of sleeping and waking, round-the-clock feedings, and load after load laundry. But having a network of fellow parents and caregivers may help you feel a little less alone during the newborn phase. (Any parent will tell you there's nothing like a good 2am text thread!) Your parent community can also help you decide which baby essentials to invest in, as well as how to reduce your overall impact.
"Tapping into friends or local parenting groups can be a really great way to find some calm and resources," says Heath. To get started, look to your hospital or birthing center, many of which offer childbirth or parenting classes. And consider building your parent network before the baby comes. That way, you'll already know who to turn to when you're on the hunt for used cloth diapers or you're wondering whether a pricey stroller is really worth it.
When you're ready to invest in a few choice products, prioritize items that are made to last. Sturdy, durable, sustainably built products typically have a longer lifespan, so they're less likely to end up in a landfill.
New items require virgin resources and energy, while emitting greenhouse gases throughout their processing — something climatologists refer to as a product's embodied energy. So, when possible, shop secondhand and resell or gift products your baby is no longer using. "Every product has an impact," says Heath.
One perk to buying used? You'll feel less guilt if the item doesn't work out for your family. For the Willings, buying used means doing their research, then scouring the internet and local resources for a used version of the product they have their eye on. Sites like OfferUp, Facebook Marketplace, as well as Buy Nothing groups and consignment shops are great places to search for pre-loved baby gear.
Note: Take extra precautions when considering whether to buy a used car seat, and never use a secondhand car seat if it's been recalled or expired, or if it's been involved in a crash or is missing parts. For more information about used car seats, refer to this helpful guide from the U.S. Department of Transportation.
Read more: Get To Know the Five R's Of Sustainability
4.
Prioritize Material Health 
How products are made matters — both for individuals and the environment. One way to reduce your impact is to buy products made with transparents materials and processes. When shopping for clothing, home textiles, and personal care items, prioritize items with credible certifications, like GOTS Certified Organic, GREENGUARD Gold, or products that meet the Global Organic Textile Standard (GOTS). These standards are backed by third-party organizations that set strict requirements about the kinds of chemicals and processes companies can use in order to keep consumers, employees, and the environment safe.
Additionally, invest in low- or zero-VOC products whenever possible. VOC standards for volatile organic compounds, or chemicals that off-gas or migrate from the product into the air, and they can be dangerous to breathe in.
"One of the most important places to invest money in high-quality stuff for kids is bedding," says Heath. Babies sleep a lot, so they come in contact with their sheets, mattress, and crib many times each day. Other areas to devote special attention to include those that affect your indoor air quality, like furniture, carpeting, and paint. When possible, choose items made with low- or zero-VOC materials.
AVOCADO
Eco Organic Crib Mattress
299.00
Shop
At the end of the day, "Don't be too hard on yourself and do what works," says Heath. Many issues related to material health are confusing, and we're limited by the data companies provide. For example, some families spend hours thinking about whether to use glass or plastic bottles, or which is better, cloth versus disposable diapers. The truth is there isn't a one-size-fits-all approach. It's best to prioritize stable materials like silicone, wood, natural latex, and glass for your baby, says Heath, but some babies (including her own) prefer plastic pacifiers, and there's debate about the overall environmental impact of disposable versus cloth diapers.
"You have to temper what's best with what's realistic and feasible for your family," she added.
You can also make a difference by supporting brands making strides in the sustainability space. Shop brands that hold themselves to a high standard when it comes to materials and processes, and select low-impact products when you can. Companies like Brentwood Home and Avocado prioritize transparency when it comes to manufacturing and offer products with the most stringent standards for environmental and social responsibility. And both brands are Climate Neutral, a label that validates a company measures their scope 1, 2, and 3 emissions, sets an emissions reduction plan, and offsets the rest.
The concept of the circular economy is just beginning to catch on in the baby gear space with brands like Woolybubs, which recently launched a biodegradable baby shoe that dissolves in boiling water when your kiddo is done wearing it. Sites like Kidizen, Once Upon a Child, and ThredUp make it easy to buy and sell used kids' clothing online. And brands like REI and Patagonia buy and sell used outdoor baby and toddler gear.
Fostering a love of nature is the best way to teach children about sustainability. The thinking goes, kids who appreciate the environment are more likely to protect it. If you cherish your outdoor time, share that with your baby by getting them outside for a few minutes every day from the very beginning. Exposure to daylight is a proven strategy for helping infants develop circadian rhythms, and a daily walk can be a mental boost for the whole family.
Swapping your car for walks is another great way to reduce your environmental impact.
As babies grow, giving them unstructured play time in your backyard or local park is another great way to foster a love of the outdoors. Seeing Onyx run wild in her backyard is one of the things the Willings love most about their life outside of the city. "We're trying to create a love of nature in her," says Ryan. "We want to help her see that she's part of everything that's unfolding in the natural world."
Read more: How 'Adventure Time' Is Saving One Mom and Her Kids This Year
Have feedback on our story? Email [email protected] to let us know what you think!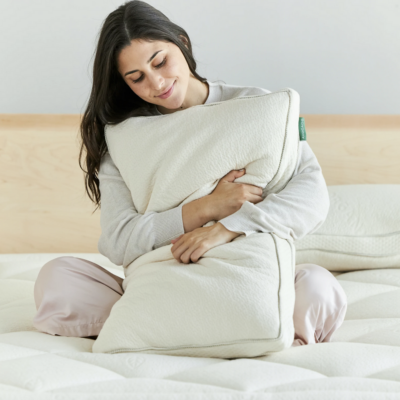 Shop Pillows
The Essential Organic Pillow Collection
Gentle, breathable, non-toxic support.
Buy Now