It's been a brutal year for our children's education. Outdoor adventures can help keep kids engaged and educated when screen time just isn't working.
Are you struggling to find the time to get outdoors with your children while balancing and working through virtual school? You are not alone, and there are other parents out there feeling the same pressure!
In the midst of feeling like Zoom school was going to be the end of me as a parent and a whole human being, I decided to pencil in my time outdoors. Like, I literally have an alarm set everyday at 1:20 pm. On my iPhone it reads "ADVENTURE TIME." As the hybrid school model took over our lives, I had briefly forgotten the thing that brings both my girls and me the most joy: the great outdoors.
You see, back in early spring, when the virus brought all our precious children home to us full time, I quickly realized my strong suits are getting them out of the house, not keeping them busy indoors.
I FELT LIKE THE WORST MOM EVER
Most days I wanted to rip my hair out. My oldest daughter and I were constantly butting heads, and I could not understand why all of her teachers (until me) raved about her and continued to say all the nicest things. That was not the daughter I had "in class" every day. It was an all out kicking and scratching fit just to get her to understand that the kitchen table would be her new desk, and her three year old sister was now her only classmate. Without any time to prepare for this major change, my attitude was likely unwelcoming, and she picked up on every bit of it.
Every day was a struggle to get things accomplished. I started to see tiny glimpses of resentment showing through whenever I said the words "it's time to read a book." It was like I told her she needed to successfully cross the Golden Gate Bridge, facing backward in her underpants. She was not about it. But frankly, neither was I. I just wanted to get outside. Every time I felt resistance with school, I called it a day and we headed outside to play. It was the smartest thing I could have done.
Summer came and went while my family and I passed the time floating the Icicle River, camping and hiking along our favorite local trails. We kept our circle small and continued to spend time outdoors like we always do. We had swim lessons at the river, packed picnics, and enjoyed our backyard more than ever. We spent a week in Idaho playing on Lake Coeur d'Alene, inner-tubing, and roasting smores by the fire. I did my best to make sure my kids didn't feel the severity of the pandemic by maintaining the normalcy of our outdoor adventures. My parenting style is very much an outdoor model where we try and spend at least 30 minutes in nature each day. This style of parenting benefits me and my children.
When August rolled around, my internal clock began counting down the long days of summer. I attempted to mentally prepare for whatever state mandate about public school restrictions was going to come our way. It wasn't easy to get excited about a school year that came with so many question marks. Yet, even with Covid-19 restrictions in our district, we decided that being at school was the best choice for both of our children. I wasn't about to have my bad early childhood education attempts be the reason my child couldn't read and count to 120. So we enrolled and awaited instruction for what came next.
THERE DIDN'T SEEM TO BE A RIGHT ANSWER HERE
In September, school began and we said goodbye to summer weather and hello to things like desks in odd places, organized chaos, and Zoom calls filled with tiny second grade faces. At least this time we had a warning. The administration told us school would be online to start the year and instruction would come every day through a tablet. Our schedule quickly changed from carefree and flexible to more strict and contained.
We were waking up to hop on Zoom at 8 am and back for more at noon. This was Monday through Friday for 20 minute slots with homework in between. On Wednesdays and Thursdays, my youngest would log in on Zoom for her playful preschool sessions that consisted of singing, dancing, and scavenger hunts. Once again, I became the mother, the teacher, the cafeteria lady, and the custodian, only this time it came with a better prepared support group!
Alongside my seven alarms (not an exaggeration) for remembering when I needed to have different kids in virtual classrooms, I decided to set one more alarm. My favorite alarm. Everyday when this alarm goes off we drop all of our school work. We fill up our water bottles, we pack our daypacks with snacks, lace up our shoes, and head for our favorite trail. "ADVENTURE TIME" has paved the way for some really epic trips. This alarm has reminded me that I need nature and so do my children. When our stress amps up in my life, I often forget to leave room for the things that bring me immediate joy. Don't we all?
This school year has been filled with unfavorable conditions, but we keep it cool with our adventures. We backpacked and spent two nights at Barclay Lake in Baring, Washington. It was our girls' first time and they loved it and learned so much. We have gone on many local day hikes while the season continues to change and the mushrooms began to bloom. We even rented a trailer and camped near the Skykomish river in Index, Washington. Every time we take a break from virtual school, my daughter's teacher encourages it. There are some very important things our children can't learn from a tablet. Getting outside and learning through nature has created some beautiful teaching moments — ones we'll never get inside of a classroom or on a Zoom meeting.
If you are struggling to find the time to get out and into nature with your kiddos, take my advice. Set an adventure alarm. If you are like me, you need to show yourself more grace in this unknown time and get out for some fresh air and play time. If your strongest subject right now is nature study, lean into that. Your mind, body, and soul will thank you when you do!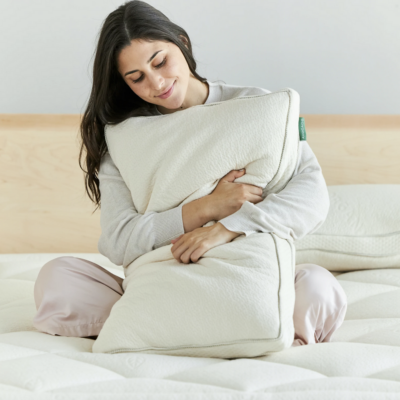 Shop Pillows
The Essential Organic Pillow Collection
Gentle, breathable, non-toxic support.
Buy Now