Make it easy to stick with your daily rituals by stationing everything you need less than an arm's length away.
Living in a space that isn't functional and organized can disrupt your usual routines and throw off the flow of your whole day. That's what happened when my husband and I moved halfway across the country and slowly furnished our new apartment. Although we were being conscious consumers and making thoughtful interior design decisions, it was a test of patience.
For four months, each side of our new bed, which started as a mattress on the floor, was uncomfortably empty until we finally chose nightstands. Until then, our necessities sat on the ground, becoming a cluttered and uninspiring eyesore. No matter how comfy the bed was, I didn't feel set up for success — or good sleep — each day.
Read more: 7 Eco-Friendly Tips For a Sustainable Move
You may take it for granted, but a bedside table serves an important purpose beyond its practical use as a place to keep a lamp. It's where you can organize necessary items for your morning and evening routines. By ensuring these items are accessible, you'll be better prepared to follow through with your daily habits and self care.
Whether you have a nightstand with or without a drawer, here are seven essential items to keep on your side of the bed so you can start or end your day with ease.
Read more: How Hot Baths Improve Sleep
1.
Water
Waking up with a dry mouth in the middle of the night or first thing in the morning is always rough. Remedy your woes by keeping a glass or bottle of water by your bedside. It's also a great way to kick off your daily hydration by taking a few sips before getting out of bed.
2.
Vitamins and Medicine
No more forgetting to take your daily supplements and medicine. With water next to you, remembering to take them is a no-brainer. Store them in a daily pill organizer in your favorite color and design aesthetic so those orange pill bottles don't ruin the vibe.
Read more: Sleep Supplements We Swear By
3.
Moisturizer
Keep dryness and irritation at bay and indulge in a spa-quality ritual by massaging one of your go-to balms — like Avocado's Supercharged Reishi Body Melt or Grounding Dry Body Oil — on your skin when you get in and out of bed. Not only will your skin feel silkier and smoother, you'll be glowing from morning to night.
Read more: 6 Essential Environmental Books
5.
Journal and Pen
Whether you simply jot down reminders for tomorrow, reflect on your day, or write morning pages, journaling can clear your mind and help minimize stress. This low-pressure activity is a chance to write all your thoughts and feelings without fear of judgment. And you don't need to express anything in a formal or perfect manner because a personal journal is for you and you alone.
6.
Warm Light Sources
When it's time for bed, the last thing you need is bright light bulbs that emit blue light and affect your sleep cycle. Create a calming atmosphere by switching off your overhead lights and turning on a lamp with a warm lightbulb. Tuck away a book light as well, in case you want to turn your lamp off, too.
7.
Headphones
If you share a bed with someone, having a pair of headphones nearby comes in handy for listening to music, an audiobook, a podcast, or a meditation app. This way, you can still enjoy audio in bed without disrupting your partner.
Read more: Get More Restful Sleep With myndstream
8.
Alarm Clock
Instead of setting the alarm on your phone and making it the first thing you reach for in the morning, set up a physical alarm clock. You'll be less likely to get trapped in a mindless social media scroll that leaves less time for your routines. These days, there are several clock options with gentle alarms for a more peaceful introduction to the day. Some even include features like white noise, soundscapes, meditations, and breathwork exercises that support your sleep and rituals.
Have feedback on our story? Email [email protected] to let us know what you think!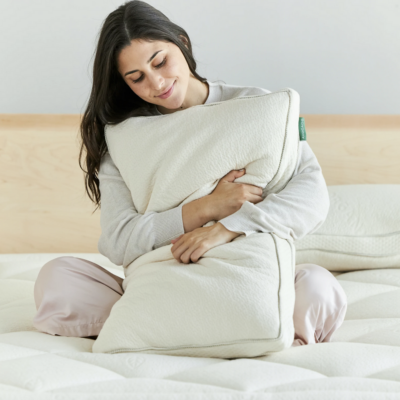 Shop Pillows
The Essential Organic Pillow Collection
Gentle, breathable, non-toxic support.
Buy Now