Relieve stress and reduce anxiety with meditation apps centered on improving your overall well-being and mental health.
Meditation has been around for centuries. In fact, it dates back to 5,000 BCE. There's evidence that ancient civilizations in Egypt and China meditated, and it has religious ties in Judaism, Hinduism, and Buddhism. But it wasn't until the 20th century, when meditation was introduced in the West, that it experienced widespread adoption in America.
For many people, meditation is their go-to method for introducing a moment of calm into the day — it's estimated that 40 percent of Americans meditate at least once a week. It's not hard to understand why.
Regular meditation is a great stress reliever. It has also been shown to help with anxiety, enhance self-awareness, improve sleep (lowering waking time by 50 percent), reduce age-related memory loss, and promote healthier overall well-being. Even better, you don't have to find a meditation studio to cultivate a personal practice. There are countless apps that make it easy to meditate anytime and anywhere.
If you're looking to explore the healing power of mindfulness, we're sharing the six best meditation apps for a calmer, more clear mind and happier, stress-free days.
Read more: 7 Easy Ways to Practice Gratitude
Calm is among the most well-known meditation apps. With the overall goal to help you improve your happiness and health, the app gives you the chance to personalize your experience with questions about what you hope to achieve. Options range from better sleep quality (their Sleep Stories will help you drift off in seconds) and self-improvement to reducing stress and anxiety. They consistently add new content, so you never have to try the same meditation twice.
With Headspace, you'll receive daily meditations centered on different topics, like slowing down, practicing gratitude, or setting intentions. The app also provides an array of features to calm the mind, including mini-meditations that you can listen to on the go and "SOS" sessions for when your stress and anxiety get overwhelming. Gym-lovers can use their Move Mode for at-home workouts and the Wake Up for daily short videos that'll give you a boost of inspiration in the morning. It's more enjoyable to meditate with others, so invite your friends and add them to the app to reflect together.
Unplug bills itself as an app for those who don't believe they need a meditation app. Their videos are modern and short — taught by a range of diverse meditation instructors and filmed in their physical studio based in Los Angeles (also known as the world's first drop-in meditation studio). The app makes it easy for you to unwind after a long day — and they even offer monthly challenges with a theme and guided meditations to keep your regular routine fun and engaging.
Read more: 7 Essential Mental Health Podcasts
Track your progress and earn badges to keep the mindfulness practice in check with Insight Timer. The app offers thousands of free meditations led by professional teachers from around the world. While you have the option to browse through their catalog of 100,000 meditations, you can also create your own. Simply choose your preferred sounds and music to make a personalized zen experience. Insight Timer also offers live yoga and a range of sleep sounds, music to calm your senses, and insightful talks — Returning To Who We Are with Buddhist minister and yoga instructor LamaLama Rod Owens is a must-listen.
Aura uses a personalized algorithm to recommend content, from meditation and hypnosis to stories and life coaching. To help your mind stay focused for the day, the app also includes a gratitude journal — great for reminding yourself of the things you're thankful for. Aura is perfect for those who think they don't have time to meditate. All of the app's meditation and mindfulness sessions range from three to seven minutes — ideal for those looking for a quick practice before or between their daily tasks.
Unlike other apps that feature pre-recorded meditation sessions, Glo allows you to participate in live classes from the comfort of your home — and save your favorite recommendations to try again the next day. Their self-guided meditation timer enables you to practice for as little or as long as you need and you can even choose the best sounds and chimes to fit your taste. Want to pair your meditation session with some yoga? They offer that, too, along with Pilates and other fitness classes for your mind and body.
Read more: Our Favorite Online Yoga Classes
Have feedback on the story or know of other meditation apps we should check out? Let us know what you think by emailing [email protected]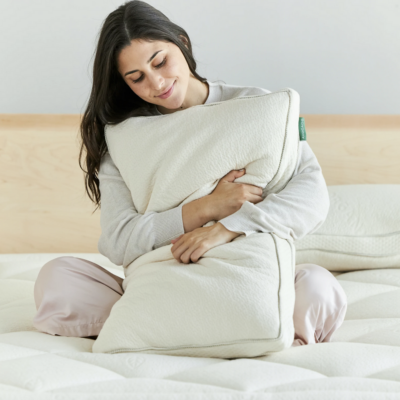 Shop Pillows
The Essential Organic Pillow Collection
Gentle, breathable, non-toxic support.
Buy Now