Reading books is an escape from daily stress. But how do we find time to read when life is already busy with a long list of to-dos?
Your email account is miles away from inbox zero. The unfolded laundry is waiting in a chair. In the sink are stacked dirty dishes. You forgot to call your mom yesterday. The kids have a soccer match this weekend. You need a breather.
Becoming a reader is a peaceful act of self-care to offset the demands of life. And leisure reading continues to grow in popularity thanks to book influencers, trendy book clubs, and a universal need for more relaxation.
Personally, reading grounds me in a way that no other activity does. Beyond being a great source of entertainment and learning, research shows that reading can alleviate the aching pulse of anxiety and improve memory, focus, and sleep.
Read more: The Best Fabrics For Deep Sleep
The research is limited, but a study at a Canadian university found that recreational reading is a cost-effective way to buffer frustrations and help ease psychological distress. Another study indicates that reading stories can boost mindfulness, optimism, and happiness and reduce symptoms of depression, anxiety, pessimism, and other negative emotions.
As a result, reading can help decrease pre-sleep worry and cognitive arousal that cause restlessness. The Whoop health and fitness tracker I wear shows time and again that my sleep performance improves when I read in bed. Reading typically increases my overnight recovery score — a percentage calculated by physiological metrics such as heart rate variability, resting heart rate, sleep performance, and respiratory rate — by five percent. The better recovery, the more strain (illness and physical and psychological stress) your body can handle the next day.
To reap the benefits of reading and turn it into a sustainable habit, approach it as a hobby, not a chore. Whether you read for 10 minutes, an hour, or short chunks of time throughout the day, soon enough, picking up a book will feel like second nature.
Here are seven ways to read more books.
Read more: 6 Sustainable Fashion Books We Love
1.
Choose a Time of Day
Even if it feels impossible to squeeze yet another task into your schedule, think about your usual routines and pick a time that works best to plop into a comfy chair with a book. There are many options, the most common being during your morning routine, your lunch break, or before bedtime.
I enjoy bookending my days. Keeping a book on my nightstand makes it easy. I read in bed for about 30 minutes to an hour in the morning and repeat this at night.
2.
Set a Reading Goal
After choosing a timeframe, decide how many pages you want to finish each day or week. Your goal could be five, 20, 100 — however many pages you can realistically read.
I opt to set a yearly book goal. Once, I read 40 books in a year. I've upped my goal to 50, which means I'll need to finish at least one book each week. If you're new to establishing this habit, one book a month, or 12 books in a year, is a great place to start.
Tracking a TBR (to be read) list is a fun way to monitor your progress. You can also use apps like The StoryGraph or Goodreads, which offer book reviews and recommendations.
3.
Replace Your Screen Time
How often do you pick up your phone for a quick, mindless distraction? Next time, reach for a book instead. Imagine if you replaced at least an hour of social media every day to tackle a chapter or two in your latest book. That's seven extra hours a week for cozy reading time.
Read more: 5 Ways to Develop Healthier Online Habits
4.
Create Your Ideal Reading Environment
When you set up an inviting space for reading, you'll look forward to relaxing and indulging in a good story. Create a comfy spot with pillows, a blanket, and a beverage of choice. I like to light a candle and turn on a lo-fi music playlist that fits the mood of my current read.
5.
Try E-Readers and Audiobooks
Sometimes books are too bulky to haul around, or there's no shelf space to store them. Try an e-reader. Or, while you clean your house, drive to work, or do anything that requires you to be hands-free, turn on an audiobook. These convenient tools are helpful when you're on the go and for those with physical disabilities or visual impairments.
Sleep hygiene tip: When using an e-reader at night, find one that lets you adjust its blue light setting to prevent it from impacting your sleep quality. If the one you own doesn't have that function, wear blue light-blocking glasses or add a screen protector that doubles as a blue light filter.
6.
Read a Variety of Genres and Authors
I feel fatigued if I read too many contemporary romance novels or non-fiction books back to back. Keep an open mind and give reading across genres a shot to save you from boredom. Books by authors with different cultures and experiences will also expose you to new places and perspectives. And at least one study found that regular reading can increase a person's empathy and feelings of being socially connected.
Read more: Our 5 Favorite Books by Native American Authors
7.
Stop Reading Books You Don't Enjoy
Life is short, and the list of available stories is too long to be stuck with a book you don't like. That defeats the purpose of reading for pleasure, and it'll take you longer to finish a book if you're forcing yourself. There's no reason to feel guilty about a book you DNF (did not finish). DNFing a book you're not enjoying is a valuable boundary to uphold.
Have feedback on our story? Email [email protected] to let us know what you think!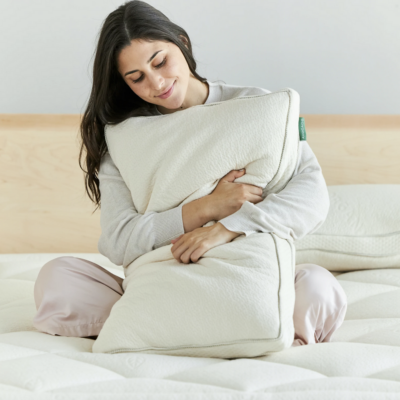 Shop Pillows
The Essential Organic Pillow Collection
Gentle, breathable, non-toxic support.
Buy Now