Learn about the history, culture, and stories of Indigenous people with these inspiring, eye-opening books by Native American authors.
There are 574 federally recognized Indian Nations in the United States. And, as of 2020, 3.7 million people self-identified as Native American and Alaskan Native. These different Indigenous tribal nations have their own languages, religions, and cultural views that have been passed down through generations.
Unfortunately, much of the Native American history we learn in school is brief, narrowly focused, and doesn't always tell the whole story. But the experiences, traditions, and contributions of Indigenous communities are important — and inextricably linked with the past, present, and future of our nation.
So, if you're looking to celebrate Native American heritage, learn more about their individual customs, and support Indigenous authors — we've got you covered. Here are our five favorite books by Native American authors to add to your reading list.
Read more: The Indigenous Movement to Reclaim Public Lands
1.
Seven Fallen Feathers: Racism, Death, and Hard Truths in a Northern City
Tanya Talaga Seven Fallen Feathers offers readers an eye-opening account of the devastation faced by Indigenous communities in Canada — from the forced assimilation in residential schools to suicides and racist homicides that were dismissed by authorities. Throughout the novel, readers must reckon with the hard truths of The Indian Act and heartbreaking stories of Indigenous youth and families living in Thunder Bay, Ontario during the 1960s. From 12-year-old Chanie Wenjack, who froze to death after running away from his residential school to the seven high school students who were found dead more than a quarter of a century later, Talaga brings forth the experiences of Indigenous people whose names should never be forgotten.
There There follows the journey of 12 characters from Native communities as they travel to the Big Oakland Powwow. Little do they know, their lives are all intertwined. Among the protagonists is Orvil, a 14-year-old who is set to perform the tribal dance for the first time and Dene Oxendene, who yearns to attend the event in honor of his uncle's passing. With this novel, Tommy Orange, a member of the Cheyenne and Arapaho Tribes of Oklahoma, explores an array of sensitive issues — including addiction, suicide, and domestic violence.
Read more: How Indigenous Groups Are Leading the Way On Conservation
Young adults will enjoy reading this story of Daunis Fontaine, an 18-year-old biracial and unenrolled tribal member who struggles to fit in with both of her cultures. Fire Keeper's Daughter has everything required for an attention grabbing and gripping plot: a murder mystery, romance, and community. As Fontaine works to solve a murder, she must also protect those she loves from harm. Although the story isn't a historical revealing of Native American culture, author Angeline Boulley — a member of the Sault Ste. Marie Tribe of Chippewa Indians — brings us an inspirational story of survival, grief, and resilience.
Eloquently written by Anishinaabe nation member and author Louise Erdrich, LaRose, chronicles the death of a young boy and a father who searches for guidance through his tribe. The novel begins with a tragedy that throws two families in turmoil and grief. After a father accidentally kills his son's childhood best friend during a hunting trip, he and his wife must deal with their own grief as they decide whether to follow their tribe's old traditional ways by offering their own son, LaRose, as a replacement. It's a profound and touching narrative about the importance of healing and the struggle of identity.
A page-turning memoir by Joy Harjo, an award-winning poet and member of the Mvskoke Nation, Crazy Brave gives us a raw and honest look into her life. From growing up with an abusive father to becoming one with her culture, readers get a personal understanding of her struggles, triumphs, and the experiences that shaped her. Harjo is a multi-faceted artist who has received critical acclaim, including the Native American Music Award (NAMMY) for Best Female Artist of the Year and New Mexico Governor's Award for Excellence in the Arts.
Read more: The Importance of Land Acknowledgements
Have feedback on the story or know of other books by Native American authors we should check out? Send us an email at [email protected] to let us know!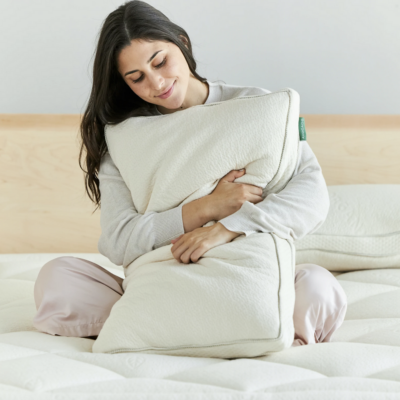 Shop Pillows
The Essential Organic Pillow Collection
Gentle, breathable, non-toxic support.
Buy Now