The Line 3 Pipeline is yet another instance of how Indigenous groups are leading the way in conservation and climate justice.
Starting in early June 2021, a growing swell of people gathered in Northern Minnesota to protest the expansion of an oil pipeline through the treaty territory of the Anishinaabe people. Since 1968, Enbridge's Line 3 pipeline has carried tar sands oil and crude oil from Alberta, Canada to Wisconsin. (A Line 3 spill in 1991, near Grand Rapids, Minnesota, was one of the largest inland oil spills in U.S. history.) So, in 2014, the company proposed an update to the aging line — which would follow a new route. The problem? The proposed route runs through treaty land, through the headwaters of the Mississippi River, and threatens previously untouched wetlands that are integral for producing wild rice.
And the Anishinaabe people, who live in Canada and the U.S. and include Minnesota's Ojibwe people, aren't going to sit idly by and let the new Line 3 pipeline route be built without a fight.
For years, the Native group has led pushback on the Enbridge development. They've organized protests, shown up at public hearings, and sounded the alarm about the safety risks associated with Line 3. The pipeline also threatens areas protected by an 1855 treaty between the U.S. government and Ojibwe people guaranteeing their rights to the land the Line 3 route would travel through for hunting, fishing, and subsistence purposes.
Action around Line 3 is yet another instance of the federal government failing to make good on its promises — but it's also one of many examples of how Indigenous organizers are leading the way in conservation and climate justice.
Read more: This Permaculture Garden is Healing a Town
Indigenous people manage or own about a quarter of the world's land, and studies show their territories are often healthier and have more biodiversity than those managed by other groups. Another study found that in areas where Indigenous communities have legal forest rights, they maintain or improve their forests' health and capacity for carbon storage. But, more often than not, they're left out of decision-making or prevented from continuing as stewards of the land and natural resources.
For example, Indigenous people have been outlawed by local and state governments from managing the health and fire resilience of their own lands through prescribed burns. In March 2021, The New York Times reported that Indigenous communities are not recognized as parties and therefore can't vote at the upcoming United Nations Convention on Biological Diversity in October 2021. This means they will have no say in an agreement, among dozens of countries, about how to preserve 30 percent of the world's biodiversity and prevent the destruction of natural resources and lands by 2030.
But ignoring the rights of Indigenous people isn't new. Historically, they've had land treaties violated by the federal government and land seized. This is the case in the Black Hills area where Mount Rushmore sits. And Indigenous people around the world are disproportionately targeted for taking a stand against environmental injustice; a 2020 report found that 40 percent of environmental defenders killed in 2019 were from Indigenous communities.
Yet, in the U.S. alone, Indigenous activists have consistently organized to protect their own lands, advocate for climate justice, and push back against projects that stand to harm communities far beyond their own.
In 1973, 250 people from the Oglala Lakota tribe occupied South Dakota's Pine Ridge Reservation — known as Wounded Knee — for 71 days to call attention to unsafe living conditions and mistreatment by federal and local governments. In 2004, Indigenous activists formed the Save the Peaks Coalition to speak out against the proposed development of the San Francisco Peaks, an area that is culturally and spiritually significant to at least 13 tribes. And, among the most prominent recent examples, is the Keystone XL pipeline, which was slated to go through several tribal lands and was officially abandoned in June 2021 after tribes and other activists organized against it for more than a decade.
"Indigenous people and our allies are really finding solidarity around Indigenous rights and treaty rights. It's strengthening the movement in a way that I don't know if people actually thought would happen."

Simone Senogles
That monumental achievement is one reason Line 3 activists have felt heartened during their protests. "I'm feeling the power of the movement," says Simone Senogles of the Red Lake Nation and Food Sovereignty Program Coordinator for the Indigenous Environmental Network, who has been deeply involved in Line 3 protests. "Indigenous people and our allies are really finding solidarity around Indigenous rights and treaty rights. It's strengthening the movement in a way that I don't know if people actually thought would happen."
Read more: The Importance of Land Acknowledgements
Still, the protesters have faced a huge number of challenges in recent weeks alone. It's been reported that more than 250 protesters have been arrested. On June 7, Minnesota Public Radio reported that the U.S. Customs and Border Protection helicopters flew low over the protesters in an attempt to flush them out. And on June 24, the Biden administration defended the Trump administration's approval of the project. The Biden administration still has the option to revoke water-crossing permits granted to Enbridge by the Army Corps of Engineers; the pipeline, after all, is planned to pass through more than 200 bodies of water. But their latest move shows they currently have no intention of doing so, and instead, will continue to disregard the voices of Indigenous people who will be directly affected by the pipeline.
In the meantime, it seems an overwhelming number of protesters are showing up to stand beside Indigenous organizers, who continue to lead with values of food sovereignty, responsible resource management, and a holistic, committed approach to environmental action.
Senogles told Vox in March, "We consider water not a resource — not something to be bought or sold, but a living, thinking, sentient relative and the portal through which everything comes to life." As support for the Anishinaabe organizers of Line 3 protests grows, many are hopeful that more conservationists will listen to Indigenous leaders who have been fighting for what's right and showing up on the frontlines for centuries.
"It's just really powerful what's been happening. And I think it's going to have long-lasting effects to protect Mother Earth," says Senogles. "We are really focusing on the power of movements, the power of tribal governments."
Read more: Why Prescribed Burns Are Essential For Forest Health
Have feedback on our story? Let us know by sending an email to [email protected].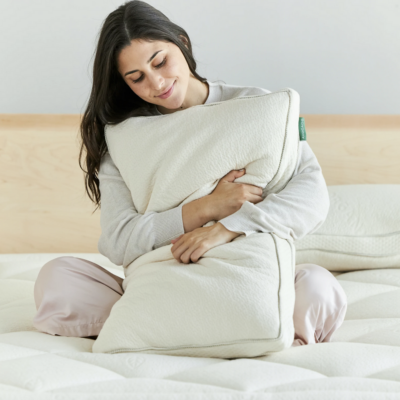 Shop Pillows
The Essential Organic Pillow Collection
Gentle, breathable, non-toxic support.
Buy Now