The 30 by 30 proposal to protect underdeveloped land and water has bipartisan support among voters and legislators, but how will it actually work? With Patagonia leading the way, we can all do our part to help.
This month, we're celebrating the heroes that embody this year's Earth Day theme: Restore Our Earth. Don't miss our first two stories: Are Solar Co-ops the Future of Clean Energy? and the Nonprofit Reducing Plastic Waste One Community at a Time.
In Joe Biden's first days as president, he signed sweeping executive orders that kickstarted his aggressive climate change plan. Among proposals for clean energy infrastructure and environmental justice initiatives is a vague promise to preserve 30 percent of the country's lands and waters by 2030 — 30 by 30. As a concept, this sounds great: It's estimated that a fraction of that amount of land is currently protected and achieving the goal would offer so many potential benefits for biodiversity, carbon sequestration, and beyond.
However, the 30 by 30 proposal isn't a new idea. It has been studied for years, with science supporting the advantages of more expansive land and water protections for all kinds of reasons, including helping migratory species, preserving existing biodiversity hot spots, and advancing environmental justice. And the good news is the plan already has bipartisan support with voters and in Congress. That might have something to do with increasing global effort to preserve land and conserve water as we grapple with the intensifying effects of climate change. Other countries are making similar pledges to address rapid loss of biodiversity and protect the world's oceans.
But many — myself included — have wondered: How exactly are we going to put this plan into action? The work will likely be a combination of top-down measures by agencies like the Department of the Interior, along with on-the-ground participation from private landowners, nonprofits, and other organizations. There's also one company that's not waiting around for marching orders — Patagonia. The brand is using resources and trusted connections to spread the word about the 30 by 30 campaign, and in the process, making it easier for individuals to become involved in the ambitious undertaking to restore our Earth.
Read More: Patagonia Stands Up for Public Lands
It's well-established that the key to success in climate action initiatives is supporting groups that are already doing the work in their communities. Which is why one of the campaign's predominant goals is to encourage visitors to connect with environmentally focused grassroots organizations in their area. It's a clever use of the brand's Action Works platform that has been in place for years.
The program provides users a wealth of information about local nonprofits — you can filter by interest — and enables them to take action by volunteering, donating, signing petitions, or learning about events going on nearby. Featured groups run the gamut from Indigenous rights organizations to art collectives, urban farmers, and watershed conservationists — Patagonia also provides grant money to the hundreds of names listed through its 1% for the Planet action.
Users can view volunteer opportunities that require specific skills, too, like copywriting or social media assistance. The organizations often list exactly how much money it would save if someone could volunteer to do this work, which is often thousands of dollars.
Read More: The Nonprofit Reducing Plastic Waste One Community at a Time
The campaign also provides a landing page that directs visitors to articles where they can learn more, including information from organizations who are also doing 30 by 30 work and a missive from former New Mexico Senator Tom Udall, who authored and introduced the 30 by 30 resolution.
"…A common refrain in these past months of health crisis and civil unrest has been: 'When can we go back to normal?'" he writes. "That is the wrong question. Instead, we should ask ourselves the question that Rachel Carson posed: How do we open our eyes to the challenges before us? And how do we keep our eyes open so that we act to create a new normal?"
You can also find information on climate-related events and petitions, which seem to acknowledge the huge range of issues tied to the 30 by 30 goal. There are astronomy events at local parks, fly fishing film festivals, and talks by conservationists. And while signing petitions encouraging public lands protections or climate action may not feel like a huge contribution, it can be helpful to stay on top of the issues they bring up and keep learning how you can make your voice heard by your representatives.
Read More: Our 6 Favorite Podcasts Inspiring Climate Activism
Beyond Patagonia's initiative, other organizations like the Wilderness Society and the Natural Resources Defense Council offer details about why the 30 by 30 concept is important, how citizens can keep an eye on how the government handles those issues, and how they can get involved in local efforts to preserve lands, waters, and biodiversity.
All of these resources paint a more specific picture of how an engaged citizen can feel more empowered to address a big, worthy goal like 30 by 30. It can be intimidating to get involved in climate activism as an individual, the other side of the coin are countless ways to fight for the protection of biodiversity and climate resilience.
The future of our planet, thriving biodiversity in our waters and on land, and the beautiful landscapes and forests we currently enjoy aren't guaranteed. But thanks to forward-thinking companies like Patagonia and their work to promote the 30 by 30 campaign, burgeoning climate activists can follow their interests, discover new ones, and learn how to hold equality and justice at the forefront no matter what issues they decide to focus on.
Read More: This is What Climate Justice Looks Like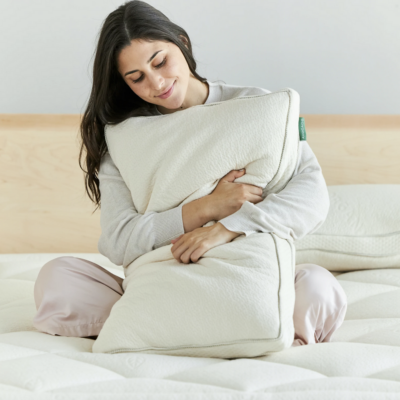 Shop Pillows
The Essential Organic Pillow Collection
Gentle, breathable, non-toxic support.
Buy Now