Healthy recipes, climate news, mental health tips, and DIYs — our community of readers loved all these topics and more. Here are our top 12 Avocado Magazine stories for 2021.
Better air. Cleaner cars. Healthier recipes. More sustainable, equitable living. If there was one theme that emerged this year, it's that our readers wanted to act on behalf of a more environmentally and socially responsible planet. Our tops stories reflect that.
We're taking a moment to reflect on what a great year it's been at Avocado Magazine and thank you, our readers, for your support. These are the 12 top stories the Avocado community loved most in 2021. — Avocado Editors
Indoor air can be five times more polluted than outdoor air. Here's why that is so dangerous and what you can do about it.
Discover new healthy snacks and support black-owned businesses with Tiny Bodega.
Electric trucks are about to take over America. The Rivian R1T is leading the way, but Ford, GM, and others are debuting their own models soon.
Lack of sleep doesn't just impact energy levels and productivity — it has a major effect on your overall well-being, too. So, we spoke to an expert to gain insight into how sleep affects metabolic health.
From natural deodorant and non-toxic candles to eco-friendly yoga mats, support the Asian and Pacific Islander community by investing in these sustainable AAPI-owned brands.
This watermelon passion fruit smoothie recipe is simple, delicious, and just what you need to shake off the summer heat.
Billions of pounds of seafood are wasted each year at every step of the supply chain and by consumers. If we don't act now, we could run out by 2048.
Studies show that swimming in frigid water or taking a cold shower supports mental and physical well-being.
A personal plea for us all to do our part to help increase outdoor recreation diversity and inclusion.
A sixth mass extinction, caused by human actions, is upending the natural world as we know it. We must act now to preserve and protect the planet's essential biodiversity.
Cultivate edible fungi in your basement or backyard with these go-to methods from growing your own mushrooms at home.
Research shows the weed killer, once touted as a miracle farming innovation, may be introducing toxic chemicals into our bodies, water, wildlife, and soil.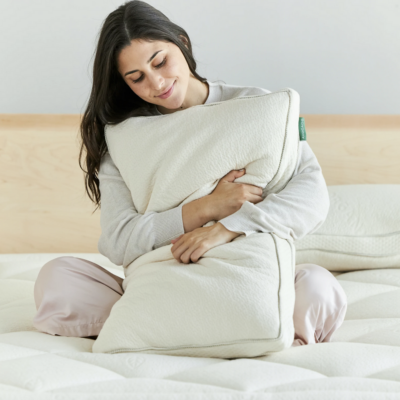 Shop Pillows
The Essential Organic Pillow Collection
Gentle, breathable, non-toxic support.
Buy Now