Lifestyle
Coming Soon: Electric Trucks
Electric trucks are about to take over America. The Rivian R1T is leading the way, but Ford, GM, and others are debuting their own models soon.
I live on a dirt road at the foot of Taos Ski Valley, in northern New Mexico. We get a lot of snow, and our home is heated by a big wood stove. Each winter, we need three to four cords of timber, most of which my wife and I process and haul ourselves from the deadfall we find in nearby Kit Carson National Forest. We compost on site and have recycling pickup, but to dispose of our trash, we make a quarterly trip to the landfill with four months worth of waste crammed into a handful of garbage bins. On weekends, we haul a little camper to sleep deep in the woods.
Which is to say, my wife and I need a truck. We have a Toyota Tacoma that does the job just fine, but we're confident we'll never buy another gasoline-powered vehicle, and our truck, hopefully in the near future, will become obsolete.
The future is electric. And it's powered by the sun and wind. With the planet undergoing fundamental and possibly irreversible damages as a result of climate change primarily as a result of the greenhouse gas emissions caused by fossil fuel-powered vehicles, the EV revolution cannot come soon enough. We want to buy into it. There's just one problem: Have you ever tried to put a half a cord of wood in a Chevy Bolt?
Fortunately, we're about to be flooded with more EV options. GM says it will only make zero-emission vehicles by 2035. VW plans to sell 22 million EVs in 10 years. Ford is putting $29 billion into its electric car program. And Volvo, too, says it will only sell EVs by 2030. EVs are just 2 percent of the current market right now (they're mostly Teslas), but with all that anticipated investment, that number is going to grow exponentially.
The EV market has to include trucks, too. We're a truck country after all — 2.5 million Americans bought them last year. The Ford F-150 has been the best selling car in America for 40 years. So to truly make a dent in transportation emissions, which are responsible for 28 percent of greenhouse gasses, EVs need to appeal to truck owners.
And it's happening. Startup Rivian has raised $2.65 billion for its electric trucks. Their R1T, arriving in June 2021, gets 300 to 400 miles a charge, has a hauling capacity up to 11,000 pounds, and goes 0 to 60 in three seconds. Features include vegan leather and a slide out kitchen with an induction stove, sink, four-gallon water tank, and pump. Rivian wants to change the way we think about electric vehicles by creating a reliable off-road adventure tool. It's marketing videos star overlanders, mountain bikers, surfers, and climbers.
Rivian isn't the only company entering the electric truck market. Their competition includes the Tesla Cyber truck, the Bollinger B2, the Lordstown Endurance, and the GMC EV Hummer, among others. But these are all luxury vehicles — the Rivian starts at $67,000 — designed less for hauling wood and garbage cans and more for cruising to Whole Foods.
The federal tax credit up to $7,500 helps, but so will more competition and lower-end models from the big auto manufacturers. Ford is planning an electric F-150 targeted at the hard-hat crowd that made it the most popular vehicle in the country, claiming it will be the fastest and most powerful version of the truck yet (in the prototype video, the truck pulls a train). Ford also says the electric F-150 will be half the "ownership cost" (taking into account fuel and maintenance) than the fossil fuel version.
For those of us living in the rural West, we aren't just waiting on electric truck innovation — we still need charging stations, too. Powering up your Tesla is easy in affluent neighborhoods near big cities — less so in low-income and rural areas. The Electric Vehicles for Underserved Communities Act would install 200,000 electric vehicle charging stations by 2030. And President Biden has a plan to install 500,000 of them, too. Rivian wants to help. They're building the Rivian Adventure Network, a nationwide collection of fast-charging stations in rural areas that could charge EVs for a range of 140 miles in just 20 minutes. 
Of course, all this innovation and infrastructure is still years out. Until we have more practical and accessible electric vehicle options, my wife and I, like most others, will keep pulling up to the old gas station to pump fossil fuels into our cars. The future can't come soon enough.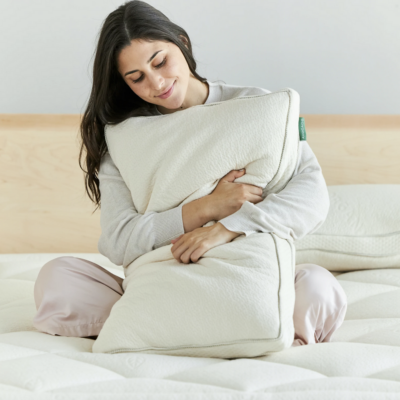 Shop Pillows
The Essential Organic Pillow Collection
Gentle, breathable, non-toxic support.
Buy Now