Research shows the weed killer, once touted as a miracle farming innovation, may be introducing toxic chemicals into our bodies, water, wildlife, and soil.
This article is the first in our 'Soil Series', where we explore complex issues related to agriculture, our environment, and the future of our planet.
Herbicides have been a key — and normal — part of farming practices for years; they're used to remove the past years' crop to plant a new one, to form rows in orchards or vineyards, or to control weeds in fields. In fact, you may have sprayed herbicides in your own yard to get rid of weeds in your garden or grass. Sometimes, they're even used to clear vegetation along train tracks or power lines.
In the 1970s, herbicides were used sparingly on farms; if you sprayed them everywhere, you'd kill weeds and crops. Then, in 1996, Monsanto (which is now part of the pharmaceutical company Bayer), created a new line of genetically modified, glyphosate-tolerant crops. Thanks to this new innovation, you could spray glyphosate herbicides in your field and your crops would remain hardy and thriving. In terms of efficiency and production, it was a huge win for farmers and appeared to be better for the environment than the more toxic herbicides that had been used in the past. All of this meant that glyphosate herbicides — which you can find in the store under the label RoundUp — became the most widely used herbicide in recent history.
Read More: This Permaculture Garden is Healing a Town
But here's the issue. In 2015, the World Health Organization and International Agency for Research on Cancer both classified glyphosates as "probably carcinogenic to humans." In other words, the human consumption of glyphosate herbicides was being linked to lymphoma and other cancers in a growing body of research. This 2015 announcement began an all-out battle between Monsanto, the farming industry, and researchers.
Research conducted in 2005 by the Food and Agriculture Organization in the UN showed that glyphosate residue can stick around in water and soil for several months after it's sprayed, which doesn't bode well for the trickle-down effects on animals and humans. But authorities from the Environmental Protection Agency (EPA) and European Food Safety Authority both concluded in 2017 that glyphosate was probably not giving people cancer. Again, the key word in all of these findings is "probably."
Individual people joined the battle over glyphosates, too. During the past five years, Monsanto has been sued more than 9,000 times by people who claim to have developed non-Hodgkin lymphoma and other kinds of cancer after exposure to Monsanto's herbicide. In three landmark cases, verdicts were made resoundingly in favor of the victims. Monsanto continues to maintain that there are no links between human health and glyphosates. 
Read More: Why Local Farmers Need Your Support Now More Than Ever
Now, research is starting to look at the impacts of glyphosate herbicides on animals and the environment. At first, RoundUp appeared to be a better option than past compounds; compared to paraquat (which killed anyone who breathed it in or swallowed it, meaning that farmers wore respirators while spraying). So, glyphosate was actually better for animals because it inhibits a nutritional pathway in plants that isn't present in animals. But the EPA still maintains that animals should be kept away from any plants that have been sprayed with RoundUp; they risk digestive or intestinal problems. 
And if glyphosate stays in water for several months, scientists are concerned about the effects of the chemical compound on fish, mollusks, and insects. Specifically, glyphosates appear to affect microorganisms and invertebrates more than larger mammals. In one study, herbicide use affected earthworms negatively; worm reproduction was reduced by 56 percent in the three months after herbicides were sprayed, and the soil also had increased levels of nitrates and phosphates.
What can we do about this? In the U.S., federal law requires that glyphosate-based herbicides would only be banned if the costs are greater than the benefits. Basically, if prohibiting the use of these herbicides made corn and soybeans more expensive, this could adversely affect food security, making it an issue that federal law is not willing to tackle. 
Read More: How Food Forests Help Solve Food Insecurity
The EPA has also set limits for the amount of RoundUp that can be used on a wide range of crops (known as "tolerances"), which, for the moment, is keeping the likely toxicity levels at bay. But still, it's important to be aware of these farming practices so you can protect yourself.
Consider washing your produce with a light (2 percent) saltwater solution to remove most pesticide residue. You can choose to buy organic produce and fabrics; anything with a USDA Certified Organic or Global Organic Textile Standard seal must be grown and produced without the use of herbicides or fertilizers. And investing in a local CSA (community supported agriculture) program can help smaller, organic farms thrive.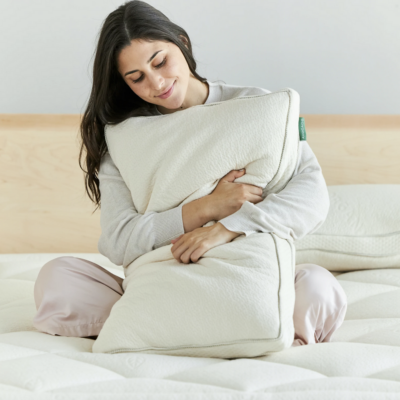 Shop Pillows
The Essential Organic Pillow Collection
Gentle, breathable, non-toxic support.
Buy Now