This watermelon passion fruit smoothie recipe is simple, delicious, and just what you need to shake off the summer heat.
If you're on the search for a refreshing and light drink to help you stay healthy and hydrated during these hot summer days, look no further. Our watermelon passion fruit smoothie recipe is sweet, tangy, tasty, and good-for-you.
Why You'll Love This Watermelon Passionfruit Smoothie
Only Five Ingredients. You only need a handful of ingredients to make this vibrant smoothie. But that doesn't mean it lacks flavor. Thanks to the combination of passion fruit and pineapple, which help bring out more of the watermelon, you'll be sipping on this craveable concoction all summer long. 
Light and Refreshing. Because we're using watermelon, this smoothie will give you a boost of extra hydration. One cup of watermelon provides your body with at least a half-cup of water, making it one of the most hydrating fruits out there — and perfect for those that struggle with drinking water.
Helps You Hit Your Five A Day. It's recommended that we should aim for at least five servings of fruits and vegetables daily — hey, we need those vital nutrients to keep us healthy. This fruit-packed smoothie will help get you there.
Nutrient Dense. Even though this smoothie recipe is simple, its ingredients are nutrient dense. Get ready for a dose of lycopene, vitamin C, fiber, and extra antioxidants. 
Read more: Our Go-To Lunch Recipe: Tex Mex Quinoa Salad
Is This Smoothie Healthy?
Smoothies notoriously have a bad rap, mostly due to concern about the sugar content. The good news is that making your own gives you control over the ingredients, and you can easily adjust them to increase the nutritional value. Here are some of the benefits of the ingredients we chose:
Watermelon. A fruit that is both hydrating and loaded with vitamins like C, beta-carotene, and lycopene. These antioxidant-rich nutrients may provide lower risk for conditions like heart disease and certain cancers.
Passion Fruit. An exotic fruit that is loaded with antioxidants like beta-carotene and magnesium. Magnesium is an awesome, multi-faceted mineral that can also help you relax.
Pineapple. A fruit high in vitamin C and the enzyme bromelain, which can aid in improved digestion of protein and also help to reduce inflammation for our digestive tract.
Read more: 3 Flavor Packed Recipes You Won't Believe Are Vegan
Watermelon Passionfruit Smoothie Recipe (Serves 2-3)
Ingredients
2 cups freshly cut watermelon
2 cups frozen pineapple
1 passion fruit
Juice of one lime
2 tsp maple syrup
Mint sprigs
Instructions
Place the ingredients in a high-speed blender in the order listed, making sure the watermelon is at the bottom closest to the blades. When adding the passion fruit, cut it in half and scrape out the inside, including the seeds, into the blender and discard the shell.
Blend all the ingredients until completely smooth.
Pour into glasses, garnish with mint sprig and slices of watermelon (optional), and serve!
Did you try out our Watermelon Passionfruit Smoothie recipe? Share it with us by tagging @avocadomattress on Instagram or Facebook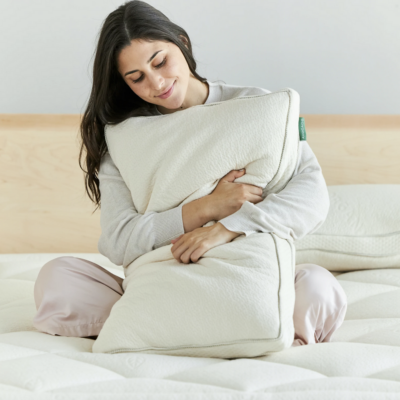 Shop Pillows
The Essential Organic Pillow Collection
Gentle, breathable, non-toxic support.
Buy Now