This quinoa salad recipe is a nutritious, refreshing go-to meal on busy weekdays. Plus, it's both tangy and spicy thanks to a combination of lime and adobo sauce.
As fancy as it tastes, this salad is the perfect quick and easy, make-ahead recipe. The only thing you have to cook or prepare in advance is the quinoa, but everything else just gets tossed together in a bowl. Doesn't get better than that!
Read more: 3 Flavorful Recipes You Won't Believe Are Vegan
Why You'll Love This Quinoa Salad Recipe
A cinch to make. This salad only takes 30 minutes to make — and that includes prepping the quinoa. If you're short on time, use frozen quinoa or the microwave variety that you can find on store shelves. 
Easy to customize. While you can stick to the recommended vegetables, you're always welcome to change things up to match your preferences. Occasionally, I'll throw in some grilled zucchini. 
Naturally vegan and gluten-free. Quinoa is a naturally gluten-free grain, so this dish is ready-made for those avoiding gluten. And because it features fresh, healthy ingredients, it's also totally vegan.
Loaded with nutrition. Between the quinoa, beans, and abundance of veggies, this salad is packed with plant protein, fiber, iron, vitamin C, and antioxidants. So not only will this vibrant dish nourish you and keep your energy levels stable, it will also satisfy you and keep you full all day.   
Read more: A Better Breakfast — Thin Mint Overnight Oats Recipe
Is Quinoa Actually Healthy?
Even though quinoa is technically a seed, it's most often classified as a whole grain. And it's a great option for individuals that might not get full naturally eating foods like rice, as it's packed with more nutrition. Each cup of cooked quinoa offers eight grams of protein and five grams of fiber, along with an assortment of other minerals. Adding quinoa to different meals can make them more hearty and enjoyable. Consider adding quinoa as a side or make it the star ingredient of your next salad.
Tex-Mex Quinoa Salad Recipe (Serves 4-6)
Ingredients
1 cup uncooked quinoa
1 15 oz can black beans, rinsed and drained
1 cup frozen fire roasted corn, thawed
½ cup cherry tomatoes, halved
1 bell pepper of choice, diced
3 tbsp of adobo sauce from a can of chipotle peppers
1/2 tsp garlic powder
1 tsp oregano
¼ tsp ground coriander
¼ cup fresh cilantro
2 tbsp extra virgin olive oil
2 tsp maple syrup
Juice and zest of one lime
Salt and pepper to taste
Directions
Cook quinoa according to the package. For more flavor, I recommend cooking your quinoa with vegetable broth in place of regular water. Once cooked, allow to sit and cool prior to making the salad.
To a large mixing bowl, add your quinoa, black beans, corn, tomatoes, and pepper.
On top of the base ingredients, sprinkle your herbs and spices along with the adobo sauce, olive oil, lime juice, and zest.
With a spoon or spatula, give the salad a big mix to combine everything and coat the quinoa in the flavors of the sauces and herbs.
Adjust the flavor of your quinoa salad with salt and pepper as desired. You may serve immediately or chill in the fridge for an hour or more to allow the flavors to marinate and become more complex.
Did you try out our Tex-Mex Quinoa Salad recipe? Share it with us by tagging @avocadomattress on Instagram or Facebook.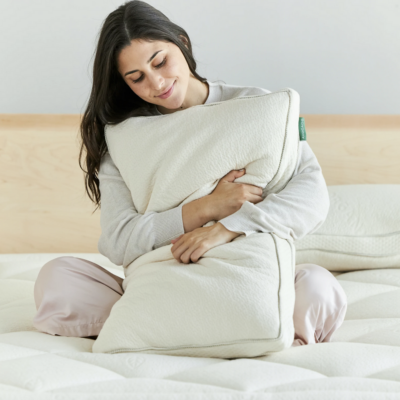 Shop Pillows
The Essential Organic Pillow Collection
Gentle, breathable, non-toxic support.
Buy Now