This chocolate- and oat-filled delight is easy to prep, good-for-you, and will satisfy your sweet tooth.
Did you manage to get through the Girl Scout Cookie season without indulging? Whether you enjoyed a box (or five) already or have a few stored in your freezer for future use, we all deserve the flavors and comfort these cookies bring regardless of the season. And if you happened to miss out — I've got you covered.
Enter: Thin Mint Overnight Oats. The easy-to-prep breakfast (or snack!) features the cool and refreshing minty chocolate from this classic cookie rolled into a convenient recipe that tastes like dessert. 
Read more: Our Better For You Blueberry Lemon Pancake Recipe
Why you need to make a jar of these overnight oats
These oats are decadent, but still pack in a lot of nutrition. This overnight oats recipe will help get your day started on the right foot with a balance of fiber, healthy fats, and antioxidants.

Super easy to prep day-of or for the week. I like to keep a couple of jars loaded with all the dry ingredients for the week and add in all the liquids the night before, so it's ready to grab and go.

Provides sustainable energy. This delightful concoction will keep you feeling satisfied and energized throughout the morning.
Key Nutrients
Fiber: Found in plant-based foods like oats and chia seeds that help to keep your digestive tract running smooth and may help also reduce cholesterol.

Plant-Based Omega 3s: Best known for their contribution to good brain and heart health. They also help reduce overall inflammation.

Polyphenols: Special antioxidants found in compounds like fruits, vegetables, herbs, tea, and dark chocolate that may help reduce chronic disease risk.
Thin Mint Overnight Oats Recipe (makes one jar)
Ingredients
½ cup old-fashioned oats
1 tbsp cocoa powder
½ tsp espresso powder (optional)
1 tbsp chia seeds
1 tbsp maple syrup
1 tbsp dairy-free dark chocolate chips
Pinch of salt
2 drops of peppermint extract
¾ cup unsweetened almond milk
Directions
In a jar or to-go container, add in your oats, cocoa powder, espresso powder, chia seeds, salt, and chocolate chips.
Stir your dry ingredients together well, then add in your maple syrup, peppermint extract, and almond milk.
Give your jar a really good mix, then seal it closed and place in the fridge for at least an hour, or overnight, to thicken and soften your oats.
Notes: You can enjoy your oats as-is or top with some slivered almonds and banana slices if desired.
This recipe is created by Plant Based RD, a registered dietitian who specializes in vegan nutrition.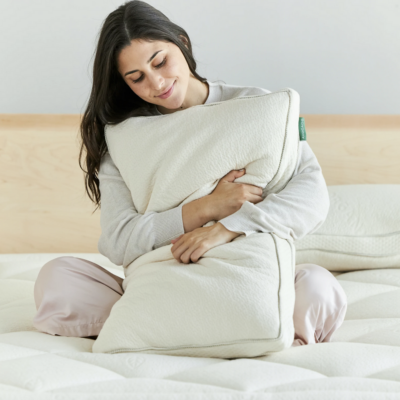 Shop Pillows
The Essential Organic Pillow Collection
Gentle, breathable, non-toxic support.
Buy Now