Get up early and whip up this unforgettable, fruit-filled blueberry pancake recipe.
Pancakes rank high on my list of favorite foods. For me, they're a symbol of slowing down, taking a break, lazy weekends, and simply relaxing. So, I'm sharing my spruced-up flapjack recipe that features fresh, springtime flavors by adding both lemon and blueberry. These pancakes also have a secret ingredient — spelt flour! 
Read more: A Better Breakfast — Thin Mint Overnight Oats
Why These Pancakes Are A Must
Fluffy and satisfying. While these are healthier pancakes, that doesn't take away from the experience of enjoying them. They have a lovely, fluffy texture and taste like the pancakes you would normally get at a cafe.

They taste like springtime. Lemon screams spring and the start of warmer weather. I love combining the citrusy flavors with blueberries this time of year.

Packed with whole grains. Whole grains help to reduce the glycemic index of a food. That's a fancy way of saying they won't cause a major blood sugar spike or sudden crash.

Easy to meal prep. Let's be real — I will take advantage of any opportunity to eat pancakes a few days a week. And the good news is you can make a few extra of these pancakes, store them in a freezer bag, and reheat for a quick treat during the week.
Why Spelt Flour?
Spelt is an ancient grain that comes from a subspecies of wheat. It has this very beautiful nutty flavor that works well in a lot of applications, and it's a whole grain I recommend quite often.
Whole grains like spelt help to add more fiber, iron, magnesium, and B vitamins to your daily diet. Fiber in particular helps with achieving more even blood sugar levels — a major win if you want to avoid a sugar crash after enjoying pancakes or other baked goods. So, without further ado, here's the recipe!
Lemon Blueberry Pancakes
Ingredients
1 cup plant-based milk (almond, soy, coconut, etc. will work here)
Juice of one large lemon
Zest of one large lemon
½ mashed banana or ¼ cup applesauce
1 tbsp maple syrup or organic white sugar
1 tsp vanilla extract
1 1/2 cups spelt flour
2 tsp baking powder
1 tsp baking soda
Pinch of salt
⅓ cup frozen blueberries
Directions
Preheat your griddle. Meanwhile, combine milk and lemon juice together and allow to sit for a few minutes to curdle into a "buttermilk" consistency.
In a mixing bowl, add in banana, maple syrup, zest, and vegan buttermilk. Mix well to combine.
Add in flour, baking soda, baking powder, and salt and carefully mix together to form a batter. Do not overmix. You should be left with a thicker batter. If too thick, add an extra bit of milk or water to thin it out.
At this time, you can fold in the blueberries.
Grease your griddle and ladle ¼ cup of the batter on to the surface to cook. Allow your batter to cook for about three minutes or until the edges appear dry, then flip and cook the other side for 2-3 minutes until golden. Repeat this step with the remaining batter.
Serve pancakes with syrup, or top with plant-based yogurt and extra fruit as desired.
Notes: These pancakes can be made using white whole wheat flour as an alternative. Be careful with other flour swaps as the ratio of flour and liquid will need to be adjusted.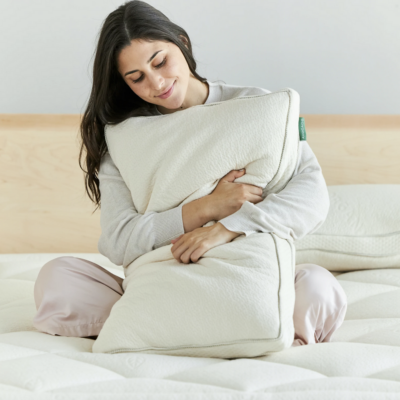 Shop Pillows
The Essential Organic Pillow Collection
Gentle, breathable, non-toxic support.
Buy Now