From natural deodorant and non-toxic candles to eco-friendly yoga mats, support the Asian and Pacific Islander community by investing in these sustainable AAPI-owned brands.
Part of being an ally means finding effective ways to support the Asian community. And support comes in a variety of forms — from raising awareness of systemic xenophobia to reporting abuse and donating to Asian and Pacific Islander organizations.
Another equally effective way to practice allyship is by investing in sustainable, AAPI-owned brands — and there are plenty of awesome ones to choose from. If you're interested in clean, environmentally friendly wellness products, we've got you covered with seven sustainable AAPI-owned brands you can support today, tomorrow, and forever.
Read More: Being an Ally Means Facing Some Hard Truths
Sisters Chrystle and Cat Cu created Cocofloss to make flossing and brushing a fun experience for those who hate it. Made in Italy, their colorful floss is carefully crafted with non-toxic ingredients like coconut oil, fruit oils, and vegan wax, while their toothbrushes are made with recycled, ocean-bound plastics (major win!). Even better, Cocofloss is designed to reach between the tight spots regular floss can't squeeze through — and the brightly colored packaging will make the daily task seem more like a treat than a forced routine.
A cup of hot herbal tea can change your mood, relieve stress, and help with sleep. Founder Maggie Xue wanted to create a tea brand that represented the Asian culture — something she found missing among the tea brands more commonly known in the U.S. Us Two Tea offers a variety of loose-leaf teas — Oolong, Jasmine, Baozhong, and Black — that are directly sourced from three small family-owned farms in Taiwan. And because the company has direct oversight of the supply chain, their teas are naturally clean and free of chemicals and pesticides. They also come in non-toxic, biodegradable sachets made from bleach-free corn fiber, so they don't release microplastics in your cup like other sachets.
With benefits ranging from memory improvement to a decrease in anxiety and stress, it's no wonder yoga is so popular. And if you're looking for ways to add style to your workout routine, Maiya offers a line of sustainable — and fashionable — yoga mats. Founded by Nihaar Sinha, the son of Indian parents, the mats are vibrantly designed with India's spiritual elements (the Lotus, Hamsa, and Evil Eye) in mind. The mats are even ideal for hot yoga, having a closed-cell surface preventing sweat and moisture from seeping in. Bye, bye bacteria.
Read More: Our Favorite Online Yoga Classes
Inspired by her mom's love for design and gardening during her childhood in the Philippines, Lu France founded namesake Lu France Interiors to create sustainable and ethically sourced décor to beautify the home. Think handwoven pillow covers and potholders, organic handmade ceramic bowls, and linen napkin sets. One of my favorite aspects of this brand: Lu France works exclusively with artisans and small businesses from all over the world to bring their selections to life.
With a unique name like Meow Meow Tweet, you can't help but wonder what products are tied to the name. Founded in Brooklyn in 2009 by Tara Pelletier and Jeff Kurosaki, the brand offers ethical, low-waste, and handmade soaps, face, and body products. They even have botanical natural insect repellants and a range of deodorant sticks and creams to keep you smelling fresh throughout the day. I highly recommend the Lemon Rose Cleansing Oil, which effectively cleans your skin without stripping it of moisture.
Founder Alicia Tsai created her conscious, cruelty-free, non-toxic candle brand to bring loving and forgotten memories to life. Named after the large and white star-shaped orchid of the same name, Aerangis offers meticulously crafted, plant-based scents that range in their inspirations. The brand's signature collection includes the aroma of a secret garden in Taiwan (No. 51 Secret Garden) and the essence of New Orleans (No. 0324 Aging Spirits).
Read More: How to Make Candles
Friends Christine Chang and Sarah Lee founded the skincare brand Glow Recipe in 2014. Clean and paraben-free, their products range from cleansers and moisturizers to body cream and masks. The bestsellers include their "Watermelon Glow Sleeping Mask" and their "Plum Plump Hyaluronic Serum" — both of which are great additions for healthy, youthful, and plumper skin.
Share your favorite sustainable AAPI-owned brands with us by tagging @avocadomattress on Instagram and Facebook.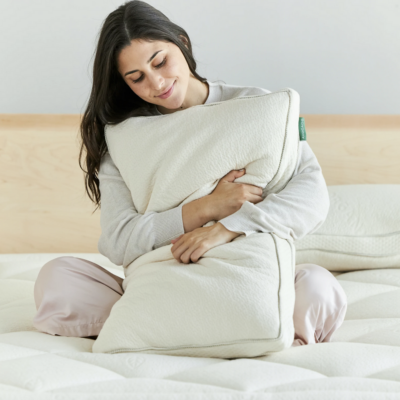 Shop Pillows
The Essential Organic Pillow Collection
Gentle, breathable, non-toxic support.
Buy Now