Discover new healthy snacks and support black-owned businesses with Tiny Bodega.
In response to social justice movements like Black Lives Matter and Stop Asian Hate, many have taken to social media to learn, share, and be a better ally — including Taylor Cook, the founder of Tiny Bodega, an online grocery store that offers healthy snacks and pantry staples created exclusively by BIPOC makers.
But Cook didn't start out with plans to create a virtual marketplace — her goal was simply to shine a spotlight on BIPOC-owned food brands.
"Everybody needed to find how they could give to the movement in their own way, and I thought the best way I could do it was with my buying power because food is so important to me," says Cook, who was already spending time looking at products that worked with her food sensitivities. "I started with my own personal pantry and doing a complete audit as to where I was buying my food and who I was giving my money to. Prior to the pandemic, I loved going to the really small obscure corner shops and discovering the new stuff they had. Once we got to the stay-at-home environment, it all turned into a virtual search."
As the Harlem resident dove into her research, she started unearthing more and more indie, BIPOC makers and — in an effort to spread her newfound knowledge — began sharing them via social media. In July 2020, the Instagram account for Tiny Bodega was born. Its name pays homage to New York City's iconic corner stores.
Cook's first post featured Partake Foods, a gluten-free, vegan cookie brand that many shoppers have probably seen at their local Target or Whole Foods without knowing that it's a black-owned business led by entrepreneur Denise Woodard.
"I found that extremely interesting. Doing the research behind brands, there were a couple that I was shocked weren't BIPOC owned and there were many I had known and I had tried that I was pleasantly surprised that they were BIPOC owned," says Cook. "It's been a great journey of discovery and learning."
Posts followed for Iya Foods (African-inspired spice blends and gluten-free flours), Sanaia (applesauce infused with guava, ginger, and other tropical fruits), and O-Gah-Pah (single-origin coffee from Oklahoma's Quapaw Nation). Not only did each post highlight the creators and their products, it also included special dietary info, like whether the company's items are soy-free, vegan, or organic.
"The list just kept growing," says Cook. "I knew if I was looking for them, other people were also looking for them."
It wasn't long before Cook started hearing directly from BIPOC food makers and sought to make an even bigger impact by becoming more than a channel for discovery. Cook decided to offer up "discovery boxes," curated collections that bring together products from several BIPOC brands. There are currently three available and they're themed (brunch, snack, and dinner) to give those who purchase them a cohesive experience.
As she brought her vision to life, Cook reached out to creatives in both the art and food spaces to help with photography, design, and branding — and to develop recipe cards that offer directions and tips on how to use her boxes' pantry ingredients. Other BIPOC entrepreneurs jumped in to help, including HGTV star Leslie Antonoff, cookbook author Hetal Vasavada (aka Milk & Cardamom), and Sara Elise and Amber Chanel, the partners behind Apogeo Collective.
"The fact that they took the time out of their own busy schedules to create the recipe cards for the boxes were amazing," says Cook. "They're amazing women who are great at their craft."
While Tiny Bodega got its start in e-commerce, Cook hopes to take it brick-and-mortar in the future — modeled, of course, after her initial inspiration.
"The idea is to keep growing the brand into a fully functioning online grocery store and also physical spaces once it's safe to open those up to the public again," she says. "The idea is to keep it in the community or working on pop-up experiences with strong and deep roots in communities where the shoppers can shop brands where the founders look like them."
Read More: 9 Black Interior Designers We Love To Follow
Share some of your favorite BIPOC-owned brands and businesses with us by tagging Avocado on Instagram at #avocadomagazine.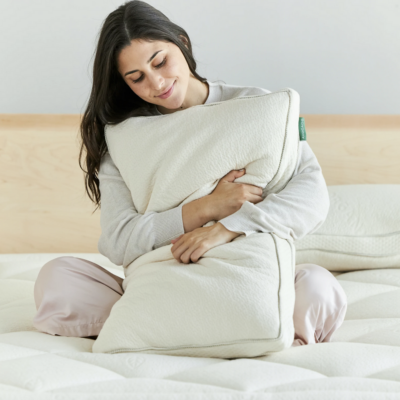 Shop Pillows
The Essential Organic Pillow Collection
Gentle, breathable, non-toxic support.
Buy Now