As a society, we're more burnt out than ever. But there are ways to mitigate anxiety and burnout associated with your day job. Here's how.
Anxiety and stress in the workplace aren't new. In fact, Herbert Freudenberger, an American psychologist, coined the term "burnout" some fifty years ago. What is new are the more open and public conversations we're having around mental health and the workplace — a side effect of our pandemic world and the way our expectations of work have shifted as a result.
"Before the pandemic, 77 percent of professionals reported feeling burnout, but we didn't talk about it," says Erayna Sargent, founder of Hooky Wellness and a Good@Work columnist. "It took a pandemic for it to become a talking point."
Given the state of the world — an ongoing global pandemic, increased extreme weather events, a rollback on women's rights — plus a changing work landscape, it's no surprise that a significant amount of employees are feeling anxious. According to a 2022 report from Gallup, 44 percent of global workers are stressed about work, but the number is higher in the United States and Canada, where 57 percent report daily stress.
Of course, there's no one-size-fits-all solution to curb our workplace woes. "Workplace anxiety is so complex and such a personal experience," says Sargent. "It's started at a systemic level, amplified by a collective level — by our workplace behaviors, how organizations are structured, resources, and tools — and then how we're managing our personal well-being and behaviors impacts it."
Although every person's needs differ, there are general ways we can manage and improve our professional — and, as a result, personal — welfare and happiness. Here's how to ease work-related anxiety and burnout.
Read more: How to Turn Anxiety Into a Positive
Don't be afraid to talk about it
For starters, it's important to acknowledge that work-related anxiety and burnout exist and to recognize they can have a major effect on our your wellness.
"I grew up very blue collar in Detroit, and mental health and wellness was not something we discussed," says Sargent, who recalls ignoring her work-related anxiety until it manifested into physical ailments like aches and insomnia. "When we start to discuss anxiety, it gives people the personal agency to recognize when something is awry. By having that, it allows you to be more introspective so you can start doing something about it."
Events happening in our lives outside of work can also play a role in how we feel at our jobs. Moving across the country, illness in the family, a shift in our value system, or as Sargent calls it "life life-ing," can all increase anxiety.
If you're experiencing intrusive levels of work-related anxiety or signs of burnout, talking to a therapist, a support group, or friends who understand what you're going through can lessen those feelings and help you gain control of your situation.
Read more: How to Find the Right Therapist For You
Get enough rest
We all know the benefits of good sleep hygiene. Not only does it improve your metabolic health, but getting enough hours of shuteye can ease work-related anxiety, too.
"Exhaustion is one of the first red flags that you may be entering into the burnout cycle. Ensuring that you're taking care of yourself from a physical standpoint, getting enough sleep, nutrition, doing things that allow you to work off steam and find relief," are all important ways to maintain well-being, says Sargent.
If you find yourself tossing and turning at night, try taking a hot bath before bed, engaging in a few breathwork exercises, meditating, or taking a sleep supplement to help you drift off and get the sleep your body needs.
Use your PTO — and truly sign off
A small step that stops work-related anxiety from ballooning into full-on burnout is something many employees have been directed to do in the last few years: Take time off. But how many of us go on vacation and still keep an eye on emails and messages or hop on a quick call to deal with a work emergency?
To truly reap the benefits of PTO, employees need to, well… not work. "If you have to take time off and it's in your benefit, take time off," says Sargent. And if your allotted amount of time off isn't enough, see if a longer absence is an option.
Read more: 6 Ways to Create an Amazing Summer Staycation
Prioritize tasks accordingly
"When you're dealing with burnout — and everybody is dealing with it now — your bandwidth is not what it used to be. The best way to make use of the time and energy that you are extending is making sure you spend it on the things that matter," advises Sargent.
Meet with your manager to discuss key priorities and don't be afraid to ask questions like: Are we aligned on what success looks like? Are we aligned on timeline and responsibilities? These inquiries may sound simple, but the information the answers provide will allow you to manage anxiety associated with any perceived expectations you have.
Take your time
It's tempting to opt for a quick fix — like quitting your job — but that may not ultimately solve the problem. "People view quitting as the number one solution to burnout, but it's not going to help if you don't also repair. You'll just bring it with you to another place. Make sure you're assessing the situation and what created it," says Sargent.
And if an anxiety-reducing technique doesn't work out, don't hesitate to try something new. "Give yourself space and grace because that's the biggest thing you can do," says Sargent.
Read more: The Toxic Traits of Self-Development
Have feedback on our story? Email [email protected] to let us know what you think!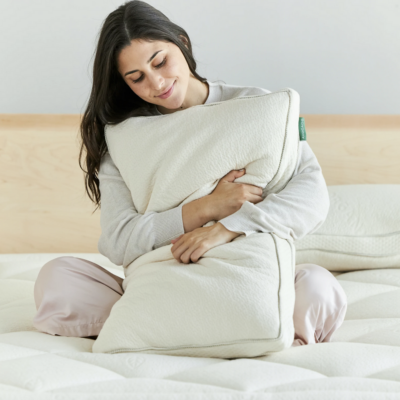 Shop Pillows
The Essential Organic Pillow Collection
Gentle, breathable, non-toxic support.
Buy Now