Therapists aren't one-size-fits-all. In fact, therapists typically specialize in certain mental health conditions. Here's how to find the right therapist for you.
Since the start of the pandemic, the need for therapists has risen dramatically. According to a 2021 American Psychological Association poll of about 1,800 psychologists, nearly 30 percent said they're seeing more patients than pre-pandemic. They've also seen an increase in anxiety disorders and depression — by 74 percent and 60 percent, respectively.
While it's a positive that people are seeking help, the increase in demand for mental health services is making it harder for people to find therapists, says Monica Band, a licensed professional counselor based in Washington, D.C.
"We're going through a mental health crisis," says Band. "I certainly don't say that to be fear-mongering by any means, but certainly, there is a shortage of therapists." Searching for a mental health practitioner can prove difficult even in the best of times, but the surging demand for therapists has made it especially challenging. 
The entire process is kind of like dating, says Band. It can take a couple sessions for a client to understand whether a prospective therapist is the right fit. A person must assess compatibility, communication styles, and whether the therapist has experience addressing their specific goals. They must consider availability and whether the practitioner accepts their insurance. It can be a daunting process, and the shortage is making it even tougher for people to find the help they want.
Still, there's a benefit to taking the time to find the right practitioner — whether that's someone who engages in dialogue during the session or who specializes in a certain area, like eating disorder recovery or post-traumatic stress disorder. We spoke to Band about what to consider when assessing whether a therapist is right for you. Here are her tips.
Read more: How Can Eco-Therapy Help During The Climate Crisis?
Consider Their Accessibility
This may seem obvious, but finding a therapist who has the same availability as you is sometimes easier said than done. Right now, especially, that's partly due to the therapist shortage. Practitioners who have openings for new patients are harder to come by. That's why it's important to ask a prospective therapist how often he or she can meet, says Band. For instance, if you're hoping to meet once or twice weekly, you'll want to share that early on to ensure the therapist has room in their schedule.
Another aspect to consider is whether the therapist is able to meet in person, virtually, or both. For some, virtual visits provide needed flexibility. Others prefer the intimacy of meeting in person. Lastly, you'll want to ask about whether they accept your insurance and, if not, what you can expect to pay out-of-pocket for a session.
Define Your Goals For Therapy
Perhaps your goal is to learn better coping skills. Maybe you want help creating healthy boundaries. Whatever it is, Band suggests defining that goal ahead of time, so you can better understand whether your therapist has the right skills and experience to help you achieve it.
"A client doesn't need to disclose their whole story in the beginning, but they should have an idea of how a therapist can help them achieve their goals," says Band.
Ask About Your Therapist's Specialty
Once you've defined your goals, ask your prospective therapist for a 15-minute consultation ahead of your first appointment. During this time, you can share what you're hoping to gain from your future sessions together and discuss the therapist's experience treating the issues you'd like to address. You can also ask about their limitations to assess whether they're the right person for you.
"It's not just talking strengths and best fit, but talking to the therapist about where they feel some of their blind spots are," she says.
Discuss Your Therapist's Approach to Sessions
When searching for a therapist, you're likely to see a variety of credentials: LPC, LHMC, LCPC, and many more. Band says it's not necessarily vital to dive deep into the nuances of a therapist's credentials. Instead, ask the therapist what you can expect from your sessions and have a baseline understanding of how a therapist's training may influence their approach to treatment.
For instance, licensed counselors are trained based on the wellness model, explains Brand, a licensed counselor. They take a holistic approach to treatment and are taught to have a dialogue with their clients. Psychologists, by comparison, often specialize in severe mental health issues from a clinical or medical model. They may incorporate holistic wellness as well, but they're more focused on alleviating symptoms, says Band. Depending on your needs and preferences, one approach may work better for you than another.
Read more: 7 Essential Mental Health Podcasts
Provide Feedback During Your Initial Sessions
If you meet with a practitioner and realize he or she isn't the right fit, it's okay to tell them that, says Band. After all, a therapist-client relationship should model a healthy connection. The therapist should be able to receive feedback and adjust accordingly.
Telling your therapist what you like and don't like not only leads to more productive therapy sessions, but it helps you practice assertive communication.
"If you're someone who is struggling with finding your voice or you've historically had a hard time advocating for yourself, it might be a good growth point for you," says Band.
Request a Referral
If you've had a couple sessions with your therapist and still feel he or she isn't the right fit, feel free to ask for a referral to another practitioner. Band herself often creates a short list of therapists to share with new clients in the event they don't hit it off.
"That's something I don't see people do often, but it can help them," she says.
Consider Other Forms of Treatment
Be patient. Finding the right therapist can take time, says Band. While you're looking, she suggests considering other forms of therapy. Group therapy, for instance, can provide connection to others experiencing the same issues, while inpatient therapy can provide help for those experiencing more severe symptoms.
Read more: How Cold Plunges Benefit Your Mental Health
Have feedback on our story? Email us at [email protected] to let us know what you think!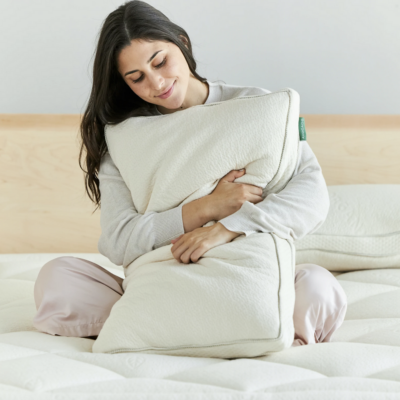 Shop Pillows
The Essential Organic Pillow Collection
Gentle, breathable, non-toxic support.
Buy Now