The majority of the population deals with some level of anxiety. But what if we approached anxiety through a positive lens? We spoke to an expert about listening to our emotions from a place of curiosity instead of fear, emotional regulation, and building resilience toward anxiety.
Dr. Wendy Suzuki, professor of neural science and psychology at New York University and author of Good Anxiety: Harnessing the Power of the Most Misunderstood Emotion, first started researching anxiety because she felt stress everywhere around her — palpably emanating from her students, colleagues, family members, and friends. Even before the pandemic, an estimated 90 percent of the population was already affected by some degree of anxiety, with 18 percent diagnosed with clinical levels of anxiety. Today, that number is closer to 30 percent.)
At the time, Suzuki didn't consider herself to be a particularly anxious person. "The book started out as an observation of my world confirmed by surveys and research, not just at the university and in my personal life, but in society overall," says Suzuki. "As I dove in, though, I recognized my own level of anxiety, one that I hadn't acknowledged to myself or to anyone else. It quickly became more personal, and in a sense, more interesting. I ended up using my own anxieties as examples throughout the book."
Through the book-writing process, Suzuki found herself "befriending" her anxiety, which she posits as part of reframing the emotion, allowing us to work with our anxiety rather than against it. "This book is an invitation to recognize that everyone has some form of anxiety, and there are a lot of powerful approaches to address this essential human emotion and help make it useful," she says.
We talked with Suzuki about listening to our emotions from a place of curiosity instead of fear, emotional regulation, building resilience, and reframing anxiety as an asset. Here's what we learned.
Dr. Wendy Suzuki's major research interest continues to be brain plasticity. She is best known for her extensive work studying areas in the brain critical for our ability to form and retain new long-term memories. More recently, her work has focused on understanding how aerobic exercise can be used to improve learning, memory, and higher cognitive abilities in humans.
Read more: 5 Ways to Naturally Reduce Stress and Anxiety
1.
Why do you consider having some anxiety better than having none at all?
WS: If we use it well, anxiety can provide us with valuable information. Yes, I have anxiety, but I can use it as a warning system that points toward the issues that I should be paying attention to.
For example, I may not ever entirely resolve my fear of not having enough money (so many of our anxieties are very old and have traveled with us for a long time) but recognizing that anxiety allows it to become more predictable and easier to identify in the future. It's not normalizing the anxiety but acknowledging it's here for a reason. Evolutionarily, anxiety helped protect us from external threats, and today it helps me determine where my fear lives internally. I can then use strategies to quell the fear when it does arise.
2.
How does emotional regulation factor into managing anxiety?
WS: While anxiety does serve a purpose, we encounter so many triggers on a regular basis that it makes sense to learn how to turn the volume down. Once you're able to regulate your emotions, you can shift your mindset and ask yourself, "What is my anxiety telling me in this moment?"
Often, emotional regulation means getting yourself out of a deep state of anxiety. In these situations, deep breathing activates the parasympathetic nervous system, which serves as an immediate soothing mechanism. Moving your body, even just going on a walk to raise your heart rate, will have a similar effect as dopamine, serotonin, and noradrenaline are released in your brain.
Longer-term, I like to think of it as finding things that make you feel good. What are the top 10 things that relax you? That's your homework. It can be anything: meditation, breathwork, movement, laughter, social engagement. Of course, we all have "negative" coping mechanisms that distance us from addressing our anxiety, like throwing ourselves into work, withdrawing from others, or using/abusing substances. It's a matter of balancing those strategies with positive mechanisms that have more lasting effects.
Note: These strategies are for what Suzuki calls "everyday anxiety," not clinical disorders.
Read more: How to Boost Your Mental Fitness
3.
How do you approach building resilience toward anxiety?
WS: The more I survive hard things, and easy things, too, it shifts my vision of my own resilience. I think that's a healthy way to think about it — you become a little more resilient with every stressful moment you make it through.
Some people think they have to come out the other side of a stressful situation with no sweat on their brow to be considered resilient, but that's not the case. We've been living through a pandemic. There are no criteria for getting through this unprecedented time for it to count as resilience.
Having a healthy relationship with failure and stress is also incredibly valuable. We've seen that when animals are raised with zero stress and are then exposed to the world, they don't thrive, but when introduced to intermittent, solvable stressors they're much better able to adapt.
4.
What's one thing individuals can do to start shifting their relationship to anxiety today?
WS: I developed an approach I call "joy conditioning" that feels appropriate for the beginning of the new year. My simple definition of anxiety is the fear or worry associated with an unpredicted situation, and the last few years have been anything but predictable.
When something negative happens to you, it activates your amygdala and creates a fear-based memory. Joy conditioning is a direct counteractor — our joy-filled memories aren't often strengthened as much as ones that evoke fear, but they can be if you revivify them, actively reliving the same emotions.
Think back over the last year and pick a favorite memory to relive. Maybe it's the first time you had restaurant food instead of your own cooking or saw friends or family in person again. A large part of shifting our relationship to anxiety is getting serious about identifying what makes us feel good, and this is just one tool in the toolbox.
Read more: 7 Essential Mental Health Podcasts
This interview has been edited and condensed. Have feedback on our story? Email us at [email protected] to let us know what you think!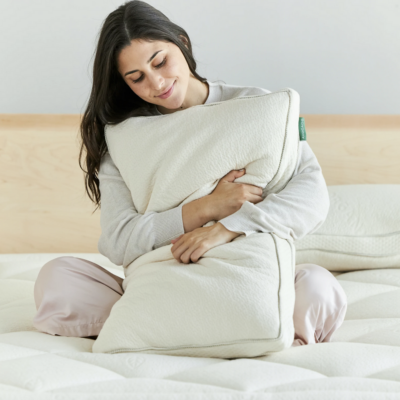 Shop Pillows
The Essential Organic Pillow Collection
Gentle, breathable, non-toxic support.
Buy Now