You don't have to hop on a plane to have an adventure. Here's how to take a much-needed vacation, even if it's a "staycation."
Far away destinations, concerts, sporting events, summer camp, theme parks, and gatherings of any kind may still be a long way off, but summer is here. Summer might look different than you imagined, but it's perfect for real relaxation. You might be surprised by how much you enjoy skipping the crowds, travel, and expense, and enjoying an unconventional holiday.
#1 — Go Camping
Hipcamp is like Airbnb, but for camping. Private property owners rent out their space be it a private plot of land, or a secluded yurt in the wilderness, for a nightly fee. So while many public lands remain closed, Hipcamp locations are open since they're private property.
Hipcamp has issued some Covid-19 safety guidelines to keep campers safe, and these destinations can be a great way to steer clear of crowds while unplugging and relaxing in the woods.
Rent a rugged campsite, glamp it up in a yurt, or go full-on camper and rent an Airstream in the middle of nowhere — the options are endless.
Want more of an adventure? National Wilderness Areas are still open. Time to hit the trail and try backpacking or the through-hike you've always dreamed about.
#2 — Rent An RV
While many campgrounds remain closed, the roads are still open, so with a little planning, you can rent an RV and hit the road. It's a great way to keep your people exposure to a minimum, while still seeing a wide swath of the country you've never seen before. Take that trip up the 101 you've always dreamed of, or follow the Rocky Mountain states from New Mexico to Colorado and Montana.
Depending on the size and features you get, an RV rental can run you around $100/night in some places — cheaper and way more flexible than a hotel.
Stay Home, But Make It Special
Not quite ready to travel? Vacation is a mindset, so here are some great ways to stay-cation right from the comfort of your home.
#3 — Order Takeout
A good meal that you don't have to make yourself can feel like a vacation. Plus, great food has the ability to transport you anywhere in the world. 
Order dinner from a local restaurant you haven't tried before. Or, plan ahead using an app like Goldbelly, which allows you to order from popular restaurants located across in the U.S. If you're staying close-to-home, remember to order directly from the source, as many third-party apps take a massive cut of restaurant profits. 
#4 — Make Your Backyard an Oasis
Create a backyard oasis. You can keep it simple by stringing up cute lights, playing summery tunes, and blending up a pitcher of margaritas or you can go all out and make the backyard of your dreams with new plants, or even a new lounging space.
Polywood makes outdoor furniture from recycled ocean plastic, so they're a great company to buy from if you don't have your patio set up yet.
#5 — Schedule An In-Home Massage
While you're sitting around at home sipping on your wine delivery, ask a local massage therapist to come to you for a session. Not only does a one-on-one session reduce your chances for cross-contamination, but it may help someone who's been out of work for a while.
#6 — Take a Break from Social Media (And the News)
Lastly, vacations are all about mental health, so be sure to take a break from the news. Go further and uninstall your social and news apps for a while. You don't have to fully check out from the important movements happening in the world right now, just be sure to prioritize your mental health. Some better options might include picking up a book to educate yourself on systemic racism or if you need a read about an entirely different world, consider purchasing it from a BIPOC-owned bookstore.
What are you doing this year to enjoy your vacation during the shutdowns? Share your ideas with us on Facebook or Instagram, and tag us in the post! @AvocadoMattress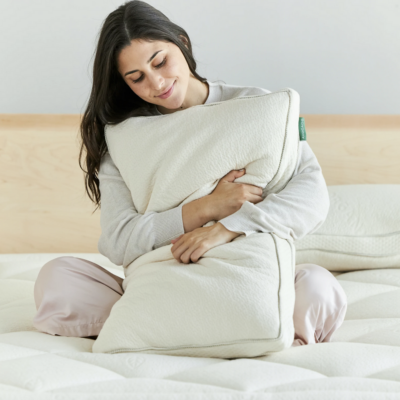 Shop Pillows
The Essential Organic Pillow Collection
Gentle, breathable, non-toxic support.
Buy Now