Cut back on waste, eliminate toxic chemicals, and create a safe, healthy, sustainable kitchen with these eco-friendly brands.
There's no doubt cooking brings joy into our lives, both for the cooks who relish kneading, sautéeing, roasting, or baking delicious culinary creations and for the lucky people who get to taste them. But kitchens are notoriously wasteful places. (We're all guilty of throwing out produce that's gone bad before we can eat it or using plastic wrap more often than we'd like to admit.)
Luckily, there are small steps you can take — like investing in durable, high-quality tools and reusable containers and limiting your reliance on disposables — to make your kitchen more environmentally-friendly. Even better, there are plenty of green products out there created with eco-conscious cooks — and kitchens — in mind.
Here are 10 sustainable kitchen brands we love.
Read more: How to Practice Zero-Waste Cooking
1.
Bee's Wrap
Reusable containers make sense for storing leftovers or prepped ingredients, but sometimes a pliant piece of plastic wrap is more space efficient or convenient — for example, when you need to cover up a bowl of rising bread dough or save half an apple for later. On the other hand, cutting down on plastic wrap is one of the easiest ways to go green in the kitchen. That's where Bee's Wrap comes in. The organic cotton cloths are coated with a blend of beeswax, plant oil, and tree resin to form a reusable cover that's entirely plastic-free. If cared for properly (wash with cool water only!), Bee's Wrap lasts for up to a year and can be safely composted once it's no longer sticky.
2.
Material
As their names suggest, Material's reBoard and reBowl are crafted from recycled materials instead of virgin plastic. Made from a blend of leftover kitchenware scraps and renewable sugarcane, the cutting boards and bowls have helped save 60,000-plus pounds of plastic that would otherwise be destined for landfills. Dishwasher-safe and BPA-free, the two upcycled items come in vibrant colors that bring a pop of fun — and sustainability — to cooking prep.
3.
Branch Basics
The premise behind Branch Basics is simple: One handy concentrate can tackle all of your home's cleaning needs. Their multipurpose cleaning formula, made from a mixture of plant- and mineral-based ingredients, does just that. Plus, it limits your family's exposure to toxic chemicals and reduces the number of plastic soap and detergent bottles you use. When your spray bottle of cleaner is running low, simply add more concentrate, fill it with water, and you're ready to go. For tough-to-clean stains and surfaces, add Branch Basic's oxygen boost, a biodegradable salt that brightens, whitens, and deodorizes.
4.
Kana Goods
Eco-conscious bakers, prepare to stock up on the parchment paper produced by this kitchen goods maker. The environmentally-friendly sheets are made from PEFC Certified wood pulp and a natural silicone coating and bleached with chlorine-free technology, so they're biodegradable and compostable. To further reduce waste, the paper is pre-cut and sized to fit standard baking sheets and cake pans. We also recommend Kana's line of compostable Swedish dishcloths that serve as a sustainable alternative to synthetic sponges or one-time use paper towels.
5.
Our Place
The Always Pan is more than just a pretty piece of cookware. Our Place founder Shiza Shahid worked with women-owned manufacturers to design a pan that does the work of eight separate pieces of cookware in an effort to cut down on the need for excess tools. It's made partially from recycled materials and the nonstick coating is free of harmful toxic chemicals. All of the brand's products — from the cookware and bakeware to tableware and serving pieces — come packaged in plastic-free boxes that are recyclable and biodegradable. The company also offsets a portion of its carbon footprint by supporting reforestation projects in partnership with Pachama.
Read more: 7 Easy Ways to Create a Non-Toxic Kitchen
6.
W&P
W&P proves that design and sustainability go hand-in-hand. Founded by Josh Williams and Eric Prum, the Brooklyn-based company launched its first product, a mason jar cocktail shaker, in 2012 and has since breathed new life into reusable everyday essentials like insulated tumblers and lunchboxes. The stylish Porter Collection not only utilizes chic colors and a sleek aesthetic to help consumers build eco-friendly habits, but they're also mindfully made from materials like BPA-free plastic and LFGB-certified silicone.
7.
Marley's Monsters
There's no denying that paper towels are hard to quit. But Marley's Monsters, a BRING-certified sustainable business, has created a solution — reusable cotton cloths they call UNpaper Towels. Each "sheet" is made from cotton flannel with trimmed edges that prevent fraying and is designed to become more absorbent after the first few washes. If you place an order, expect it to ship plastic-free in recyclable and compostable materials.
8.
Stasher
Breaking up with our plastic habit is challenging. However, according to Stasher, makers of colorful food-safe silicone bags, swapping single-use plastic bags for reusable options keeps 260 bags out of our landfills. Available in a variety of sizes and shapes — they even have wide-bottomed bowls for liquids — the eco-friendly bags are dishwasher-safe, microwave-ready, and freezer-friendly so they're ideal for both short- and long-term storage. The bags are also equipped for reheating food and cooking (you can even sous vide in them!).
9.
AquaTru
Clean drinking water is essential to our well-being. AquaTru's technology utilizes a four-stage system to eliminate harmful contaminants such as lead, arsenic, and nitrates while adding minerals like calcium  and magnesium back in. Choose from two filter styles, countertop models that don't require any installation, or an under-the-sink option that connects directly to the tap for convenient access through the faucet.
10.
Aplat
Inspired by origami, Aplat's carriers are engineered without excess materials — that means no zippers, glue, staples, or buttons. The totes, crafted from 100 percent GOT certified organic cotton and biodegradable materials, can hold casseroles, wine bottles, and even a full Dutch oven with ease so you can bring your favorite dishes to potlucks and picnics without relying on disposable pans. The carriers are also made in small batches to avoid overproduction and any excess fabric is donated to Phoenix Fibers.
Read more: 5 Creative Ways to Reuse Food Scraps
Have feedback on our story? Email [email protected] to let us know what you think!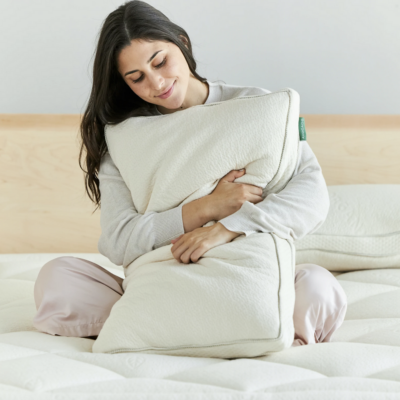 Shop Pillows
The Essential Organic Pillow Collection
Gentle, breathable, non-toxic support.
Buy Now