Toxic chemicals and harmful substances are in everything from pots and pans to bakeware and storage containers. Here are seven ways to create a healthier, non-toxic kitchen that's better for you, your family, and the environment.
As they say, you are what you eat. But what about the things you eat on? Or the things you eat with?
Many of the products and tools commonly found in kitchens are coated with — or made from — materials that contain toxic chemicals like BPA, which has been linked to brain health and cardiovascular disease; PFAS, long-lasting carcinogens; and Poly-fluorochemicals, also known as PFCs, which are often found in non-stick or waterproof coatings and have been linked to growth and fertility issues.
And because those toxins all come in contact with the food you eat, they are particularly dangerous. PFAs are often used to coat plastic takeout containers, while BPA is used to line food cans — and exposure to both of these chemicals has been shown to cause serious health concerns like cancer, according to the Environmental Working Group.
The good news? Easy swaps can make for a healthier, non-toxic kitchen. To get started, follow these broad guidelines: Plastic is generally bad (if you have to use it, look for BPA-free options), and silicone, glass, stainless steel, or wood cookware will usually steer you in the right direction. But, if you're looking for more specific guidance, we've got you covered. Here's how to create a non-toxic kitchen that's safer for you, your family, and the environment.
Read more: What is Zero-Waste Cooking?
Ditch plastic Tupperware or leftover takeout containers, which can leach toxins over time or when heated in the microwave. Instead, switch to food storage containers made of glass, like these heat-proof options from Pyrex. They resist stains, hold up in the microwave, and are made in the U.S. You can also limit your plastic storage bag waste by switching to a silicone option, like Stasher bags. These reusable bags come in multiple sizes and can go in the freezer, microwave, or oven. Ceramic and stainless steel containers are also toxin-free but tend to be more expensive, heavier, and break more easily.
When it comes to anything you're going to put directly on a stovetop, it's best to avoid most non-stick coatings like Teflon and GenX, because they break down over time, and can leach chemicals into your food. Classic cast iron pans are a great alternative. The drawback? It takes some time to get used to cooking with cast iron and some foods tend to stick, especially if you're cooking something that is acidic, like tomatoes. If that feels like too much work, consider stainless or carbon steel pans, which are safe, but also tricky to clean if you're using high heat and little oil.
Ceramic-coated pans, like Caraway's non-toxic Cookware Set, are an ideal non-stick option, especially since it's pure ceramic. But not all ceramic pans are created equal. Be sure to check what alloy the coating is made from — some can contain lead — and be wary of scratches, which can expose less-safe inner layers. 
If you're going to be putting something in the oven, make sure it doesn't break down when it heats up or cools down. You can't go wrong with stainless steel baking sheets, which are both durable and non-reactive. For pans and baking dishes, cast iron, stainless steel, glass, and stoneware all hold up well. You can also consider silicone, which is heat safe up to 428 degrees and makes popping muffins out of their tins extra easy.
Read more: The Best (And Worst) Oils to Cook With
Silicone is also a good bet for cooking utensils, spatulas, spoons, and more. It's non-toxic and won't scratch delicate pans or pots. Wood is safe on those counts, too, as is bamboo, which is sustainable, renewable, and compostable.
Cutting boards are an easy place to cut out plastic (and add nice decorative touches). Solid wood is best and glass is a good fallback. The downside with glass cutting boards is they can be frustrating to cut on if you have dull knives. Consider sustainable bamboo here, too. However, if you do, make sure to look out for laminates and glue, which are often used to meld thin layers together.
6.
Cling wrap, bags, and other soft storage
Plastic wraps and plastic storage bags have long been a kitchen standard. It makes sense — they're cheap and easy, but they're also bad for us and the environment. Consider reusable silicone storage bags (like the above-mentioned Stasher bags), and washable reusable food coverings like Bees Wrap®, which are offered in a variety of fun patterns along with their standard honeycomb design.
When you're considering dish soap, hand soap, or surface cleaners — in the kitchen or out — consult the EPA's Safer Choice list, which indicates products that meet their rigorous toxicology standards, first. That world of products changes frequently, but there are plenty of eco-friendly and non-toxic options to choose from. We're big fans of Blueland.
Read more: Meet Blueland, Our Favorite Plastic-Free Cleaning Brand
Have a favorite non-toxic kitchen product? Share it with us by tagging @avocadogreenbrands on Instagram or Facebook.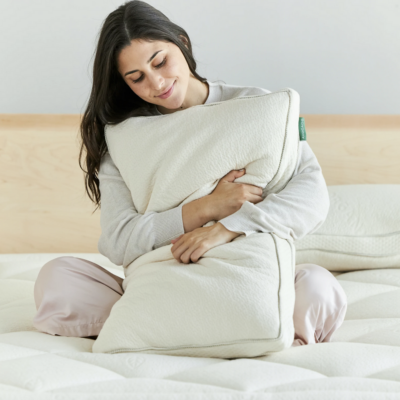 Shop Pillows
The Essential Organic Pillow Collection
Gentle, breathable, non-toxic support.
Buy Now