Who doesn't love the fresh feeling of a sparkling clean home? The benefits of a clean apartment or house stretch far beyond the simple satisfaction of everything in its place.
Not surprisingly, keeping your home clean can reduce allergens in the air, which supports a healthy immune system, along with lessening the spread of germs (so important during the winter months). But did you know that keeping your home clean can also support mental health and better physical fitness?
A study done by Indiana University examined the homes of urban residents and found that the interior conditions of the subjects' homes had more to do with their overall higher levels of physical fitness than lighting, sidewalks, and other outdoor conditions. While the results are still being examined, they speculate this could be because people who have the time to keep their homes clean also have the time to move their bodies. Regardless of why, one thing is clear: It's hard to be frustrated with a clean home. A dirty home, on the other hand? Not a great feeling. But what happens when it's your cleaning products that are the concern and not the actual cleaning? 
If you're thinking, "wait… aren't my household cleaners supposed to make me healthier?", you'd be right. These scrubbing and foaming agents are meant to scrub away germs. However, we often have little regard for the actual repercussions and very real health risks that come along with everyday cleaning products.
Ever felt light-headed after a bout of cleaning with bleach or other harsh chemicals? You're not alone. In fact, one glance at the warning labels on the bottles is a tip-off to how bad these products are for our well-being. Most conventional cleaners contain ammonia, bleach, and other chemicals that can severely irritate eyes, nose, throat, and lungs — not only that, but ammonia and bleach, when used together, can actually create a gas that is not only severely damaging to the lungs but potentially deadly. It's not just ammonia and bleach that are the problem, either. Other chemicals included in these items can disrupt hormones and may even cause cancer.
So what happens when these chemicals are washed down the drain? And where do the empty bottles end up? While more than one million plastic bottles are purchased per second around the world, only nine percent of plastics actually get recycled. We often overlook the after-effects of conventional cleaning agents, focusing instead on our sparkling clean bathrooms and floors, but those chemicals have to go somewhere, and often that somewhere is the environment. In our efforts to live a greener and cleaner life, we can't overlook what we're actually cleaning with.
The good news is there's an alternative — and no, we're not going to tell you to take the DIY approach (unless, of course, you want to!).
Enter: Blueland. Launched in April, the Shark Tank alums behind Blueland have two goals: to cut down on single-use plastic and create cleaning products that are actually SAFE while being super effective. From co-founder and CEO, Sara Paiji:
How do they do this? Two ways: with color-coded reusable "Forever Bottles" and water-soluble tablets that correspond with each bottle and contain naturally derived and synthetic ingredients that are certified safe by Cradle to Cradle. These aren't the DIY vinegar and essential oil-based cleaners health-conscious consumers are used to, but Blueland's "just add water" approach and better-for-all ingredients list make using them a no-brainer. Plus, ordering refills is a breeze. Instead of re-ordering pre-filled bottles, consumers simply place an order for new tablets, which cuts back on packaging waste along with single-use plastics. 
So how does Blueland work? Buyers have their choice of a range of bottle and tablet options, but those new to Blueland may choose to start with The Clean Essentials Kit (pictured here), which includes one of everything: Three BPA-free acrylic cleaning bottles (one for glass, one for the bathroom, and one for multi-surface), a glass foaming hand soap bottle, and the four corresponding tablets needed to create each cleaner. When asked why all the bottles aren't made of glass, Blueland explained that through customer testing they learned that 80 percent of consumers wouldn't purchase glass bottles due to the possibility of shattering. The sizes of each bottle are customized for the specific dilution needed for the corresponding tablet, so you'll always have the perfect dilution. And when you eventually run out of a solution — you simply re-order the tablets you need. No more bottles!
But the real question is: Do they work? Those who've ever used a DIY or all-natural cleaning agent may have visions of scrubbing and scrubbing to no avail — but fear not, these products actually do what they say they'll do, without putting you through a workout. The window cleaner leaves behind nothing but clarity — no streaks! — the multi-surface clears away grime like the best of them (and can even be used on stainless steel), and the bathroom formula leaves surfaces squeaky clean. In short, they not only work, they work really well. 
Have you used Blueland? Share your thoughts with us on social by tagging @AvocadoMattress and #AvocadoGreenMagazine!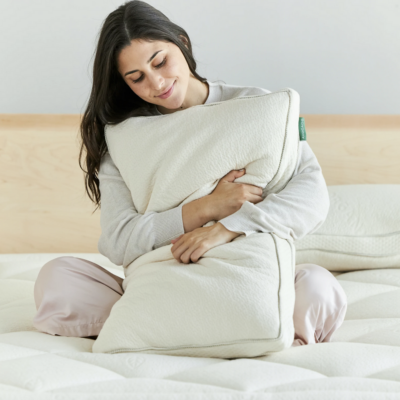 Shop Pillows
The Essential Organic Pillow Collection
Gentle, breathable, non-toxic support.
Buy Now