Reduce food waste and get creative in the kitchen with these easy, innovative ways to reuse food scraps.
Since I was a little girl, my mother always told me to never let food go to waste. Sounds familiar right? Well, her constant reminders worked. Now that I'm an adult, I'm a proud food waste advocate.
According to Feeding America, 108 billion pounds of food is wasted in the United States each year alone, which equates to 130 billion meals and billions of dollars worth of food. Just typing that makes me sad.
The good news? There's hope. Non-profits across the country like City Harvest, Food Forward, Feeding America, and Replate are dedicated to rescuing and redistributing perfectly good food that would otherwise get thrown away and putting it in the hands of those in need. It's part of their combined effort to end food insecurity and our current waste crisis. 
You can also make an impact in your own kitchen by taking small steps toward zero-waste. As an ode to my younger self — and the little voice inside my head that says to eat leftovers before they go bad — I'm sharing how to repurpose all those peels, stems, and vegetable trimmings we all throw in the garbage without a second thought. 
Here are five simple yet meaningful ways to get creative with food scraps.
Read more: What is Zero-Waste Cooking?
1.
Make Chips With Potato Peels
This technique is inspired by Kathryn Kellogg, the creator of Going Zero Waste. The next time you find yourself peeling potatoes for hash browns or a good mash, keep the peels and make a quick, fiber-rich snack. All you have to do is season them with your favorite oil and herbs (I personally love an avocado oil, rosemary, thyme, oregano, salt, and pepper blend) and roast them in the oven for about 20 minutes at 425 degrees. Voila!
This is the definition of getting the most out of your food. Whether you have an outdoor garden or windowsill with great light, you can regrow a number of vegetables with scraps. Keep the seeds from a chopped pepper or a sprouted garlic clove and plant them in your garden. In a matter of weeks, you'll have a sprouting pepper plant and another head of garlic in the works. You can also use this scrap-saving method for celery, fresh herbs, green onions, lettuce, and ginger.
3.
Turn Tomato Peels and Cores Into Sauce
So, you bought too many tomatoes on your last trip to the farmers market or grocery store. It happens to all of us. Instead of throwing them away, freeze them for the next time you are making a sauce. You can also keep fresh peels and cores, along with carrot peels and other scraps, to make a rich tomato paste. Not only will you have saved your scraps from the landfill, you'll reduce your grocery bill, too.
Read more: How to Compost in a Small Space
4.
Use Strawberry Tops to Make Vinegar
Every pack of strawberries has one or two bruised berries that no one wants to eat. But there's an easy way to transform those castoffs — along with strawberry tops — into something new: make vinegar.
Discard any pieces with mold, then add the scraps to a large jar. Top it with a solution of ½ cup sugar and 1 quart water, ensuring the berries are covered. Weigh down the scraps with mason jar lids so they sink to the bottom, cover the jar with a cheesecloth or towel and secure it with a rubber band. Place in a dark area like a pantry for a few weeks. Once it reaches your preferred taste, strain out the scraps, throw them in the compost, and enjoy!
5.
Repurpose Orange Peels Into Tea
This is as simple as it gets. Cut your orange peels into small pieces and place them on a paper towel to dry for a few days. Once dried through, add a teaspoon of dried orange peel to boiling water. Simmer for approximately 10 minutes (feel free to add a cinnamon stick or powder), then filter out the peels. Add a drop or two of honey and get to sippin'.
These tips only scratch the surface of how to get creative with your food scraps. Channel that inner voice in your head telling you to not throw food away and see what you can create. The possibilities are endless.
Read more: How to Make Your Own Tea Blends
What are your favorite ways to get creative with your food scraps? Share with us by tagging @avocadogreenbrands on Instagram or Facebook.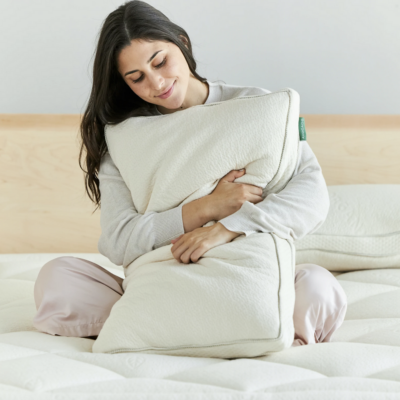 Shop Pillows
The Essential Organic Pillow Collection
Gentle, breathable, non-toxic support.
Buy Now