Here are the sustainability trends to look out for this year.
In 2021, we predicted the past year would bring more interest in recycled textiles, reliance on data to understand the effects of climate change, increased adoption of eco-friendly living, and improved regulation of toxic chemicals. For the most part, we were on target.
So what will 2023 bring? And how will communities, governments, companies, and individuals continue to make progress on sustainability during these pivotal years for reversing the effects of climate change?
We have a few ideas. We consulted the latest research, surveys, and consumer reports to predict what's to come. Curious about the results?
Here are sustainability trends to look out for in 2023.
1.
Brand Transparency Will Go In-Depth
As the number of people prioritizing planet-friendly products and brands increases — nearly 90 percent of Gen X consumers are willing to spend 10 percent extra or more for sustainable products — they will also demand greater transparency from companies. To cultivate loyalty, brands will no longer be able to skirt by with vague sustainability statements. In order to stay competitive, they'll need to be more transparent about how and where their products are made, whether materials are ethically and sustainably sourced, and how they're reducing carbon emissions. A report by Deloitte found that consumer brands that aren't open and transparent are the most at risk of losing meaningful trust with consumers. Avocado, for its part, is already one step ahead. We're implementing blockchain technology into our supply chain to deliver a level of transparency and verified material integrity that few brands provide.
Read more: Why Blockchain is Essential for Brand Trust
2.
Wind and Solar Will Lead Energy Sector Growth
Read more: Are Solar Co-Ops The Future of Clean Energy?
3.
The Second-Hand Clothing Market Will Explode
Fast fashion has lost its luster. The second-hand market is stepping up to take its place. Thanks to online resale companies like Poshmark, ThredUp, and Depop, shoppers are looking for gently used clothing more than ever. And the market will continue to grow. The resale clothing industry is projected to blossom 16 times faster than non-resale in the next four years and reach nearly $30 billion in value in 2023, up from $25.9 billion in 2022. Lower price points and increased interest in sustainable fashion are key motivators. It makes sense. A recent survey by NielsonIQ found that 48 percent of people are looking to brands to take the lead on creating sustainable change. Companies are taking note. Patagonia, REI, lululemon, Athleta, and even IKEA launched buyback and resale programs to offer customers refurbished items at a lower cost in the name of sustainability — and to stay competitive with eco-minded shoppers.
Read more: 6 Sustainable Fashion Books We Love
4.
Sustainable Materials and Products Will Keep Growing 
According to Businesswire, 63 percent of individuals consider sustainability an important factor when purchasing consumer goods, and a third of Americans are willing to pay a premium for sustainable products. As a result, we'll see products marketed as eco-friendly — think everything from coffee and cosmetics to furniture, bedding, and household items — continue to capture more of the consumer goods market share. Currently, sustainable products make up about 17 percent of the market and experience 5.6 times higher average sales growth than those not marketed as sustainable. Those who buy planet-friendly items can also expect to see their purchases shipped in more eco-friendly packaging. The global recycled packaging materials market is predicted to grow from $136.5 billion in 2018 to $180 billion in 2023.
Read more: Why We Need to Ditch Plastic Packaging
5.
Growth of Eco-Friendly Home Design 
According to Architectural Digest, 94 percent of those surveyed believe that sustainability will continue to be top of mind and 91 percent predict biophilic interior design will remain popular. So expect everything from DIY solar kits, solar-powered security systems, and rolled solar shingles to sustainable furniture, organic materials, and nature-infused elements to take over homes in 2023. An increasing number of climate-aware homeowners will also invest in energy-efficient and water-saving appliances, like smart thermostats, dishwashers, washing machines, toilets, heat pumps, and induction stoves, to save money and lower their carbon footprint. Home construction is going sustainable, too. Keep an eye out for cellulose and hemp insulation, recycled and reclaimed wood, sustainably created tiles, and cork building materials.
Read more: A Behind-the-Scenes Look At Our Zero Waste Furniture
Have feedback on our story? Email [email protected] to let us know what you think!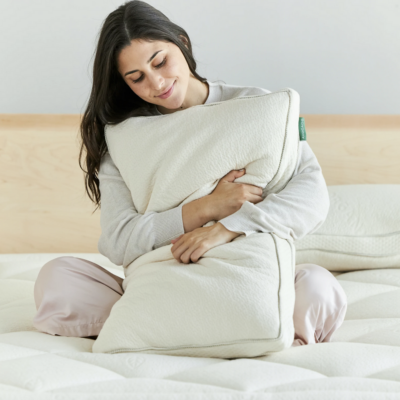 Shop Pillows
The Essential Organic Pillow Collection
Gentle, breathable, non-toxic support.
Buy Now