Tap into renewable energy with these simple solar-powered accessories you can use every day.
Every hour and a half, enough sunlight reaches the Earth's surface to support the world's energy consumption for an entire year. Countries like Germany and Japan have invested heavily in renewable energy research and government subsidies for residential solar panels since the 1990s, but after decades of inconsistent federal support, the U.S. solar industry is only now catching up with its international counterparts.
According to the U.S. Solar Energy Industries Association, the U.S. Solar Industry grew 43 percent in 2020. As concerns about our changing climate continue to rise, along with oil and gas prices, more people are investing in cheap renewable energy to power their homes. But you don't have to outfit your roof with solar panels to start making a clean energy switch. Small-scale changes make a big difference when it comes to lessening your environmental impact — and as technology advances, more standalone solar-powered products and appliances are hitting the market.
How Solar-Powered Products Work
Solar energy uses photovoltaic (PV) cells to convert sunlight into electricity. When the sun shines onto a solar panel, energy from the sunlight is absorbed by the PV cells in the panel. This energy creates electrical charges that move in response to an internal electric field in the cell, causing electricity to flow. Ready to invest in solar energy?
Here are five practical, solar-powered home accessories to help make sustainable technology part of your day-to-day lifestyle.
Read more: Are Solar Co-Ops the Future of Clean Energy?
1.
Grouphug Window Solar Charger – $149
Grouphug's Window Solar Charger is an easy-to-install, aesthetically pleasing panel that fits right onto your window. The solar charger takes about 10 hours of direct sun to fully charge the battery, then stores energy so it can charge your devices day or night via a built-in USB (think your smartphone, watch, and headphones).
2.
Logitech Wireless Solar Keyboard – $54
If you're a wireless keyboard user, charging it just became eco-friendly. Ultra-slim and stunning, you can use this full-sized Wireless Solar Keyboard for a desktop or laptop setup. Even better, it takes in light from both indoor and outdoor sources — yes, even from your desk lamp — and can hold a charge for at least three months in total darkness.
3.
Ring Stick Up Cam Solar – $148
Avoid the hassle of replacing batteries every few months by using solar to power your at-home security cameras. The Stick Up Cam Solar provides peace of mind no matter the weather, and can be placed almost anywhere around your home. The HD camera is powered by a connected solar panel that needs a few hours of direct sunlight every day to remain charged and includes a backup battery pack for day or night, rain or shine functionality.
4.
ABFOCE Solar Bluetooth Speaker – $59
This powerful solar-powered speaker has the best of both worlds: it comes with a battery that charges while you're in the sun so you can keep the music going if you move the party inside or after the sun goes down. ABFOCE's waterproof, shockproof Solar Bluetooth Speaker's lithium-ion battery offers 60 hours of play time when fully charged, and adds half an hour of charge for every 10 minutes in the sun, so you'll never be without some solid tunes.
5.
Sunforce Solar Motion-Activated Outdoor LED Area Light – $45+
With adjustable side lamps, a separate solar panel, and motion-activation, the fully weather-resistant Sunforce Triple-Head LED Area Light is ideal for illuminating outdoor pathways and entryways. The solar panel attaches to the light by a 15-foot wire, which allows you to place it in an optimal area for sun exposure. Bonus: The panel does not need direct sunlight so it charges its batteries in all daylight conditions.
The larger the solar panels and the more panels your device has, the more power it will be able to generate. Look for the panel's efficiency rate — the higher the percentage, the more solar energy can be converted into charging power. Above 20 percent efficiency is ideal, and smaller solar panels will charge more slowly, especially when it's overcast.
Read more: 4 Ways Our Clean Energy Future Starts With You
Have feedback on our story? Email [email protected] to let us know what you think!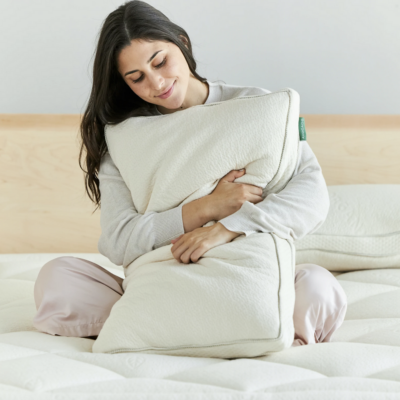 Shop Pillows
The Essential Organic Pillow Collection
Gentle, breathable, non-toxic support.
Buy Now