Our changing climate is a challenge unlike any other in human history. Daily headlines remind us that the time for action is now. We're already seeing rising temperatures, melting ice, dying coral reefs, and stronger wildfires. But it's not just the heat, it's the humanity. From the mass migration of climate refugees to extreme weather disasters to prolonged drought exacerbating malnutrition, climate change makes all of our hard social problems harder. The challenge is so daunting most people don't know how to most effectively take action.
But the good news is we have everything we need to transition to a future free from fossil fuels that wreak havoc on our climate. And Hawaii — the nation's first state to commit to reaching 100% renewable energy — is paving the way.
There's more to Hawaii than sand and sun. We are islands of innovation. Iolani Palace in Honolulu was the first royal residence in the world to be lit by electric light (in 1887) and had electricity even before the White House. Hawaii is home to climate science, with a lab atop the Mauna Loa volcano keeping the longest-running measurement of the Earth's atmospheric carbon dioxide.
So it's not surprising that Hawaii was the first state to set goals for 100% clean energy and carbon neutrality by 2045. But we can't do it alone. We need global collaboration and individual cooperation. Progress in Hawaii has shown us that everyone can be part of that change today. Here are a few ways:

Small Actions Can Add up to Big Impact
The cleanest and cheapest electricity is the electricity you don't use. Being more energy efficient means we'll need fewer fossil fuels on the path to 100% renewable energy. The small energy-reducing actions we take at home and in the office help us build a bridge to energy independence. New efficiency breakthroughs, like LEDs, smart sensors, and smart appliances, are increasing access to energy-saving options.
And learning how to be smarter about using energy doesn't have to be boring. That's why Blue Planet Foundation partnered with Hawaii Energy—the state's energy efficiency experts—to create "Efficiency Unlocked," an interactive webpage that brings efficiency to life. By visiting efficiencyunlocked.org, anyone can explore simple behavior changes that translate into lower electric bills and a lower carbon footprint.
#1 — Visualize the Change
Sea level rise and other climate impacts will have devastating consequences — particularly for island communities. But future impacts can be hard to visualize. Creating opportunities for communities to unite and voice their concern to their neighbors, the media, and lawmakers can raise awareness about what's at stake.
For Earth Day 2018, communities across Hawaii participated in the Blue Line Project — a locally powered movement to raise awareness about the consequences of climate change. Hundreds of students and community partners drew "blue lines" in chalk to mark the sea level rise exposure area at 15 locations across five islands. In some areas, communities are facing permanent displacement of their homes, businesses, and treasured places like parks, schools, and community centers.
Recent studies suggest that Hawaii could see a one-meter rise in sea level within the lifetimes of today's students if we continue our unsustainable reliance on fossil fuels for our electricity and transportation needs. By visualizing what we could lose tomorrow, we can inspire action today.
#2 — Plug into the Sun
Solar used to be reserved for rugged "off-grid" types or tree-huggers; today, it's for everyone. Thanks to the incredible decrease in the cost of solar (the price of solar panels dropped over 90% in the past decade), solar is powering homes, businesses, and schools across the country. New options, such as green tariffs or "community solar" (like a community garden, except for sharing solar power), make tapping into low-cost solar energy even more accessible.
#3 — Rethink your Commute
Nearly one-third of our greenhouse gas emissions are produced by us just getting around, and our car and truck tailpipes are the largest source of those transportation emissions. But modern mobility options increasingly let us go from point A to point B without changing the climate. Electric vehicles (EVs) are revolutionizing the automobile industry. Fast, quiet, and emissions-free, EVs can run on electricity from solar and wind power. Even when they are powered by traditional energy sources, they use far less fuel than their gasoline counterparts. What's more, flexible EV charging makes it easier to add more variable renewable energy to the power grid—clean energy and clean transportation can be a perfect match.
Even better, a growing number of options are available to help you get around without owning a car. Car-share and bike-share services are now commonplace in larger cities, providing convenience and travel freedom. Honolulu debuted its own bike-share system in 2017, logging more than 800,000 rides in its first year alone. And, of course, walking and public transit are always in style.
#4 — Support Blue Planet Foundation
Solving our climate challenge will take innovation, political will, and big solutions. But it will also take many small steps — those that each of us make every day. Collectively, they make a difference.
We also need hope and leadership. Blue Planet Foundation is working hard to make Hawaii that model for sustainable energy. Now we are seeking to replicate our success around the country. We know that we have everything we need to accelerate our clean energy future. Taking small steps today will help us all sleep better tonight.
SUPPORT BLUE PLANET FOUNDATION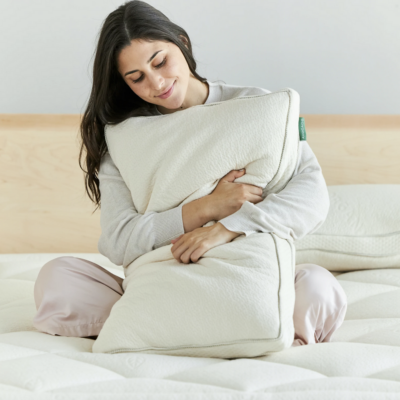 Shop Pillows
The Essential Organic Pillow Collection
Gentle, breathable, non-toxic support.
Buy Now