Meet the designer behind our new Zero Waste Furniture Collection and get an inside look at how we created our low-impact luxury furniture.
At Avocado, we're on a mission to become one of the most sustainable brands in the world. So we're constantly innovating and finding new ways to reduce our carbon footprint and upcycle our scrap materials in an effort to achieve our Zero Waste certification by diverting 80 percent of our waste from the landfill. That was the inspiration behind our Zero Waste Furniture Collection.
The collection features six stunning furniture pieces that are elegant, durable, and handcrafted exclusively from upcycled wood from our FSC® certified Los Angeles woodshop. Designed to make a statement, this furniture looks great anywhere — in the bedroom, living room, or entryway — and its sustainability story will make you proud to show them off.
Want to know more about our Zero Waste Furniture Collection? We spoke with Joanna Harrison, Avocado's Director of Interior Design, about the inspiration for the line and how our woodshop team brought them all to life.
Joanna Harrison leads the design direction for Avocado retail stores and office spaces. She also supports our product development team with furniture design.
Harrison is a multi-faceted creative and interior designer. She draws from her broad experience ranging from retail and hospitality design as well as experiential design and visual merchandising. She is passionate about crafting meaningful experiences and spaces that tell a story, allowing brands to engage on a tangible level with their consumers. Notable previous commercial clients include TOMS, Equator Coffees & Teas, and Joybird.
Read more: 8 Sustainable Bathroom Products for a Spa-Inspired Oasis
1.
How did the idea for a zero-waste furniture collection come about?
JH: We realized there is a byproduct from our furniture production — and since Avocado is a sustainable company — we wondered if there was an opportunity to repurpose the offcut City Bed pieces of wood. We make a lot of City Beds, and they generate these slatted pieces of wood. So we decided to see if we could make new pieces of furniture out of the scrap material to eliminate our waste stream and create a full-circle journey.
Originally, when we developed our fixtures for our retail stores, we wanted them to feel residential and homey and not so commercial and generic. We wanted to create that home-like environment in the stores. So we figured why not create tables and pieces inspired by the aesthetic of our stores using the beechwood scrap material that's readily available.
Our general manager of operations at the woodshop came up with the idea to create the tabletops using the smaller offcuts. When you look at the tabletops, they almost look like a butcher board, but it's more like a puzzle and less gridded out. How we create it is so dependent upon the pieces that we get.
That's why every piece is different and unique — it's truly dependent on what they're pulling out of the bins of offcuts.
From a design standpoint, I really liked the idea of letting the pieces and their shapes inform the design vernacular of each piece. It was fun to play with shapes in that way.
2.
How does this furniture collection tie into Avocado's broader sustainability mission?
JH: This is a huge way to champion our Zero Waste initiative and spotlight our efforts to minimize waste as a brand. It's sort of an unexpected angle, too. Most companies wouldn't think to upcycle wood to create furniture. You hear about vintage furniture and thrifting furniture, but this is a unique spin.
It's also a great way to highlight our furniture category. Most people know us for mattresses, and our Zero Waste Collection is a really cool way to show how we're being inventive and sustainable in that product category.
For example, we already use upcycled latex that's leftover from our mattresses in some of our pillows. This new collection allows us to make some of our furniture production end-to-end and close that loop to eliminate our waste.
3.
What was your inspiration for the collection?
JH: It was a fun headspace to be in because our Zero Waste Furniture Collection did arise kind of by happenstance. The design of each piece is sort of eclectic because that's the nature of our wood byproduct — we don't know what size pieces we're going to get each time — so having each piece have its own voice but still feel cohesive was a goal from the beginning. We almost treated it like you would an art collection. When you collect art, you don't get all the same pieces, you get a bunch of different pieces that go together.
And we opted for smaller, more accent pieces because it's easier to add them to your existing space without having to change too much around it. These pieces are a nice way to refresh your home without having to spend too much, either.
Read more: The Do's and Don'ts of Sustainable Interior Design
4.
Why did you choose to make the specific pieces you did i.e. a coffee table, side table, etc.?
JH: Before launching the Zero Waste Collection, we focused on the bedroom for the majority of our furniture. But we were very much interested in evolving beyond the bedroom, into mixed-use spaces of the home.
And a lot of people have different living situations. So it's nice to have these versatile pieces — you can put the Wood Slatted Bench at the end of your bed, or you can use it as a coffee table, or as an entryway table. It was fun to explore a furniture collection outside of the bedroom and what needs we could fill while iterating within the design language of the collection as a whole.
For example, the fluted base of the Wood Entryway Table echoes the shape and the base of our smaller Wood Accent Table, but it has morphed into a different use. It's gratifying to have that connection.
5.
What emotions do you hope these pieces evoke in the customer?
JH: I hope these pieces evoke inspiration and creativity, that they challenge people to rethink the way the things in our lives are used and how they come in and out of our life. I hope our Zero Waste Collection shows that there's beauty in everything and changes people's mindsets and perspectives of what's trash and what's not.
These pieces also have a little more personality to them than our base furniture collection. So my hope is to provide a way to introduce a little more style and whimsy with the round shapes.
6.
Do you have a favorite piece in the collection?
JH: The scallop stool is a favorite of mine because we were playing with round shapes and it was just a little sketch I did in my notebook. We had fun with it. I hope customers can see that and enjoy styling these pieces in their spaces, too.
JH: Everything is fair game right now. We've opened Pandora's box in a way — there's so much we can do. Our woodshop is incredible and we're barely tapping their capabilities. I think we'll continue to evolve outside the bedroom into the living room area, maybe even into the kitchen space.
Avocado
Zero Waste Collection
39.00 – 599.00
Shop
Read more: 9 Black Interior Designers We Love to Follow
Have feedback on our story? Email [email protected] to let us know what you think!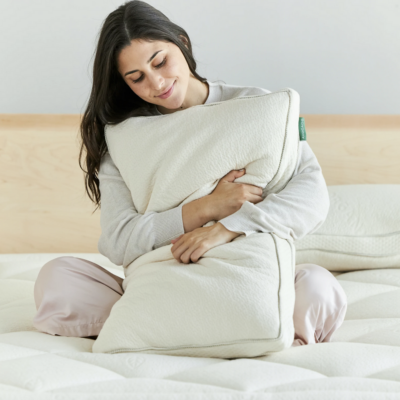 Shop Pillows
The Essential Organic Pillow Collection
Gentle, breathable, non-toxic support.
Buy Now