From a dreamy bath soak and supremely soft organic cotton towels to a cozy bathrobe, turn your space into a spa-inspired oasis with these sustainable bathroom products.
Having a space to escape and recharge is essential. I've made my bathroom my personal self-care sanctuary. It's a place where I go to unplug, relax, and take a breather — especially after a stressful day.
Creating the right aesthetic is paramount. That means indulging in products that are elegant, unique, calming, and — most importantly — sustainable. Ready to transform your bathroom into a sustainable, spa-inspired oasis? Here are all the sustainable bathroom products you need.
1.
Avocado Wooden Bath Tray – $79 to $99
Upgrade bathtime with our chic, stylish (not to mention extremely useful!) wooden bath tray. Candle, book, washcloth, essential oil spray, wine — this tray keeps all of it in arm's reach. All you have to worry about is soaking in some well-deserved downtime. Crafted with care in our FSC®-certified woodshop, it's made entirely from upcycled alder and covered in a non-toxic sealant, keeping it protected from any splashes or spills. Available in small and large sizes.
Avocado
Wooden Bath Tray
79.00
Shop
2.
Reed + Gwen Grounding Dry Body Oil – $48
Infused with antioxidants, fatty acids, calming maracuja seed oil, and ultra-conditioning moringa oil, (plus other certified organic ingredients) Reed + Gwen's dry body oil is a post-bath essential. Simply add a few pumps to your hands and gently massage into your skin, paying special attention to those dry, parched areas — hey, elbows. And because the formula is fast-drying and non-greasy, you won't have to worry about residue getting on your clothes or robe. Even better, just one application will leave your skin moisturized and glowing.
Reed + Gwen
Grounding Dry Body Oil
48.00
Shop
3.
Avocado Organic Luxury Bath Towels – $19 to $99
These towels make the versions you'll find at a hotel feel like dish rags. Highly absorbent and fast-drying, our substantial bath towels are stitched with 100 percent GOTS certified organic cotton (read: luxuriously soft and plush). They're also MADE SAFE® certified, meaning they don't include any ingredients that are harmful to humans, animals, or the environment. And thoughtful features like an elevated ribbed design, thick, weighty depth, and hanging loop for drying add to the premium experience. Available in four beautiful Earth tones.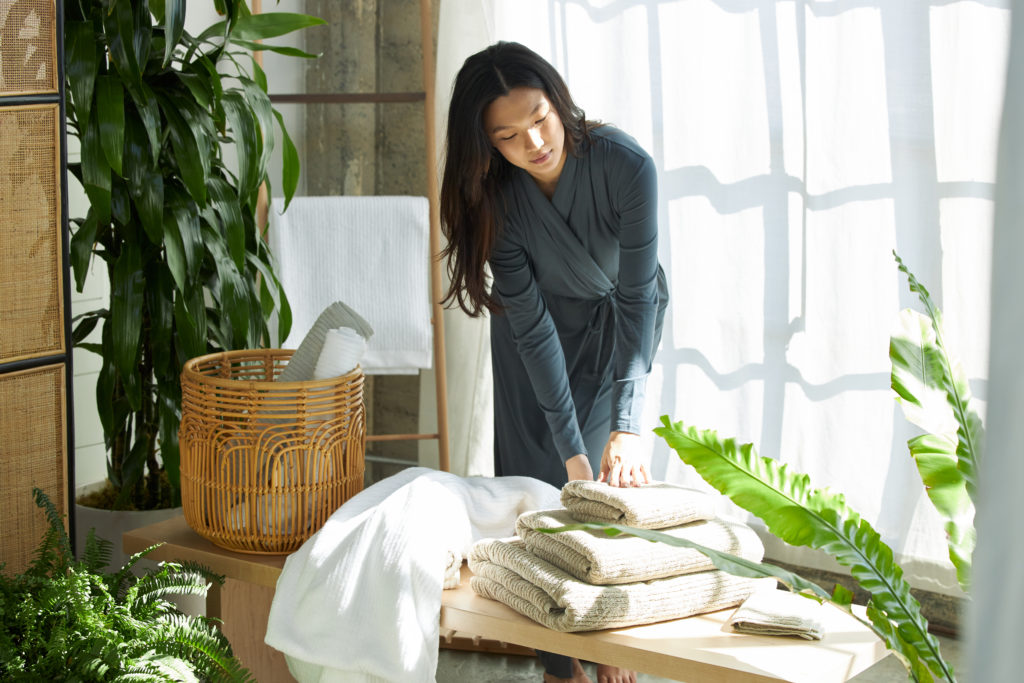 Avocado
Organic Cotton Bath Towels
19.00
Shop
Read more: 7 Sustainable AAPI-Owned Brands We Love
4.
Hass Modal Long Robe – $148
After you've thoroughly pampered yourself, slip on this unbelievably soft long robe from Hass, Avocado's responsible apparel brand. Made from sustainable, Lenzing-certified modal, a biodegradable and compostable cellulose-based textile, the breezy, silky, ultra-cozy robe is the finishing touch to any at-home spa day or relaxing evening soak. Pair with Hass's modal pajama tank and shorts for next-level comfort.
Hass®
Modal Long Robe
148.00
Shop
5.
Avocado Wooden Towel Ladder – $269
Need somewhere to hang your organic bath towels? Our wooden towel ladder will slide into small corners and areas — and it looks great, too. Handcrafted in our FSC®-certified Los Angeles woodshop using 100 percent upcycled American alder and a non-toxic varnish, the light-toned ladder is both sustainable and tasteful. We even added a walnut shelf on the third rung where you can stack hand towels or put your favorite plant on display.
Avocado
Wooden Towel Ladder
269.00
Shop
6.
Avocado Wooden Towel Rack – $229
Modern, free-standing, and made from durable, sustainable hardwood. What more could you want? Our all-wood towel rack adds a sophisticated touch to any bathroom. Its rounded edges and a two-tiered design make it easy to hang multiple towels or hey, even de-wrinkle a silk shirt while you lounge in a steamy bath. And because we craft our towel rack with 100 percent real, upcycled alder, it'll stand up to years of daily use.
Avocado
Wooden Towel Rack
229.00
Shop
Read more: Zero-Waste Razors Are Totally a Thing Now
7.
Reed + Gwen Snoozy Bath Soak With Magnesium Flakes – $38
Reed + Gwen's aromatherapeutic bath soak is the stress-relieving mood-booster you need in your life. The soak swaps Epsom salts for magnesium flakes that more easily absorb into the skin and adds Himalayan sea salts for a tension-releasing combo that will put you right at ease. And the grounding scent of lavender and rosewood evokes an all-over calm while promoting healthy sleep. Win-win.
Reed + Gwen
Snoozy Bath Soak with Magnesium Flakes
38.00
Shop
8.
Avocado Wooden Bath Mat – $125 to $299
It's time to throw out your grungy old bath mat. Made completely of eco-friendly, upcycled alder and covered with a zero-VOC varnish, our bath mat or bath runner is the bathroom addition you can't live without. Plus, its classic light hues and unique design featuring wooden slats scream spa-quality. The cherry on top? It's made in Los Angeles with a solid wood construction, so no two pieces are exactly alike.
Avocado
Wooden Bath Mat
125.00
Shop
Read more: 17 Ways to Cut Back on Waste When You Have Kids
Can't live without one of our Avocado, Hass, or Reed + Gwen sustainable bathroom products? Share it with us by tagging @avocadogreenbrands, @hassapparel, and @reed.and.gwen on Instagram.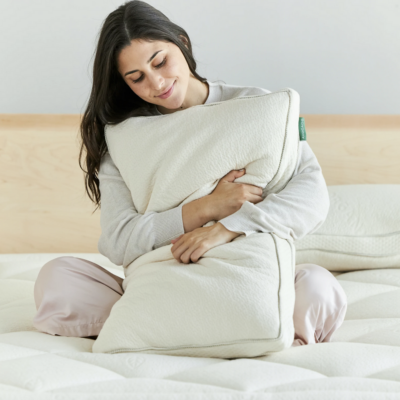 Shop Pillows
The Essential Organic Pillow Collection
Gentle, breathable, non-toxic support.
Buy Now