With a little planning (and a lot of moxie), you can stay on track to reduce your waste footprint in the world's oceans and landfills — even while raising tiny humans.
The world has a trash problem, and it's totally aware of it. Even as China turns its nose to the planet's plastics, people everywhere are waking up to a stark reality: the things we're using for five minutes are sticking around for 500 years.
But here's the really, really important part: there's a truly massive movement that's gaining a ton of ground. A movement that isn't just driven by frustrated consumers, but by some of the world's most powerful brands, in an effort to reduce waste and clean up Earth's act.
Kids Consume a Lot
When I had kids, my zero waste aspirations totally got rocked. I was making my own protein bars in the days before night wakings and marathon breastfeeding. But after kids, I found I barely had the time or the energy to shower, let alone make my snacks in bulk.
As a result (and much to my own shame), my plastic waste skyrocketed. My husband and I were buying packaged goods like we never had before.
And it wasn't just the groceries that started to pile up. All around us, packages were arriving from well-meaning relatives. Though we had sheepishly insisted on no plastic toys (for a variety of reasons), we found most of our friends and family either didn't care or didn't notice.
For those whose distance made it harder to express their affections, they sent boxes, endless boxes of things that we so often didn't need (and never used).
I was overwhelmed by it, frustrated by it, maddened by it. Because now I didn't just have to worry about the waste I was creating, I had to troubleshoot the waste of an entirely new human being, whose needs and habits were nothing like my own, and that was totally new to me.
But I figured it out, over years and countless failed experiments in the game of sanity versus sustainability.
It's never perfect, and the journey to an eco-friendly lifestyle for anyone is anything but simple. Even with kids though, I've found that by giving myself a little grace and giving things time to feel comfortable, anything is possible.
Here are some of my best tried and true methods for reducing waste — even when you're busy AF raising tiny humans.
#1 — Buy Everything You Can Used
Having kids is so expensive anyway, and nothing, nothing is wrong with giving your babies the best you can find second hand.
Buy anything you can secondhand — clothes, toys, even cloth diapers. Take the proper precautions to sanitize everything, and make it clear to friends and relatives that you don't just accept thrift store finds, you love them.
#2 — Cloth Diaper If You Can
Let me preface this by saying that cloth diapering is not all safety pins and complicated folds. Cloth diapers of the modern-day are basically just regular diapers with snaps and their own wash routine.
It takes some extra time, but it saves a MASSIVE amount of plastic waste from the landfill. If you can swing it, do it. Be sure to give yourself time to adjust to the learning curve — don't give up before you've honestly given yourself a chance to get the hang of it, mama.
#3 — Breastfeed As Long As You Can Hang
I breastfed two babies, and I can honestly say that it was probably one of my least favorite parts about having kids — not a popular opinion. It's cheap and it's great for them, but man is it hard to get a date night in when you're nursing.
That said, breastfeeding produces almost no waste, and is insanely good for babies. If you can swing it, go for it, and boob on.
#4 — Register Consciously
There are so, so many amazing eco-friendly baby brands out there today that it's enough to make me seriously consider talking my husband out of his vasectomy.
Kidding.
But seriously. Organic baby toys, clothing, stainless steel bottles, even baby carriers made from recycled plastic bottles are ALL options for the eco-friendly mom-to-be, and that's only the tip of the iceberg.
Besides registering for the most conscious baby gear you can find, also keep in mind that SO much of what people say you need for babies hardly qualifies as an actual necessity.
Wipes warmer? Eh, I might have used it like twice.
Baby carrier? Total lifesaver, get at least two.
Don't be afraid to just leave stuff off your registry, because at the end of the day, more stuff = more waste.
#5 — Turn Down Gifts
(See #4).
This is an uncomfortable conversation to have (ask me how I know that), but often a necessary one.
Don't be afraid to say 'when' when you truly have everything you need and give loving friends and family an alternative to expressing their fondness for baby. Set up a savings account and a way to donate, ask them to send gift cards for experiences like baby swim class, or buy you a CSA local produce subscription.
Do whatever works for you, but as a parent, you're going to have to learn to get comfortable saying no eventually anyway. Start here.
#6 — Do Baby Led Weaning
Baby led weaning is like making your own baby food, but for tired, ain't-nobody-got-time-for-that-parents. And as it turns out, it actually makes a lot of sense developmentally, too.
Talk to your pediatrician about this option for solid foods, and skip the purees altogether. It's a great way to make your baby adventurous with foods and an independent eater, and will save you hundreds on junky jars of baby food from the grocery store.
#7 — Avoid Processed/Packaged Foods
The more to-go snacks you wind up buying, the more waste you'll inevitably create. I know it's hard, but wherever possible, try to avoid the puffs and and teething biscuits. In most cases they're not nutritionally necessary, and all they do is fill up your garbage can with more packaging.
Fresh fruit makes an awesome baby snack, but I love, love making a batch of paleo cookies for my baby and I to split too.
*Fist bump*
#8 — Buy Snacks from the Store In Bulk
If you have approximately ZERO hours to bake things, I get it, and I have a suggestion — the bulk foods section at the grocery store.
Few people realize this isn't just a place for quinoa and coconut flakes. Bring a reusable produce bag or sandwich bag and grab snacks like dried fruit and granola bites.
#9 — Make Your Own Baby Powder
Conventional baby powder is riddled with all kinds of nasty artificial ingredients and is generally a catch-22 on the risk/benefits scale. I've used arrowroot powder for years, and I love it. It's an alternative to GMO-based corn starch.
You can buy it in bulk from a lot of health food stores or from the baking section, and it's food grade to boot.
I put it in an empty spice shaker and keep it on the changing table, give my baby's bum a little sprinkle if he's looking a little red, and it clears things up almost instantly.
No waste, and no diaper rashes. We've got this.
#10 — Make or Buy Reusable Wipes
If you plan to cloth diaper, you may as well use cloth wipes — it really doesn't make things any more complicated.
Some people elect to make their own out of soft flannel from the fabric store, but you can also buy them pre-made online. Use them dry, or use them with some simple warm water with a few drops of baby-safe oil (no essential oils).
#11 — Sign Up for a Zero-Waste Laundry Detergent
I used to make my own laundry detergent. Then I started making tiny humans, and basically forgot my own name.
GreenFills is a laundry subscription service that gives you one container to refill with their powder as many times as you need it. Just add warm water, shake it, and you have ready to rock and roll laundry detergent.
They make stain removers, fabric softeners — all kinds of cool laundry treatments — and all without making you toss away a big plastic just every month.
#12 — Use Minimalism to Keep New Toys to a Minimum
I suck at minimalism — like, royally suck at it.
But I'm in love with the idea of less stuff because at the end of the day, that's fewer Legos I'm embedding into the arch of my foot.
Less stuff rocks my socks.
Minimalism can feel really daunting when you have kids, but the best way to start is just to break it down and start with one part of your life — don't try to Konmari everything all at once.
I started with a capsule wardrobe for myself, and built that into a Montessori playspace with my kids. Then I added toy rotation bins to the mix, and before I knew it, I was sending gifts back to relatives with a polite 'thanks but no thanks'.
You can do this — don't let analysis paralysis keep you frozen in a mountain of stuff. Just start.
#13 — Buy Art Supplies in Bulk
I love big messy art projects, they're just part of being a mom, and a part I love experiencing with my kids. That said, they also produce a ton of waste. Infinite amounts of glitter and googly eyes and construction paper scraps.
The best solutions I've found so far are to use biodegradable glitter (because glitter is totally a microplastic) and to buy art supplies in bulk. Less packaging, less shipping, and less running out of glue in the midst of another slime recipe.
#14 — Ditch the Juice Boxes
My four year old loves juice boxes, so I get it — this one is a toughie.
But seriously, those little juice boxes produce a plastic straw, a polyethylene sleeve, and a plastic-coated cardboard box times 12 in every case.
If you need a great container for drinks on the go, I love LOVE Pura Stainless steel bottles and sippy cups. Their lids are leak-proof enough to throw them in the diaper bag, and they're the only truly plastic-free bottles and sippy cups on the market.
As an added bonus, Pura Stainless bottles can be converted from baby bottle to sippy cup to sports water bottle with the same container — all of the tops are 100% interchangeable.
#15 — Make Your Own Popsicles
I love making homemade popsicles for my kids. You can get cool molds made from stainless steel or silicone and make literally any kind under the sun, from fudgesicles to rocket pops.
Plus, you get to skip the red dye induced meltdown that comes at the end of the whole sticky ordeal. You're welcome.
#16 — Buy Zero Waste Personal Care Products
There are so many low to zero waste baby and kids products out there right now it's enough to make your head spin. I love so many great brands, and it feels so good to use the same great stuff on my kids that I would use on myself.
Here are just a few of my favorites:
#17 — Use Silicone Sandwich Bags (Or Wash Your Ziplocs)
Sandwich bags are pretty hard to live without when you have kids, but man are they wasteful. We still use them occasionally around here, but we now wash them and dry them on the bottle rack. If you're not a fan of washing plastic bags, silicone sandwich bags are totally a thing, and a lot sturdier. We also love beeswax wrap for sandwiches, and PlanetBox lunchboxes for school lunches.
Zero waste is a journey, not a destination — what are some of your favorite ways to reduce packaging with kids in the house? Tell us on Facebook or Instagram and tag us in the post — @AvocadoMattress and #AvocadoGreenMagazine!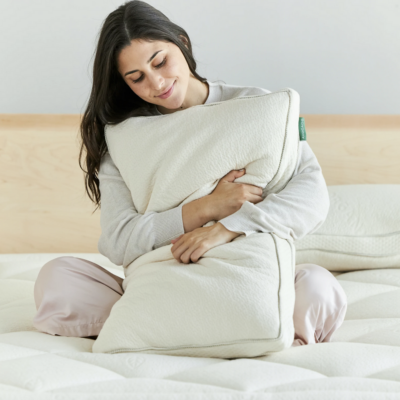 Shop Pillows
The Essential Organic Pillow Collection
Gentle, breathable, non-toxic support.
Buy Now