Freshwater is not a finite resource, and we're in danger of running out. Here are easy ways to reduce your daily water consumption.
The Earth's supply of freshwater is shrinking. On the surface, it may seem like our planet has plenty of H2O to go around, but only three percent of the Earth's water can actually be used to support life — and much of it is inaccessible. Add to that increased water consumption for everything from farming to manufacturing and severe weather events resulting from climate change, and it's more apparent than ever that water scarcity is an issue we can't ignore.
Cases of extreme drought are already on the rise, affecting as much as 1.5 million people worldwide. In fact, half the world's population could be living in areas facing water scarcity by as early as 2025, according to UNICEF. This has led governments to implement water conservation efforts such as restrictions on outdoor water use and reduced reliance on important groundwater sources.
As with many sustainability issues, systemic change is crucial — we need water-guzzling industries to take water conservation seriously. But we can all implement smart water use strategies to reduce our individual water consumption. Here are a few easy lifestyle changes everyone can adopt to use less water.
Read more: Why You Should Care About Water Scarcity
Many of us keep the faucet running while brushing our teeth or sudsing up our hands. But there's a reason turning off the faucet is a tip that comes up again and again — it's truly one of the easiest ways to reduce water waste. Taking shorter showers is another water-saving habit that doesn't require a monetary or time investment. If you want to take things a step further, invest in a low-flow showerhead.
A wave of water gushing inside your home will no doubt get your attention, but it's just as important to be mindful of small leaks. According to the Environmental Protection Agency, household leaks can waste nearly one trillion gallons of water annually nationwide. It's such a common issue, the EPA even hosts a "Fix a Leak Week" in March that includes guides to help homeowners detect and stop small leaks throughout the home. Minor leaks like drippy faucets and valves are often easy enough to fix without hiring a professional — not only will this help save water, it'll also trim your water bill.
If your goal is to use less water, it may finally be time to swap out older appliances for more eco-friendly options. When shopping, look for the Energy Star label, an EPA designation for energy-efficient appliances. An Energy Star washing machine, for example, uses 33 percent less water than a standard model, while an Energy Star dishwasher can save up to 3,870 gallons of water over its lifetime.
Read more: Protecting Our Water With Cora Ball
Another way to ensure your appliances use less water? Don't run them until they're full. Opting for a dishwasher over handwashing is already a more sustainable practice, but you can double down on the water savings by using it only at capacity (skip the pre-rinse as well). The same applies to washing machines — select the shortest rinse cycle, go for cold over hot water, and avoid the permanent press altogether.
From watering the lawn to washing the car, outdoor water use adds up quickly, but there are simple adjustments you can make to reduce your consumption. Make sure your sprinklers are positioned on grass and not spraying onto concrete and remember to turn them off on rainy days. Instead of washing your care at home, bring it to a professional — their tools are more efficient, plus, you save yourself some elbow grease.
While there's plenty we can do to curb water waste at home, there are other lifestyle changes that are also impactful. In addition to high greenhouse gas emissions, the livestock industry is notorious for consuming an immense amount of water. Eating less meat is one way to lower your environmental impact; another is to shop less, shop sustainable brands, or buy clothes second-hand. The textile industry is notorious for the large volumes of water it uses during production.
Read more: Why You Should Care About Slowing Ocean Currents
Have feedback on our story? Email us at [email protected] to let us know what you think!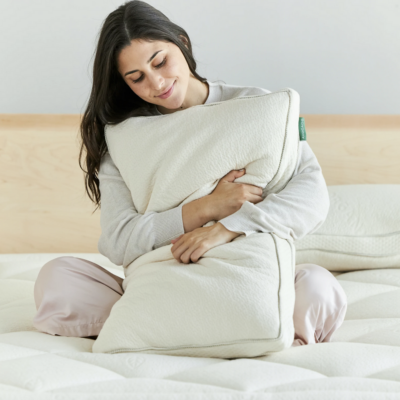 Shop Pillows
The Essential Organic Pillow Collection
Gentle, breathable, non-toxic support.
Buy Now