The Recovering Americas Wildlife Act is the most impactful wildlife recovery bill in a generation.
Most people know the U.S. is home to many endangered species. But many don't realize just how widespread and critical the situation is for wildlife. According to a 2020 study, one-third of plant and animal species across the country are facing extinction within the next 50 years, due, in large part, to climate change.
For context, the U.S. has more than 200,000 species of plants, animals and microbes; losing one-third of those means losing more than 66,000 species. The Recovering America's Wildlife Act (RAWA) bill could help stem the loss. The bill was reintroduced to Congress in March, but it isn't new. The legislation was brought to the floor in 2022 but was ultimately cut last minute. Lawmakers couldn't agree on how to pay for it, and it timed out. This time around, advocates are hoping the bill will meet fewer blockades; it's necessary for the future of America's ecosystems.
"Funding is needed to manage the role of people in ecosystems," says Greg Asner, Ph.D., and the director of the Center for Global Discovery and Conservation Science at Arizona State University. "Without people present, ecosystems would be just fine. With people present, management is needed to support ecosystem resilience to changing climate, land use, and other human-driven processes."
Read more: The Sixth Extinction Is a Threat to All of Us — Here's How You Can Help
So what do you need to know about RAWA? For starters, it would be the federal government's most significant conservation investment in decades. Currently, the State Wildlife Grants Program provides around $64 million per year across all states and territories, which is less than five percent of what's needed to effectively execute wildlife action plans. RAWA will amp up that number by providing annual funding — to the tune of $1.3 billion per year for state agencies and $97.5 million per year for tribal governments — to help states and territories prevent wildlife decline.
Funding tribal communities is a key part of RAWA's approach. Tribal community members often have deep ties to the land and a track record of successfully recovering at-risk species like bison. Tribal nations also own or manage around 140 million acres (around seven percent of land in the continental U.S.), providing habitats for over 500 threatened and endangered species. We can't tackle wildlife restoration without funding — or the knowledge and leadership of tribal nations.
"Indigenous people literally represent an accumulation of intergenerational knowledge that tells us the most about how people and nature can and must coexist," says Asner. "The lessons passed down through millennia are real and tangible roadmaps to understanding and managing ecosystems in the context of human wellbeing."
Read more: The Bison Comeback
As part of RAWA, each state will be required to put together a State Wildlife Action Plan. In it, they'll identify at-risk species in their regions and outline steps to protect and recover these populations. The funding will be used to manage wildlife and lands together. States and territories will be able to hire support staff, create systems for protecting private lands, reintroduce native species, and implement early detection programs so they can spot health declines before things get dire. RAWA is specifically focused on enabling local solutions, so the outcomes will likely look different in every state and territory.
Why does all of this matter? Our planet's vast biodiversity is intrinsically linked to human health and survival. When one species dies, an entire system can fall apart, which impacts both that ecosystem and those it's connected to. Nature and wildlife also help regulate climate and disease and impact everything from farming and food supply to air and water quality. Other species also have inherent value in and of themselves — they deserve to not be wiped off the face of the planet.
Thankfully, RAWA is poised to pass during the current Congressional session — a key indicator being voters' overwhelming support for passage of the bill.
"Something we understand well as wildlife managers and representatives of state agencies is that wildlife conservation transcends party politics, and this polling demonstrates that," says Ron Regan, Executive Director of the Association of Fish & Wildlife Agencies, referring to another poll that showed 70 percent voter support of the bill. "The Recovering America's Wildlife Act is the single most impactful wildlife conservation bill in a generation."
Read more: How Rewilding Redonda Island Saved Species From Extinction
Advocates are quick to remind critics that RAWA is a more cost-effective solution because it promotes early intervention and local support.
What happens next? RAWA will be reintroduced to the House and Senate, and the bill's sponsors will seek cosponsors in both chambers. Then the bill will need to go through the committee before it's passed.
If you own a business or a non-profit, or you're part of a conservation group, consider signing a letter to congress in support of RAWA. The more money we can invest in saving wildlife, the better we'll be able to create innovative approaches that support biodiversity well into the future.
Read more: How a Salamander Ignited a Search For Lost Species
Have feedback on our story? Email [email protected] to let us know what you think!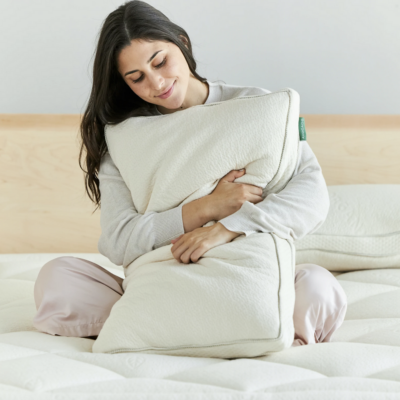 Shop Pillows
The Essential Organic Pillow Collection
Gentle, breathable, non-toxic support.
Buy Now