Advocacy
How a Salamander Ignited a Search For Lost Species
We're on the brink of a sixth mass extinction. Thanks to the efforts of Re:wild, species once thought lost are being rediscovered.
This is the first article in our Earth Month series offering an in-depth look at our 1% For the Planet partner, Re:wild, and the wildlife and wildlands they're working to restore and protect.
There are moments in life when ambition and a bit of luck come together to make something incredible happen. That's the story of Jackson's Climbing Salamander. Found only in Guatemala, the species was feared to be extinct for 42 years — until it was rediscovered in 2017.
The rediscovery may never have happened without the efforts of Re:wild, a nonprofit that works with individuals, Indigenous peoples, communities, organizations, and governments to protect and restore the Earth's vital wildlands and wildlife. Avocado is proud to support Re:wild's efforts by donating one percent of our revenues to the nonprofit through our 1% For the Planet partnership.
Salamanders are an integral part of forest and aquatic ecosystems. They control insect populations by preying on mosquitoes, spiders, and flies, and contribute to soil dynamics via underground burrow systems. They're also at high risk of extinction. Of the world's more than 750 known salamander species, 60 percent face some level of extinction risk, according to the IUCN Red List of Threatened Species. So when Re:wild launched its Search for Lost Species — the largest-ever quest to find plants, animals, and fungi that have been lost to science for at least 10 years — the Jackson's Climbing Salamander was a prime candidate for its Top 25 Most Wanted Species list.
Compiled in collaboration with more than 100 experts from the IUCN Species Survival Commission's specialist groups, the list features a subset of more than 2,200 lost species across 160 countries. Thus far, eight 'Most Wanted' lost species have been rediscovered — the Jackson's Climbing Salamander marked their first.
Read more: The Sixth Extinction is a Threat to All of Us — Here's How You Can Help
Two years prior to the rediscovery of the 'golden wonder' — a nickname given to Jackson's Climbing Salamander because of its vibrant golden yellow color — Re:wild, along with international organizations like Rainforest Trust, established the Yal Unin Yul Witz Reserve in the western highlands of Guatemala among the Cuchumatanes Mountains. The reserve couldn't have been established at a better time — prior to their purchase, it had been designated for coffee production and companies were preparing to clear the land for planting.
"The Cuchumatanes Mountains are as beautiful as they are diverse — from azure waters of secluded lakes to mist-shrouded forests, their magic is enhanced by the rediscovery of long-lost species and the promise of finding more," says Robin Moore, Vice President of Communications and Marketing at Re:wild.
The purpose of the reserve was two-fold: to protect the Finca Chiblac Salamander and Long-limbed Salamander, which had been rediscovered there in 2009 and 2010, respectively, along with other endemic species, and to ensure the remote habitat where the elusive golden wonder was originally spotted was preserved. The hope was that it was still living among the cloud forests. Their plan paid off.
On an unassuming afternoon, one of the reserve's park guards sat down to enjoy lunch and a bit of respite at the edge of the reserve. He and his fellow guards had been shown posters of Jackson's Climbing Salamander and were trained on where to look for them. As he surveyed his surroundings, he spotted it — a juvenile Jackson's Climbing Salamander sitting among the moss and trees. He seized the moment, snapped a picture, and sent the photo to Carlos Vasquez, curator of herpetology at USAC University in Guatemala and coordinator of the amphibian conservation program at Re:wild's local NGO and partner FUNDAECO. Vasquez, who himself had made 30 trips since 2005 in search of the salamander, confirmed the golden wonder had been rediscovered.
"We had started to fear that the species was gone, and now it's like it has come back from extinction," says Vasquez. "It's a beautiful story and marks a promised future for the conservation of this special region."
Read more: The Team Helping Female Farmers Rebuild in Central America
The finding came just months before a planned expedition in the preserve's Cuchumatanes Mountain range to look for the species. As a result of the historical rediscovery, Re:wild and its partners were able to successfully expand the nature preserve.
The tropical forests of the Yal Unin Yul Witz Reserve are home to a diversity of species not found anywhere else in the world. In addition to Jackson's Climbing Salamander, the Long-limbed Salamander, and the Finca Chiblac Salamander, amphibians like the Black-eyed Treefrog and the rediscovered Cuchumatan Golden Toad thrive among the lush flora. However, 10 of the 20 amphibian species that reside in the Yal Unin Yul Witz Reserve are considered Critically Endangered or Endangered, according to the IUCN Red List.
That's why it's imperative that we all do our part to protect and preserve our planet's unique and wondrous ecosystems. We can start by limiting the human impacts accelerating climate change and threatening the future of these special species and wildlands. One way to do that is by supporting sustainable brands that limit their effects on the environment. You can also donate directly to Re:wild — every dollar invested in protecting and restoring biodiversity safeguards $110 worth of benefits. Who knows? You may just contribute to the rediscovery of another lost species.
"I love this story because it conveys how protecting habitat gives species a fighting chance to survive on this planet," says Don Church, president of Re:wild and a lead for the Search for Lost Species. "This rediscovery can only be a good omen for the future of the Search for Lost Species campaign. It's a sign that if we get out there and work at it, many of these species can be found and saved."
Read more: Elephants Are Being Born Without Tusks. Poachers Are to Blame.
Have feedback on our story? Email [email protected] to let us know what you think!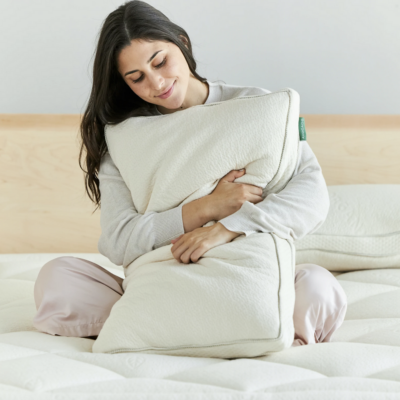 Shop Pillows
The Essential Organic Pillow Collection
Gentle, breathable, non-toxic support.
Buy Now