Advocacy
The Team Helping Female Farmers Rebuild in Central America
Avocado partnered with Trees, Water, and People to help female farmers plant and harvest new crops after Category 4 Hurricanes Eta and Iota devastated Central America.
Agriculture is a way of life in most of Central America — it provides job opportunities and reliable income to families of all sizes. But climate change-related natural disasters and severe weather conditions, like unforgiving droughts, tropical storms, record heat waves, heavy rainfall, intense hurricanes, and disastrous wildfires, are becoming more prevalent in this area of the world, making the future of the farming communities that live there all but guaranteed.
That's why the work of organizations like Trees, Water, and People (TWP) is so vital. For the past 20 years, they've been laser focused on improving the lives of agricultural communities in Latin and Central America by helping them build sustainable economies and climate resilience while teaching them how to better protect, conserve, and manage their natural resources. So when two Category 4 hurricanes hit Honduras in November 2020, Trees, Water, and People jumped into action.
Read more: 7 Nonprofit Organizations Doing The Work
To help Honduran farmers devastated by the back-to-back hurricanes, TWP introduced their Plant Change initiative. The program collected funds from grassroots donors and raised money to support women farmers in the area to rebuild their crops. And Avocado Green Brands is proud to have played a role in making this transformative work a reality. As our 1% for the Planet partner for the second half of 2021, we matched each donation to ensure TWP reached their goal of $50,000. Now, they're using those funds to work with 50 farmers from the Women's Network of Cacao and Chocolate Farmers of Honduras, also known as REDMUCH, across Central Honduras, where most of the farmers grow in lands spread out over the approximately 136,000 acres of protected rainforest near the "Reserva de Refugio Ecológica Mico Quemado."
"We can help reduce their barriers to entry into a new market, while many farmers are rebuilding their lives after the 2020 pandemic and hurricanes."
Read more: What is 1% for the Planet?
To fully grasp the importance of TWP's impact in the area, it's helpful to understand the history of agriculture in this region. After decades of foreign industrial dominance in Central America, many producers were forced to change their sustainable farming practices to intensive ones. This put natural resources, like land and crops they relied on for their livelihoods, at risk.
"What we have found is an enormous vulnerability for smallholder farmers in Honduras that is easily exacerbated by small variations in foreign trade, and the impacts of economic, political, and environmental crises in Honduras and the region," says Gemara Gifford, the Central America program director for TWP. And farmers have had to maintain intensive use of agrochemicals to keep up with demand, which puts the nutritional value and quality of the soil at risk.
Read more: Why Regenerative Agriculture Produces Healthier Soil and Farms
TWP's Plant Change project is working to change that. Together, TWP and REDMUCH are helping Honduran farmers get back to their roots by implementing sustainable, environmentally friendly practices. "We can help reduce their barriers to entry into a new market, while many farmers are rebuilding their lives after the 2020 pandemic and hurricanes," says Gifford. "They collaborate with local- and state-level agencies in Honduras to protect the watershed as community members. Growing species under the canopy of agroforests, as we are doing with the Plant Change project, is ecologically friendly," she says. These agroecosystems are critical in supporting the biodiversity necessary for the land to stay protected.
Blanca Rosa Jarquín Duarte and Greshell Jolibeth Galeano Rosales are two of the participants in the program. Duarte, her husband, and seven-year-old son own an 8-hectare farm where they harvest turmeric, coffee, cacao, and basic grains. Meanwhile, Rosales and her family of three own a 7-hectare farm that also grows turmeric and coffee beans. Both work with Doselva spices, a trusted Central American supplier of organic spices that also puts the small farmer first.
The Plant Change project provides the required work and assistance needed for these spice farmers to get started, according to Gifford. Each farmer begins with high-quality seeds, organic soil enrichments to prepare for planting, a small parcel of land that can be dedicated to cultivation, agroforestry systems (trees integrated throughout the landscape for partial shade), organic fertilizer, basic storage, and, of course, the patience to nourish a new crop. In August, the team delivered high quality seeds to the first group of farmers that will begin to grow ginger and turmeric. And in September, TWP facilitated a farmer-to-farmer exchange so members of the REDMUCH network could learn how to process the spices to their final product stage.
"This workshop helped farmers visualize how this project is facilitating a new income source to help their families, while having support all along the way to learn how to grow something new," says Gifford.
In the coming months, Trees, Water, and People will be focused on recruiting and training more farmers. They will all have guaranteed buyers and they'll be properly compensated for their organic spices. But, most of all, they'll have the knowledge, tools, and resilience to continue supporting their families through sustainable farming efforts that are better for their communities and the planet.
Have feedback on our story? Email us at [email protected] to let us know what you think!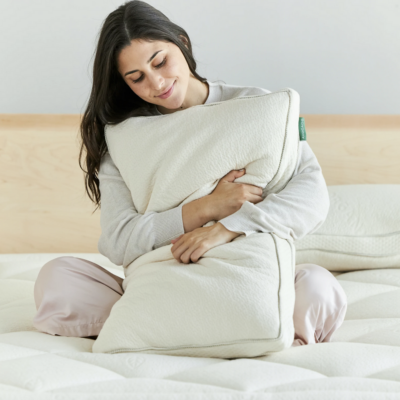 Shop Pillows
The Essential Organic Pillow Collection
Gentle, breathable, non-toxic support.
Buy Now