We're celebrating Giving Tuesday by recognizing the incredible nonprofits we partnered with in 2020.
It's been a challenging year, especially for nonprofits, many of which saw declining donations in the wake of the Covid-19 epidemic. That's one reason we felt more committed than ever to our partnership with 1% for the Planet. We knew these incredible organizations, and the planet, needed our support more than ever.
And after 1% honored Avocado with their inaugural Pinnacle Award because of our support of nonprofits that address their core mission and our commitment to carbon neutrality, we knew we had to keep raising the bar for social and environmental responsibility.
This is the work we were honored to support this year.
#1 — Trees, Water & People
Trees, Water & People (TWP) is on a mission to improve, protect, and manage natural resources with climate-vulnerable populations. TWP designs conservation projects throughout Latin America and U.S. tribal lands to manage their most precious resources while uniting communities.
Through our winter partnership, we helped provide people in Central America and on Native American Reservations here in the U.S. with the tools, learning opportunities, and technology to improve their quality of life and support the local environment.
#2 — National Young Farmers Coalition
The National Young Farmers Coalition supports young farmers around the country. Their goal is to set independent family farms up for success by sharing sustainable farming practices, locating affordable land, and building relationships for farmer-to-farmer mentoring opportunities. As the current crisis continues to unfold, their team will continue to advocate on behalf of their members.
This past spring, we helped them meet their goal of bringing 25,000 young people into viable farming careers by 2022.
#3 — Outdoor Afro
Through black connections and leadership, Outdoor Afro is making outdoor recreation, nature, and conservation inclusive for all. The nationwide nonprofit celebrates and inspires black connections, bringing more equity to the natural world. Trained volunteers lead groups in hiking, biking, and camping trips, as well as lessons in environmental education and conservation stewardship. In doing so, Outdoor Afro is changing the narrative around outdoor adventures — inspiring healthy lifestyles, healing, and conservation. Although they've had to significantly shift into digital and physically-distant events this year, action is still taken from home.
Together we will continue to raise awareness around environmental issues impacting Black communities.
#4 — Fruit Tree Planting Foundation
The FTPF so clearly shares a passion for making the world a greener, cleaner, and happier place. They wholeheartedly believe that fruit trees provide a solution to many of today's pressing problems, including malnutrition and chronic hunger, depleted soils and erosion, flooding and contaminated water sources, food deserts, and accessibility.
When celebrating National Avocado Day this past July, we planted one avocado tree with each order placed that day.
#5 — EcoHealth Alliance
EcoHealth Alliance works around the world to predict and prevent the migration of deadly disease spilling over from animals into humans. Through research, training, and policy initiatives, they develop tools to stop pandemics and promote conservation. They are working with over 30 local partners in the U.S. and around the world to strengthen disease prevention and detection systems in hotspot regions where the threat of new outbreaks is highest and resources lowest.
We chose to support their efforts in the early months of the pandemic.
#6 — Plastic Oceans International
People buy 500 billion plastic water bottles worldwide every year. More than 90 percent of all plastics are never recycled. The result? Eight million tons of plastic dumped in the oceans annually. The consequences are devastating — diminished ecosystems and wildlife as well as micro-plastics in our own food and water systems. That's why Plastic Oceans International is on a mission to end plastic pollution. Through advocacy, activism, education, and science, the nonprofit hopes to change the world's attitude toward plastic and thereby influence public policy and consumer and corporate behavior.
#7 — Big Green
Big Green is a national nonprofit that works in schools across the country to connect kids to real food through a network of nearly 650 Learning Gardens and food literacy programs. In response to Covid-19, Big Green launched a suite of online resources designed to connect kids, families, and teachers to engaging resources that can be taught remotely or be self-led. This school year, they are providing garden kits to give students the tools and resources they need to build food resiliency at home.
This holiday season, we are joining Big Green to help feed families. With every purchase made throughout the rest of the year, they will provide garden kits to students across the country through their "Little Green Gardens" project. These easy-to-use growing systems contain everything families need to grow their own food. Teachers with a class full of Little Green Gardeners can lead synchronous virtual planting activities, design science experiments, and teach nutrition lessons that every single child can engage with.
Thank you to all that have supported Avocado Green Mattress and our mission during a time that calls for unity. We are excited to grow our philanthropic efforts in 2021 as we continue to change the world together.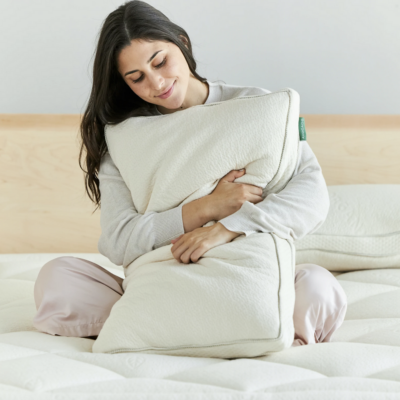 Shop Pillows
The Essential Organic Pillow Collection
Gentle, breathable, non-toxic support.
Buy Now