To celebrate National Avocado Day, Avocado is supporting the Fruit Tree Planting Foundation by planting one fruit tree for every order.
To celebrate this year's National Avocado Day, we'll be the sole sponsors of a project to support rural communities in El Salvador by planting one native fruit tree with every order. Our goal is to plant 1,500 trees. 
We couldn't do it with the Fruit Tree Planting Foundation. Since 2013, they've helped low-income families in El Salvador by providing food security and economic stability.
Each year the FTPF team, along with a group of volunteers, work with locals in the area, as well as their partners, SHARE El Salvador and CONFRAS (an agricultural co-op), to plant thousands of native fruit trees. These trees include avocado, cacao, mango, mamones, cashew, and ojusthe (an endangered Mayan superfood), and they provide economic, nutritional, and cultural value. Humanitarians distribute the trees to local farms, youth groups, and schools spread throughout some of the most impoverished regions of the country.
"Our program in El Salvador was the first project I ever worked on, and I've seen firsthand over the years how fruit trees support Salvadoran families in their efforts toward economic and environmental stability," says FTPF programs manager Lizzy Rainey. "For these families, and for me personally, it means so much to know we will be able to continue this important work through 2021 with the support of Avocado Green Mattress."
For many Salvadoranians, each tree is an act of hope and resilience, creating a more just and fruitful society for their country.
"We have been able to feed ourselves, make money, and have noticed a change in the environment," says Don Pedro Juan de Jesus Avarca, president of Los Decididos farmers cooperative. "For example, a return in the native bee population and the health of the soil around the river."
Another farmer in the La Paz District says he is now able to support his entire family due the income he has earned from his FTPF fruit trees. "Four days ago, I cut down about 700 mangoes, and by the end of the week it was about 1,000," he says. "I support my entire family solely on the income from these mangoes."
Says Miguel Angel Cruz, president of Miramar Coop in San Vicente, "Together with this community, and together with all of you, we are making possible one of the biggest dreams we have always had — the power to reforest our community with fruit trees."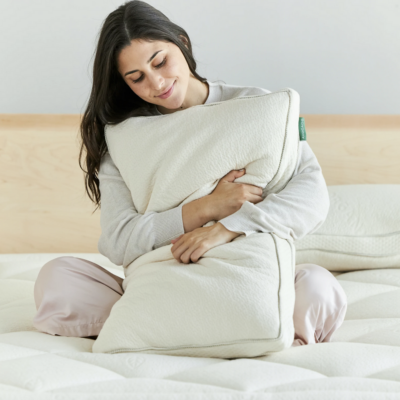 Shop Pillows
The Essential Organic Pillow Collection
Gentle, breathable, non-toxic support.
Buy Now