One of the most influential conservation organizations in the country inspires inclusivity and Black leadership in outdoor recreation.
Outdoor Afro is one of the fastest-growing nonprofits celebrating nature and conservation — building a cutting edge network of 90 Black leaders in 30 different states. Together, these guides bring communities together to plan group outdoor activities, including a virtual Glamp-In event happening on September 12.
Rue Mapp started Outdoor Afro in 2009. After adventuring in the California wilderness, she realized she wasn't passing people on the trail that looked like her. She began sharing what she noticed as a Black woman in nature on her blog. In giving a voice to her experiences, she learned she wasn't alone after all. She built a community of like-minded individuals around her. And she decided it was time to change the face of the outdoors.
A decade later, Mapp and her network have made outdoor recreation, nature, and conservation more inclusive for all. Through Black connections and leadership, Outdoor Afro celebrates bringing more equity to the natural world. Trained volunteers lead groups in hiking, biking, and camping trips, as well as lessons in environmental education and conservation stewardship. In doing so, Outdoor Afro changed the narrative around outdoor adventures — inspiring healthy lifestyles, healing, and conservation in the Black community. One of her supporters even includes Oprah. The two hiked through Oakland's redwoods to celebrate the 10th anniversary of Outdoor Afro.
What's Next For Outdoor Afro
Our relationship with nature spans farther than just being immersed in a forest or swimming in freshwater lakes. Outdoor Afro believes nature is around us at all times — found in simple things like the food on our plates or among neighborhood parks. Their goal is to help foster relationships in both nature and community. One way Outdoor Afro is reconnecting Black people with the elements is through their Swimmership Program, which offers financial support to teach Black youth how to swim.
The nonprofit will also continue to raise awareness around not-so-mainstream celebrations like Black Birders Week and the women who shaped the world of conservation, while offering leadership training to those interested in inspiring their own community to get outside.
Throughout the month of June, Avocado Green Mattress donated 1% of their revenue to Outdoor Afro through their 1% For the Planet initiative. We are thankful for the opportunity to partner with such an impactful organization and doing more to inspire more equity in the outdoors.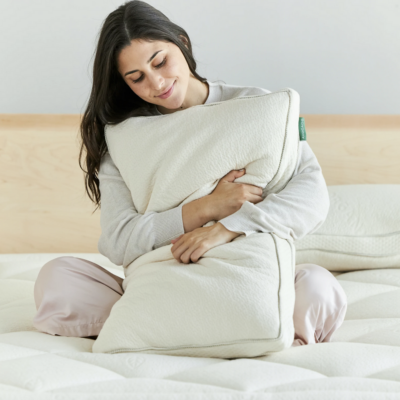 Shop Pillows
The Essential Organic Pillow Collection
Gentle, breathable, non-toxic support.
Buy Now