How Indigenous tribes, preserves, and federal agencies are restoring bison to the native grasslands they once roamed.
Every December, the Pueblo of Pojoaque, a Native American reservation north of Santa Fe, holds a buffalo dance. According to Phil Viarreal, a member of the Pueblo and manager of the tribe's two bison herds, the dance honors the "sustenance that one receives from bison." To him, they once functioned like "walking general stores, providing food, shelter, and tools" to Native peoples.
Across the U.S. and Canada, tribes, preserves, federal agencies, and private ranches have made deliberate efforts in recent decades to reintroduce bison into their native grasslands. Banff National Park in Alberta, Canada, is now home to 36 bison, after efforts by conservationists to restore the animals to Banff's ecosystem. The American Prairie Reserve in Montana, established in 2005, holds a herd of 849. And the Nature Conservancy in Oklahoma restored a herd of 2,500 bison to the 40,000-acre Joseph H. Williams Tallgrass Prairie Preserve.
The Pueblo of Pojoaque started their own herd in the early 90s with just three bison. Today, the Pueblo not only maintains that herd, which has grown to about 25 bison on 1,000 acres of grassland on the reservation, but also manages a herd of around 50 at the Rio Mora Nature Wildlife Refuge and Conservation Area, located in New Mexico's northeastern shortgrass prairie. They are one of 69 federally recognized tribes across 19 states that belong to the InterTribal Buffalo Council, a nonprofit organization established in 1992 to restore bison to tribal lands. Because of their efforts, approximately 20,000 bison have been reintroduced to some one million acres of tribal land (in total there about 500,000 bison in the U.S. currently).
Prior to European colonization, bison numbered in the tens of millions. However with westward expansion in the 18th and 19th centuries, settlers introduced cattle, and thus diseases and competition for grazing, and new farming practices that effectively reduced grassland habitats that had been home to bison for thousands of years. Industrialization in the 1870s, especially the construction of the nation's first railroads, further hastened their decline. By 1872, an average of 5,000 bison were slaughtered daily (Buffalo Bill Cody got his name after shooting 5,000 bison on behalf of the Kansas Pacific railroad). Just 12 years later, only 325 wild bison remained in the U.S. While certain states embarked on conservation efforts, some U.S. legislators and industrialists supported the extermination of bison en masse because so many tribes depended on them for survival. Without bison as a mainstay, Native populations across the U.S. were decimated and their ancestral lands opened to settlement.
When the Rio Mora Nature Wildlife and Conservation Area formed in 2012, it was the only refuge in the country that managed "a tribal herd on public land," according to Anna Weyers, the refuge's Manager. As one of the most endangered ecosystems in the world, the refuge's short grass prairie has since become a laboratory for restoration, education, and research between the Fish and Wildlife Service, the Denver Zoo, New Mexico Highlands University, and the Pueblo of Pojoaque.
Rio Mora encompasses about 2,000 acres of grassland, which determines the relatively small size of the herd. Still, these bison are proving vital to the shortgrass prairie and other grassland ecosystems. Weyers says that everything from the bisons' dung, a habitat for a diverse array of dung beetle species that add nutrients back into the soil, to the animals' horning habits (when bison aggressively rub up against trees), which help manage piñon juniper encroachment, make these survivors of the Ice Age "ecosystem engineers." They also remain culturally vital to the Pueblo, which to Viarreal "set a good example for us." The Pueblo culls some of the herd annually, in the process teaching youth how to harvest bison and distributing meat to the Pueblo's households and healthy eating programs. They also host bison tours and sell bison meat, which has more protein than beef and fewer calories, to the general public.
The partnership, says Viarreal, is a "mapping" for other tribes to embark on similar culturally-minded restoration projects. The Department of the Interior, for instance, recently announced a partnership with the Rosebud Sioux Tribe that will increase the number of Native-owned bison in the U.S. by seven percent.
In May 2016, President Obama signed legislation designating bison as our nation's first national mammal. It was a gesture that acknowledged the thorny history of industrialization and state-sanctioned violence against tribes that almost led to the extinction of bison. But it also acknowledged the many past and ongoing efforts that are making their remarkable comeback possible.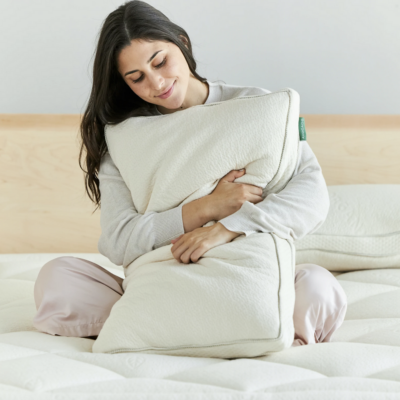 Shop Pillows
The Essential Organic Pillow Collection
Gentle, breathable, non-toxic support.
Buy Now