Cool off on the hottest summer days with these easy and refreshing no-cook summer recipes you can make in minutes.
In the thick of summer, the heat is difficult to beat. And climate change is only making things worse with longer, more frequent, and more intense heat waves.
Freeze pops and ice cream only go so far. And a hot meal on a scorching day doesn't exactly sound appetizing. But this summer, your oven, stove, and microwave won't be getting much use. Stay cool from breakfast to dessert with our favorite no-cook summer recipes.   
Read more: 5 Raw Cookbooks For Summer
Breakfast
1.
Blue Chia Seed Pudding (makes 2 servings)
Adapted from Rainbowl Foods
Ingredients
1 cup coconut milk or dairy-free alternative
¼ cup chia seeds
1 tsp. butterfly pea flower powder
½ tsp. agave
1 tbsp. unsweetened coconut flakes
Handful of blueberries
Directions
Mix coconut milk and chia seeds until well blended.
Add butterfly pea flower powder and mix to combine.
Store in an airtight container for four hours, overnight, or in the freezer for 10-15 minutes.
Spoon chia seed pudding into a small bowl. Top with agave, coconut flakes, and blueberries.
Enjoy!
2.
Grapefruit with Salt, Chile, and Rosemary (makes 1 serving)
Ingredients
1 large grapefruit
½ tsp. Himalayan sea salt
½ tsp. red pepper flakes
½ tsp. fresh rosemary, finely chopped
Directions
Turn grapefruit on its side and cut down the middle so you have two even sides. Place grapefruit fruit-side up on a plate.
Mix Himalayan sea salt, red pepper flakes, and rosemary together in a small bowl.
Evenly sprinkle spice mixture over grapefruit.
Use a spoon to scoop out grapefruit sections and savor!
Read more: A Guide to Plant-Based Milks
Appetizers & Lunch
1.
Mediterranean Chopped Salad Pitas (makes 4-6 servings)
Adapted from She Likes Food
Ingredients
1 cup spinach, roughly chopped
1, 15 oz. can chickpeas, drained and rinsed
1 tomato, diced
½ a cucumber, diced
1 small red pepper, diced
¾ cup kalamata olives, chopped
¾ cup feta crumbles
2 tbsp. fresh parsley, chopped
Juice of ½ a lemon
Pita bread
Dressing
¼ cup olive oil
2 tbsp. red wine vinegar
½ tsp. dried Italian seasoning
½ tsp. salt
¼ tsp. black pepper
Directions
Combine dressing ingredients in a large bowl and mix well.
Add salad ingredients to the bowl and mix until well combined.
Spoon salad into pita bread.
Lunch is served!
2.
Stone Fruit and Burrata Salad (makes 6 servings) 
Adapted from California Grown
Ingredients
3 apricots, diced
1 cup cherries, pit removed and halved
3 plums, diced
2 mangos, diced
3 peaches, diced
1 tbsp. orange zest
¼ cup orange juice
1 tbsp. agave
¼ cup fresh basil, finely chopped
4 oz. burrata
Directions
Add stone fruit to a large bowl and mix until well combined. Set aside.
In a separate bowl add the orange zest, orange juice, and agave. Whisk until well combined.
Gently pour over the stone fruit salad.
Add basil to the salad and toss to coat. 
Spoon salad onto a small plate.
Tear the burrata into small bite-sized pieces. Top the salad with burrata and dig in! 
Read more: Hydrating and Healthy: Watermelon Passion Fruit Smoothie Recipe
Dinner
1.
Raw Rainbow Wraps with Ginger Tahini Dressing (makes 3-4 servings) 
Adapted from The Wooden Skillet
Ingredients
1 bunch collard greens, washed and patted dry
1 orange or yellow pepper, thinly sliced
1 tomato, thinly sliced
1 cucumber, thinly sliced
¼ head red cabbage, thinly sliced
2 avocados, pitted and thinly sliced
3 carrots, thinly sliced
Small handful radish microgreens
Tahini Dressing Ingredients
¼ cup tahini
2 tbsp. fresh ginger, grated or ginger paste
½ tsp. soy sauce 
½ cup unsweetened almond milk
Juice from one lime 
2 tbsp. olive oil
Salt to taste
Directions
Combine dressing ingredients in a small bowl. Whisk together and set aside.
Place one collard green leaf flat on a plate. 
Fill with fresh vegetables. Fold the top and bottom of the collard green leaf toward the center, followed by each side. Roll like a burrito.
Cut in half for serving. Dip in tahini dressing and enjoy! 
2.
Salmon Poke Bowl (makes 2 servings)
Adapted from Broke and Cooking
Ingredients
1.5 lbs. fresh, uncooked salmon filet
⅓ cup soy sauce
¼ red onion
1 tsp. fresh ginger, grated
3 green onions, thinly sliced
1 tsp. sesame oil
½ tsp. red pepper flakes
Salt to taste
1 tsp. sesame seeds
¾ cup seaweed salad
2 cups mixed greens
Directions
Remove the skin from the salmon filet and cut into bite-sized pieces. Place in a bowl and refrigerate while you prepare the rest of the ingredients.
In a small bowl, whisk together the soy sauce, onion, ginger, green onions, sesame oil, red pepper flakes, and salt.
Remove salmon from the refrigerator. Add the marinade and seaweed salad. Toss to combine.
Divide mixed greens among two bowls, top with the poke mixture and sesame seeds, and devour dinner.
Dessert
1.
No-Bake Vegan Avocado Key Lime Pie (makes 5 servings)
Adapted from Abra's Kitchen
Ingredients
2 Avocados
¼ cup agave
Zest of one lime
½ cup coconut cream
2 tbsp. coconut oil, melted and cooled
½ cup pecans
6 dates, pitted
½ cup unsweetened coconut flakes
1 tsp. lime zest
Salt to taste
Directions
Add the pecans, dates, coconut flakes, lime zest, and salt to a food processor. Pulse until thoroughly chopped and blended. If too crumbly, add water a teaspoon at a time until dough sticks together.
Press the crust into and along the edges of a pie plate. 
Place in the freezer for 10 minutes.
Rinse out and dry the food processor.
Add avocado, agave, lime zest, coconut cream, and coconut oil to the clean food processor. Pulse until smooth.
Remove pie plate with crust from the freezer. Pour filling into the pie plate. 
Place in the freezer for 15 minutes.
Remove, top with extra lime zest, serve, and indulge! 
Read more: 3 Flavor-Packed Recipes You Won't Believe Are Vegan
Have feedback on our story? Email [email protected] to let us know what you think!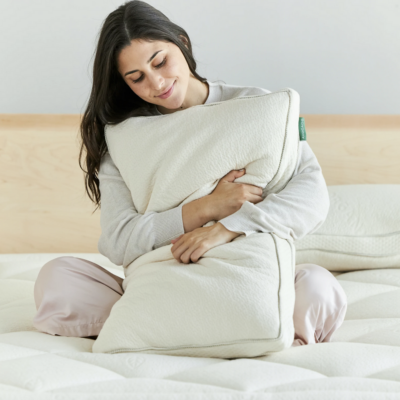 Shop Pillows
The Essential Organic Pillow Collection
Gentle, breathable, non-toxic support.
Buy Now