From almond and soy to hemp and pea, we're breaking down the differences, nutritional value, and best ways to use plant-based milk.
It's the 1990s — the 'Got Milk?' slogan is everywhere, milk mustaches are a common cause for laughter at the lunch table, and your mom's morning greeting is sliding an ice-cold glass of 2% to you across the counter. Fast forward to 2021, and dairy milk consumption is at an all-time low.
In 1976, U.S. milk consumption per capita was about 28 gallons per year. That number dipped slightly by 1996, to 24 gallons per year. As of 2020, dairy milk consumption plummeted to 16 gallons per year, according to the USDA.
The decrease is mostly attributed to personal and environmental health concerns. More people are lactose intolerant. It's estimated that 65 percent of the global population and 36 percent of those in the U.S. have trouble processing lactose. More people are worried about the environmental and animal welfare implications of mass dairy milk production. Livestock represents 31 percent of total methane emissions produced from human activities in the U.S., the major contributors being beef and dairy cattle. (Studies show reducing our dairy consumption is key in helping mitigate climate change.) And 47 percent of Americans simply prefer plant-based milk over dairy milk.
New research also points to the idea that dairy milk may not be as healthy as once believed. While it's a good source of calcium, potassium, and vitamin D, dairy milk also includes a high amount of saturated fat — which contributes to heart disease, risk of Type 2 diabetes, and Alzheimer's — and has been linked to an increased risk of breast, ovarian, and prostate cancers.
That's why sitting in the cooler next to gallons of dairy milk are more milk alternatives than ever. But what are the differences? Don't worry — we've got you covered with our guide to plant-based milks.
Read more: The Dairy Industry's Big Milk Waste Problem
Almond Milk: This nut-based milk has more calcium per cup than dairy milk (45 percent of your daily recommended serving versus 28 percent). And compared to other plant-based milks, it has a milder yet nutty flavor and isn't as thick, so it's great in smoothies, cereal, and as a replacement for cream in soups and sauces. The only drawback? It takes more than 16 gallons of water to produce one 8 ounce glass of almond milk, so it's been criticized for its impact on the environment.
Soy Milk: Like almond milk, a cup of soy milk contains 45 percent of your daily recommended calcium, but it also includes 8 grams of protein — the same as dairy milk. Made from whole soybeans, it's also slightly thicker, a bit sweeter, and can have an aftertaste that isn't appealing to all. That's what makes it great in smoothies, curries, and baked goods.
Rice Milk: Rice milk isn't nearly as nutritional as almond or soy (a cup only has one gram of protein and two percent of daily calcium). However, it's thin in texture and some say it's the closest to dairy milk in flavor, so it's a solid substitute for sipping. Its sweet taste makes it well suited for baked goods, oatmeals, and cream-based soups. Word to the wise: avoid using it in savory dishes.
Coconut Milk: Coconut milk comes in a can or a carton, depending on what you're using it for. It's not the most nutritious of the bunch but is a star replacement when it comes to cooking. The canned version is perfect for curries, soups, stews, and can even be whipped into whipped cream. The carton version is thin and liquidy, with a subtle sweetness, making it a solid choice for cereal, coffee, and sipping.
Read more: How to Make Your Own Almond Milk
Cashew Milk: Another nut-based alternative, cashew milk is easy to make at home and contains 30 percent of your daily calcium intake. It generally tastes exactly like cashews and it's also the creamiest plant-based milk on our list so far. Use it for pasta sauces like alfredo, in cereal or granola, to make cheese or butter, and ice cream.
Oat Milk: This thick and creamy plant-based milk has gained popularity in recent years because it's easily the best option for coffee — it foams in your latte just like the real thing. And with 35 percent of your daily recommended calcium and four grams of protein, it's decently nutritious. But be warned: It does have a strong taste, so it's not for everyone. It's great in pancakes, chowders, and baked goods like cakes, cupcakes, and muffins.
Pea Milk: Made from yellow split peas, this plant-based milk is an excellent source of protein and calcium (it contains eight grams of protein per cup and 45 percent of your daily recommended calcium), and includes no sugar or carbs. The taste is similar to almond milk, but the texture tends to be a bit creamier. Add it to smoothies, desserts, and overnight oats.
Hemp Milk: Earthy and nutty, hemp milk is packed with 30 percent of your daily calcium, five grams of protein, and an entire day's worth of recommended omega 3s. The texture is similar to cow's milk, but it's known to have a pungent aftertaste if you drink it. Try hemp milk in your smoothies, soups, coffee, or breads.
Read more: Vibrant & Pure's Matcha Latte with Honey Cashew Milk
Have feedback on our story? Email us at [email protected] to let us know what you think!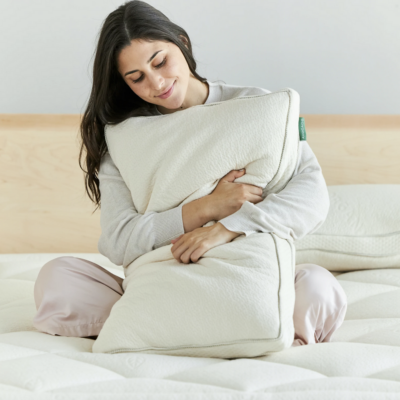 Shop Pillows
The Essential Organic Pillow Collection
Gentle, breathable, non-toxic support.
Buy Now