People often ask me how I prepare my matcha latte. I think there's something about matcha that seems mystical and challenging when you've never made it- I know I used to feel that way. Now that I've been around the block a few times and made my fair share of matcha lattes, I can tell you they are quite simple to prepare.
Now I can't lie, before I became matcha obsessed, I was a matcha naysayer. I simply wasn't the biggest fan, but I now understand that this was because I never had it prepared quite right. Whether I ordered it at a cafe or tried to make it myself, it tasted bitter and chalky, and I simply didn't understand the hype surrounding this trendy pastel green beverage.
I've discovered what I believe to be the basic tenants of ensuring a delicious matcha experience.
#1 — Matcha Quality
You need a quality matcha. It can be confusing with culinary matcha for baking, green tea powder, and other matcha products that aren't necessarily the good stuff that you want to be making your morning latte with. When I first tried matcha I ordered some on amazon and it was a very light green colored powder, the color of a matcha latte for reference. It should be a deep and vibrant green color. You want to use what's called ceremonial grade matcha, not culinary or baking matcha.
#2 — The Right Milk
I believe the type of milk you drink it with is very important. I was using coconut milk for some time, but found it to be a bit chalky after a while. This cashew milk recipe is perfect for a creamy matcha latte, in my opinion.
#3 — Just a Touch of Sweetness
I think a little touch of sweetness goes a long way when it comes to a matcha drink. Matcha is such an earthy and unique flavor, and I think having a slight degree of sweetness creates a perfect flavor balance. I love raw honey because it's perfectly sweet and it also has numerous health benefits.
Alright, now let's get down to business: here is how you make my favorite matcha latte with honey cashew milk!
Matcha Latte with Honey Cashew Milk
Honey Cashew Milk:
1 cup raw cashews (soaked six hours-overnight)
4 cups filtered water
2-4 tablespoons raw honey (can use regular if you don't have raw)
1 teaspoon vanilla extract
1/4 teaspoon sea salt
**use more or less honey depending on how sweet you want it, I recommend using 2 tablespoons, then tasting and adding more if needed.
Directions:
1 Soak cashews in enough water so that they're completely submerged. You'll want to let them soak at least six hours, or as long as overnight.
2 Drain the water from the soaked cashews and give them a good rinse. To your high speed blender (I use a vitamix), add the soaked cashews, 4 cups of filtered water, 3 tablespoons honey, 1 teaspoon vanilla extract and 1/4 teaspoon sea salt.
3 Blend on high for 30 seconds to 1 minute.
4 Using a nut milk bag or cheesecloth, pour the milk into the bag/cloth and squeeze out all the liquid (that's your milk) so that you only have pulp left. You can save the pulp to use in recipes.
5 Store milk in an airtight jar for up to 4 days in the refrigerator.
Matcha Latte:
1 teaspoon high quality ceremonial grade matcha
1/2 cup hot water (very hot, but not quite boiling)
1 cup honey cashew milk
*optional: 1 teaspoon vanilla bean ghee, if you want to make it bulletproof style.
** this makes a pretty large iced latte, if you want a smaller latte, use 1/2 cup -3/4 cup milk instead of 1 cup.
Directions:
1 First, mix 1 teaspoon of matcha with 1/2 cup hot water in a little bowl and whisk it up until all clumps are gone. If you are using ghee, add it in at this time to let it melt before blending.
2 Pour the matcha and water contents into the high speed blender along with 1 cup of honey cashew milk. Blend on high for about 20 seconds.
3 Pour over ice (or enjoy hot) and enjoy!
Keep up with Adeline at Vibrant & Pure or follow her on Instagram.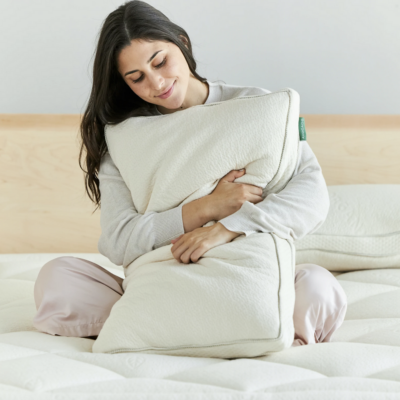 Shop Pillows
The Essential Organic Pillow Collection
Gentle, breathable, non-toxic support.
Buy Now