We've all been there: It's sweltering hot outside. It's sweltering hot inside. And the last thing you want to do is turn on the oven to actually cook yourself something to eat.
But you're hungry and frankly, if you lay eyes one more plain green salad or banana-based smoothie, you might lose your, ahem… cool. What's a famished person to do? If you have an arsenal of raw cookbooks on hand, the answer is easy: whip up something delicious without the heat! No need to make your apartment hotter than it already is, no need to stand over boiling pots and steaming hot ovens, just simple, raw goodness to get you through even the most sweltering summer – breakfast, lunch and dinner.

Why raw?
Beyond the obvious benefits of minimal oven use and less additional heat created during high summer cooking, proponents of a raw food diet extol the virtues of keeping ingredients in their (almost) natural states, with many believing that heat breaks down important vitamins, minerals and enzymes naturally present in the food. The jury is still out on whether a raw food diet 100% of the time is a good idea, but for the rest of us, raw cooking is simply a skill that allows us to eschew the stove and oven when the thought of using them is just too much to bear. By focusing on brushing up on your raw cooking skills over, say, ordering takeout again, you're not only prioritizing your health but celebrating all the goodness available at your local farmers' market, too. Ready to get cooking… er, chopping? Read on for five of our favorite raw cookbooks for summer:
by Rachel Carr
If cucumber spring rolls and cauliflower steak with chimichurri sound as good to you as they do for us, you'll love Modern Raw by raw chef Rachel Carr, the mind behind Plant Craft. While most recipes in Modern Raw are completely raw, Carr does use heat in some recipes to maximize nutritional value, a concession that further legitimizes Carr's place as a raw food revolutionary. With vibrant photos of mouth-watering dishes, Modern Raw is a standout for summer cooking and beyond.

Says one five-star reviewer: "The book has clear step by step instructions, recipes are guided by beautiful photos and of most relevance, of all the raw cookbooks I own, this one requires the most simple ingredients which is always a benefit! Some dishes will require a dehydrator or blender but many do not! But this makes raw food more accessible for most."
by Emily Monaco

For the raw food newbie – and everyone else just looking for something simple and good – there's The Raw Deal Cookbook by Emily Monaco. Made for the person who may not be focusing on a 100% raw diet, but wants to incorporate raw meals into their day (so, perfect for this whole sweltering hot summer situation). Featuring recipes, meal plans, substitutions and more, this book makes raw food accessible for all.
From a reviewer: "The recipes are easy to follow and not too ingredient heavy. (One recipe only has two ingredients!) It has the typical raw food recipes like raw rice and spaghetti as well as some new ones I've never seen. It has a 21-day meal plan. Breakfast, lunch and dinner ideas. Anything you could ask for. I love it!"
by Summer Sanders
For those who eat with the eyes first, there's Raw & Radiant, and image-driven cookbook packed with vibrant, mouth-watering photos of the recipes housed within. Billed as a lifestyle book, Raw and Radiant offers tips and tricks for transitioning to a raw food diet, along with offering functional beauty and fitness tips, and the basics of cleansing. A resource for anyone looking to brush up their raw cooking skills or support a healthy lifestyle.
From one reviewer: "This is my new favorite resource for creating truly simple and delicious, highly nutritious meals. I am not 100 percent raw or vegan. And once you purchase the superfoods to have on hand, it's cinch to make something quickly that will elevate your relationship to health."
by Judita Wignall
While many raw cookbooks and recipes require a dehydrator, Raw & Simple offers techniques that don't require investment in this appliance, making this vibrant book a top pick for those just dipping their carrots into the world of raw cooking. With tips and techniques to make dishes like Oatmeal Walnut Raisin Cookies, Cucumber Basil Soup, Creamy Kale Salad with Capers and Hazelnuts, and Cherry-Hemp Muesli, the dishes look familiar while requiring little to no heat.

From a recent review: "I never write reviews, but for this one, I felt completely compelled to do so. These recipes aren't just raw and simple, they're also absolutely delicious!"
by Laura Miller
If the name Raw. Vegan. Not Gross. doesn't get you, the recipes housed within podcast host, author, and overall glowing personality Laura Miller's vibrant cookbook will. Offering recipes for nourishing breakfasts, party food, easy weeknight dinners and more, RVNG presents raw vegan food in a fun, funny, and laid-back way. Perfect for summer and beyond, RVNG may even convince the staunchest anti-raw food eater that raw can be gorgeous, easy and delicious!
From one review: "Most amazing recipes! Family friendly and delicious! Definitely not gross! Beautiful photographs of all the recipes! You have to try the vegan burritos – so amazingly delicious and relatively quick to make. A big hit with my finicky teenagers (and the recipe for the filling makes a great breakfast lunch.) You have to buy this cookbook!!!"
Do you cook raw? Share your raw food tips with us on social by tagging us @AvocadoMattress and #AvocadoGreenMagazine!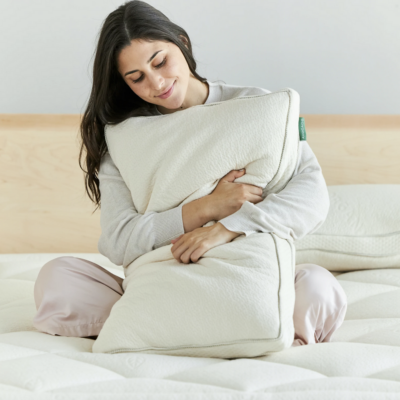 Shop Pillows
The Essential Organic Pillow Collection
Gentle, breathable, non-toxic support.
Buy Now