Yes, you read that right. You can finally have cookies for breakfast.
Is your inner child screaming at the thought of cookies for breakfast? Ours, too. But if the adult side of you is worried about crashing from a sugar high the moment you get to work — that's not going to happen.
These customizable Healthy Breakfast Cookies are made with wholesome ingredients to fuel your mind and body all the way to lunch time.
Why You'll Love These Healthy Breakfast Cookies
A great to-go option. Busy week ahead? Make these cookies in advance and store them in an air-tight container for a nutritious grab-and-go bite on your way out the door.
Make them your own. The best part about these cookies is you can mix and match whatever ingredients you like. Swap nuts for the chocolate chips or the cinnamon for other savory spices to create a unique recipe.
Nourishing and satisfying. These breakfast cookies are loaded with wholesome oats, nut butter, and healthy fats — and rely on more natural sugars to sweeten them. The result is a satiating meal that'll keep you full for hours.
Read more: The Essential Guide to Plant-Based Protein Powders
Are These Breakfast Cookies Actually Good For You?
Yep! These cookies may look like your everyday sweet treat, but don't be fooled. This recipe is filled with good-for-you ingredients that'll give you the energy you need to start your day. Here are the benefits.
Loaded with whole grains. Adding whole grains first thing in the morning does two things. One, it provides your body with essential fiber, which makes it easier to hit the recommended amount needed to keep your heart and gut healthy and happy. It also helps keep your blood sugar levels stable throughout the day. (Read: no mid-morning slump.)
Provides healthy whole fats. Compared to oils and butters, whole fats like the ground flaxseed and the peanut butter in this recipe also add fiber to your diet, along with antioxidants and healthy unsaturated fats.
Made with natural sugars. Most of the natural sweetness in these cookies comes from a ripe banana, which helps keep the amount of added sugar in these cookies low.
Read more: The Company Turning Imperfect Bananas Into Healthy Snacks
Healthy Breakfast Cookies (Makes 12 cookies)
Ingredients
1 tbsp ground flaxseed
1 ripe banana, peeled
½ cup natural peanut butter
¼ cup unsweetened almond milk
2 tbsp maple syrup
1 tsp baking powder
1 tsp ground cinnamon
½ tsp kosher salt
1 cup rolled oats
1 cup quick oats
¼ cup dried raisins or cranberries
¼ cup coconut flakes
⅓ cup dairy-free chocolate chips
Make these cookies nut-free by swapping peanut butter for sunflower seed butter or tahini.
Instructions
Preheat the oven to 350º.
In a small bowl, combine ground flaxseed with 3 tbsp of water. Whisk together and set aside to gel for 5 minutes.
Meanwhile, add the banana to a medium-sized mixing bowl and mash it well with a fork.
Add in the flax mixture, peanut butter, milk, and maple syrup then whisk to fully combine.
Stir in the baking powder, cinnamon, and salt. When well combined, stir in oats, dried fruit, coconut, and chocolate chips.
When the mixture is fully combined, allow the mixture to set for 10 minutes.
Using a cookie scoop or spoon, scoop out the dough. With slightly damp hands, shape and flatten the dough on a parchment lined baking tray, spacing each cookie ½ inch apart. (Feel free to decorate the tops of the cookies with more cranberries and chocolate chunks!)
Place the tray in the oven for 12-13 minutes.
Remove from the oven and allow to cool on the baking tray for 10 minutes.
Indulge!
Read more: Healthy Carrot Cake Cookie Recipe
Did you try out our Healthy Breakfast Cookie recipe? Share it with us by tagging @avocadogreenbrands on Instagram or Facebook. You can also follow Catherine @plantbasedrd for more delicious, nutritious recipes.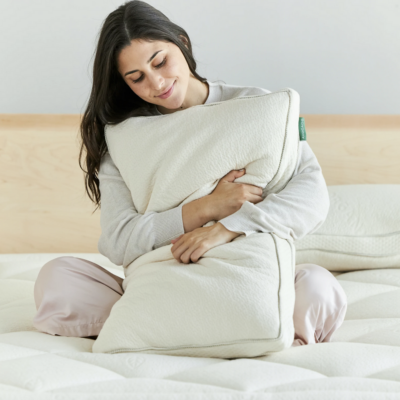 Shop Pillows
The Essential Organic Pillow Collection
Gentle, breathable, non-toxic support.
Buy Now