Our healthy carrot cake cookie recipe combines comforting spices, spring flavors, and nutritious ingredients for a delectable indulgence you can enjoy all season long.
Carrot cake is a springtime classic. And while you can't make the delightful confection without nutrient-packed carrots, it's a far cry from a healthy treat. The good news is, with a little experimentation and a few ingredient switches, we've created a better-for-you take on the spring staple. Introducing our Healthy Carrot Cake Cookie recipe.
Read more: Healthy-ish Peanut Butter Cookie Recipe
Why You'll Love These Healthy Carrot Cake Cookies
Wholesome ingredients. The main ingredients for this recipe are good-for-you add-ins that are probably already part of your healthy diet. Think carrots, walnuts, raisins, oats, and nut butter. But don't worry — these cookies still feature the sweet and satisfying taste associated with carrot cake.
Perfectly spiced. One of the best parts of carrot cake is its warm and comforting spices. Now, they're in cookie form.
Easy to make. All you have to do to whip up this springtime snack is place your main cookie ingredients in a food processor, add your mix-ins, and get ready to bake.
What Makes These Carrot Cake Cookies Healthier?
Vegetables: Carrots are loaded with antioxidants like beta-carotene that help protect our skin and eyes. Even better, you can always add as many shredded carrots as desired.
Walnuts: This heart-healthy fat loaded with omega-3s helps reduce inflammation and chronic issues like heart disease.
Oats: If you make this recipe gluten-free, simply swap the rolled oats for the gluten-free version. Either way, you'll get a lot of great soluble fiber that helps feed good gut bacteria and promotes cholesterol reduction.
Nut Butter: Nut butters are packed with healthy fats, vitamin E, fiber, and a bit of protein and are a much better nutritional choice compared to butter or oil. We chose almond butter, but you can use cashew, hazelnut, or whichever you prefer.
Read more: The 5 Best Natural Peanut Butters
Carrot Cake Cookie Recipe
Ingredients
2 cups rolled oats
1 cup shredded carrots
1/4 cup organic brown sugar or coconut sugar
1/4 cup maple syrup
1/3 cup almond butter
1 tsp baking powder
1 tsp ground cinnamon
1/2 tsp ground ginger
1/2 tsp allspice
1/2 tsp salt
1/3 cup chopped walnuts
1/3 cup raisins
Make these cookies nut-free by swapping almond butter for sunflower seed butter and walnuts for pepitas.
Instructions
Preheat the oven to 350 degrees.
Place the oats, carrots, sugar, maple syrup, almond butter, baking powder, spices, and salt in a food processor. Blend until a dough starts to form.
Add chopped walnuts and raisins. Pulse a few more times in the food processor to combine with the batter.
Using a cookie scoop or spoon, scoop out the dough, roll into a dough ball and flatten it on a parchment lined baking tray. (Feel free to decorate the tops of the cookies with more raisins and walnuts if desired.)
Place the tray in the oven for 12 minutes.
Remove from the oven and allow to cool on the baking tray.
Indulge!
Read more: Protein-Rich Chickpea Cookie Dough Recipe
Did you try out our Healthy Carrot Cake Cookie recipe? Share it with us by tagging @avocadogreenbrands on Instagram or Facebook. You can also follow Catherine @plantbasedrd for more delicious, nutritious recipes.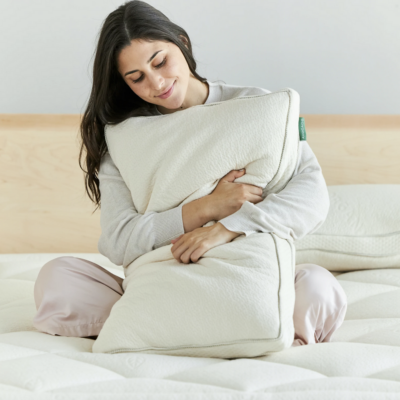 Shop Pillows
The Essential Organic Pillow Collection
Gentle, breathable, non-toxic support.
Buy Now