If there's one thing no diet will ever get me to forsake, it's peanut butter. Unfortunately though, health practitioners have a point: this ultra-fatty food can be tough on your body if you eat too much of the wrong kind. While natural peanut butter contains fat from the peanuts, the conventional brands typically have added hydrogenated oils, such as vegetable and soybean oils.
What Are Hydrogenated Oils?

Hydrogenated oils are like the corn syrup of the processed fats category. They've been chemically engineered for shelf stability — not your arteries. They contain trans fats, which have been linked to coronary artery disease and diabetes.

This type of fat is tricky. Due to its complexity, our bodies have a harder time breaking it down and getting rid of it. The result is that processed foods like some peanut butters add fats to our bodies that we have a REALLY hard time getting rid of.
What's the Deal With Palm Oil?

Palm oil is another fat I like to avoid when it comes to peanut butter, though for different reasons. Unfortunately, palm oil is harvested in regions rich in tropical rainforests, where palm tree plantations can thrive to meet the insane demand for this oil.

The problem is that as demand has soared for palm oil, farmers in these regions have begun clearing rainforests to make room for more palm oil plantations. Species like orangutans and the Bornean rhinos are being forced from their habitats.

In 2006 alone, the Centre for Orangutan Protection said that at least 1,500 orangutans were clubbed to death by plantation workers, who often regard them as pests in their plantations.
Peanut Butters With Clean Ingredients:

Thankfully, there are SO MANY fantastic alternatives on the market to your typical plastic jar of Jif, and I've become obsessed with finding the perfect one.
Organic: No
Ingredients: Peanuts, salt
No-Stir: No
Price on Amazon: $0.71/ounce

Although a bit on the bland side, I love the simplicity of Adams Peanut Butter — just peanuts and salt. They have a creamy no-stir formula, but to avoid the palm oil I go for the natural creamy one.

Fair warning, it is messy to stir, so set the jar on a paper towel before you get started. But once you've got the whole jar whipped up, you can throw it in the refrigerator to keep the mixture smooth and ready to use.
Organic: Yes
Ingredients: Peanuts
No-Stir: No
Price on Amazon: $0.81/ounce

If you're concerned with getting an organic peanut butter, Spread the Love checks all of the boxes. This is another one that you'll have to stir the oil back into. If it still feels a little runny, again, just leave it in the refrigerator for a few hours, and it'll firm up a bit more.
Organic: No
Ingredients: Peanuts, palm oil
No-Stir: Yes
Price on Amazon: $0.29/ounce

Justin's makes some incredible nut butters (seriously, you haven't lived until you've tried the Maple Almond Butter). The company engages in sustainability initiatives to ensure their ingredients are mindfully sourced, though this one does contain palm oil.

However, if you're looking for a more natural peanut butter that doesn't require stirring, this is a good place to start.
Organic: No
Ingredients: Roasted peanuts, organic cold-pressed coconut oil, organic raw honey, sea salt
No-Stir: Yes
Price: $1.00/ounce

This tiny brand is more treat-worthy than spread it on a sandwich style peanut butter. It's made in ultra-small batches by a little company in New Orleans and is ever so slightly sweetened with organic raw honey.
Organic: Yes
Ingredients: Organic peanuts, organic palm oil, organic evaporated cane sugar, sea salt
No-Stir: Yes
Price on Amazon: $0.63/ounce
Another peanut butter with a sweetener added, this one's not the healthiest with added palm oil and evaporated cane sugar. However, the no-stir varieties typically have a more shelf-stable oil added, so expect that if you want the convenience of no-stir, you're probably going to find palm oil.

That said, this one is creamy, sweet, and SO ready for spreading on toast.

Do you have a favorite peanut butter brand? Tell us yours on social media and tag us in the post! @AvocadoMattress & #AvocadoGreenMagazine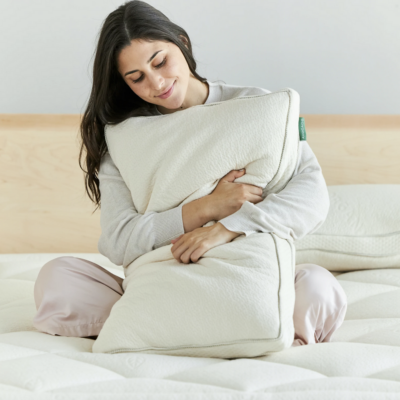 Shop Pillows
The Essential Organic Pillow Collection
Gentle, breathable, non-toxic support.
Buy Now