Our healthier peanut butter cookie recipe swaps traditional ingredients for better-for-you versions to create the ultimate guilt-free indulgence.
You can still indulge in a few cookies without wreaking havoc on your health — all you have to do is make a few ingredient tweaks to transform classic cookie recipes into a healthier baked good. Introducing our soft and chewy, guilt-free peanut butter cookie recipe. Get out your baking pan and whip up these melt-in-your-mouth treats anytime you get a craving for something sweet.
Why You'll Love These Peanut Butter Cookies
Easy to make. You only need nine main ingredients and a fork to make the criss-cross cookie pattern these treats are known for.
Healthier fats. Instead of butter, which contains saturated fat, we are using creamy natural peanut butter, vegan yogurt, and a flax egg.
More fiber. To add some extra fiber to our cookies, we're also replacing the flour with whole wheat pastry flour. The pastry flour ensures your cookies are light and fluffy so you avoid the heavy, dense texture that can occur with normal whole wheat flour.
Soft and chewy texture. Even though we are using healthier, non-traditional ingredients, these cookies still are magically chewy and delicious.
Read more: Easy DIY Vegetable, Chicken, and Beef Stock Recipes
How to Make Your Cookies Healthier
There are a surprising number of ways to switch up a cookie recipe to make them more nutritious without sacrificing flavor.
Here are some of my favorite healthy cookie hacks:
Use healthier fats. Replace some of the butter with oils, apple sauce, or creamy nut or seed butters. This will help reduce the saturated fat in a recipe.
Adjust the sugars. We still want our cookies to be sweet, but you don't need as much sugar as you might think. For a lot of cookie recipes, you can add less sugar than the recipe calls for without compromising the taste.
Swap your flour. You can do a 50-50 mix of all-purpose flour with whole wheat flour, or try a whole wheat pastry flour. Whole wheat pastry flour is much finer and smoother than regular whole wheat flour and works great in a lot of desserts — you'll still get a soft, light baked good.
Read more: Quick and Easy 5-Ingredient Chili Recipe
Healthy Peanut Butter Cookie Recipe (16-18 cookies)
Ingredients
1 tbsp. ground flaxseeds
2 tbsp. water
½ cup natural peanut butter
¼ cup vegan yogurt
1 tsp. vanilla extract
½ cup maple syrup
1/2 tsp. baking powder
½ tsp. baking soda
¼ tsp. salt
1 ¼ cup whole wheat pastry flour, spoon and level
Instructions
Preheat the oven to 350 degrees. In a bowl, combine ground flaxseed and water. Mix well to combine. Let sit for five minutes.
In the same bowl, add the peanut butter, yogurt, vanilla, and maple syrup. Give the ingredients a good mix to combine.
Add in the baking powder, baking soda, and salt and mix again to evenly incorporate it into the wet ingredients.
Spoon and level your flour into a measuring cup and pour into the wet ingredients. Fold the ingredients together until a slightly sticky dough forms.
Using a cookie scoop, scoop out your cookie dough, then roll it into a ball. Place the dough ball on a lined baking sheet. Repeat for the remaining dough.
Using a fork, lightly press down on the cookie dough balls to create a criss-cross pattern.
Place your baking tray in the oven and bake for nine to 10 minutes. Remove from the oven and allow to cool on the baking tray for an extra 10 minutes before enjoying.
Read more: The 5 Best Foods For Brain Health
Did you try out our Healthy Peanut Butter Cookie Recipe? Share them with us by tagging @avocadogreenbrands on Instagram or Facebook. You can also follow Catherine @plantbasedrd for more delicious, nutritious recipes.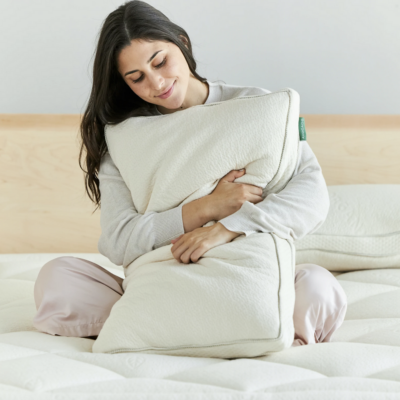 Shop Pillows
The Essential Organic Pillow Collection
Gentle, breathable, non-toxic support.
Buy Now